Click here to get this post in PDF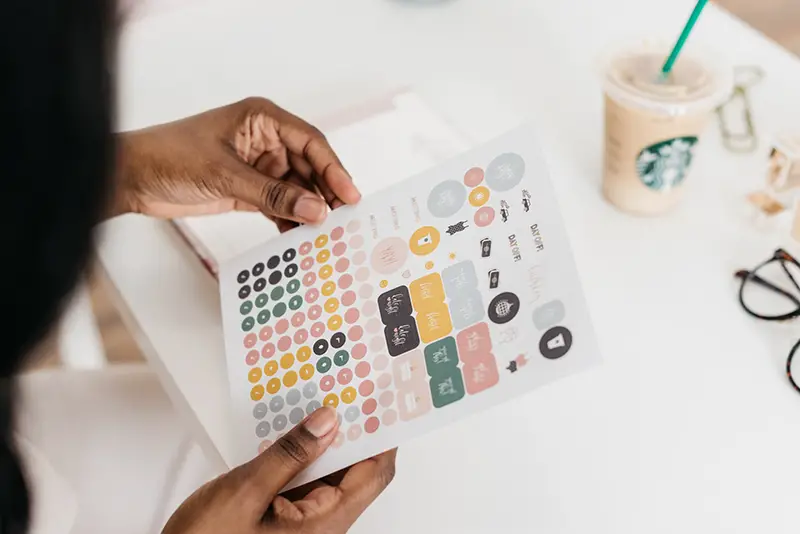 People have used stickers for hundreds of years. Some use them to spread awareness and information, while others use them for art and creative purposes. There are even people who collect them. That is why even today, stickers still have not faded into obscurity.
Because of modern technology and creative graphic designers, you can find all sorts of stickers placed on cars, windows, and walls of establishments, and even on bags and lunchboxes. But if you want to make your own stickers, all you need to do is follow the three steps below.
Materials
Before you can start crafting your stickers, you first need to have the following materials.
Computer with Microsoft Word or Something Similar
This is where you will be editing your sticker before you print it. After you are done making your own sticker or downloading one on the internet, you can insert them in Word or any similar application where you will do the finishing touches before printing.
Printer
When you finish your final editing, you will need a printer to print out your sticker. Ensure that you have enough ink in your ink cartridges, or else your sticker may end up with the wrong colors.
Sticker Paper
It is the heart of this project. You can buy it in arts and craft stores or online. You might say that bond paper is cheaper but, it can be annoying to use glue every time you stick your sticker somewhere. Plus, if you make a mistake, your sticker might get damaged. So, to ensure that everything goes smoothly, use sticker paper instead.
Scissors or Paper Cutter
You will need scissors or paper cutters to cut your stickers in the proper shape, or else it might become ugly. 
Three Steps in Creating Your Stickers 
After you have all the materials, you are now ready to start crafting your stickers.
Step 1: Designing Your Stickers
The first thing you will have to do is to design your stickers. There are a thousand images online or, you can use your own to insert in a text box in Word. Inserting them in a text box makes them easier to move and edit.  If you want something more unique, you can make your own stickers too. There are tools online which you can use to your heart's content. 
Step 2: Printing Your Stickers
If you are happy with the final editing, you can now print them. But, before you do, ensure that your sticker paper is facing the right side, or else you will be wasting ink. Pro-tip, to ensure that your sticker paper goes all the way through your printer, try putting it on top of other sticker paper. Sticker paper has more friction than regular bond paper.
After all of that, go to file and hit the print option. Then hit printer properties and select the photo paper option to get the highest quality print for your sticker. After that, hit the print button so you can finally see your finished product.
One last tip, ensure that you don't leave your sticker papers in your printer after. If left for too long, they start to become yellow.
Step 3: Cut Up Your Stickers
Finally, you are ready to start cutting up your stickers. This would probably be the most time-consuming step. So, patience is the key. 
For this part, it would be best to use a cutter. But a scissor is okay too. 
When you start cutting, only cut near the edge of your sticker. Only when you have separately cut out the sticker from the rest of your sticker paper will you start cutting the edges of the said sticker. This method ensures that you will cut the edges of your sticker as evenly as possible.
Repeat until you have finished cutting up all your stickers.
Conclusion
Stickers are still one of the best tools artists can use as their creative outlet. Or by companies and other agencies to spread awareness and information. That is why you can still see stickers placed on walls, windows, and cars. If you have a unique design for a sticker and want to create one, the steps above should help.
You may also like: What can you do with a Roland Printer Cutter?
Image source: Unsplash.com