Click here to get this post in PDF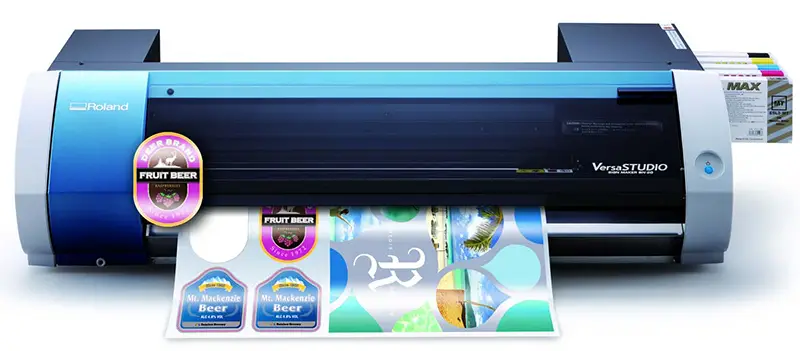 Whether you are an individual or a small business, branding plays a crucial role in giving your creation the identity it needs. Merchandising is one such way to create a strong brand recall for your business regardless of its size. It helps to build brand awareness and push your marketing efforts. That's why many content creators, influencers, and small business owners use custom printing to produce amazing high-quality branding items.
With innovative solutions like a Roland Printer Cutter, you can produce top-notch branded merchandise to create a strong brand image for your business or personal use. You can do numerous things with this amazing printer cutter, and here are 6 of them.
1. Branded Stationery
Stationery is an essential part of any office. It is one of the crucial elements of almost every office team from HR, administration, legal, and marketing. Printing labels for your stationery can boost your marketing and branding efforts. 
You can put your logo, tagline, and other brand identities on various office stationery items like calendars, notebooks, files, and folders to create a personalized experience for your team members and clients.
2. Customized T-Shirts
Who wouldn't love to get their favorite design printed on t-shirts? The Roland BN-20 helps you do that without any hassle. Full-color HTV printing is an all-time hottest trend among fashion lovers and DIY enthusiasts. 
It allows you to make customized print T-shirts in a few minutes. You have to design your graphic, send it to the software, transfer it to the printer cutter and get the final output. You can design T-shirts, hoodies, and jerseys for your staff and special customers.
3. Custom Labels
Custom labels are a great way to boost your brand reach. The custom logo stickers can be used as an effective branding strategy. Individuals can use it to create product labels for their small business or personal use. 
The Roland Printer Cutter lets you print high-resolution labels with excellent color density and correction that can be used for any purpose, such as packaging, personal branding, or office decor. You can use these labels on water bottles, tumblers, coffee mugs, containers, and so many other things.
4. Decals
Custom decals are one of the widely used means of personal branding. High-quality printer cutters give you precisely cut prints and a fantastic finish. With its superior quality, the results never fail to impress. 
You can use these decals on your office windows, at the back of your car, or anywhere else you think it will be perfect for getting customers' attention. Many business vehicles carry their company logo decals on them, which not only improves their branding but is a good sign of professionalism.
You can also print custom wall decals for home decor, small funny stickers, and decals for laptop skins, skateboards, helmets, sports equipment, and so many other things. The medical and emergency services use customs decals on their vehicles, equipment, and uniforms too.
5. Custom Signs
Printer cutters are also used for printing custom signs. You can print custom signages like fire exit signs, company vision and mission statements, washroom signs, room labels, parking, exit, navigation arrows for buildings, and more. 
6. Photo Prints, Cards & Posters
Thanks to the precise cutting and photorealistic print of printer cutters, you can use them for printing high-quality photos on the desired surface. These photo prints can be used as personal memorabilia. It is a great way to print invitation cards and posters in different shapes and sizes.
These are a few of the many things you can do with a Roland Printer Cutter. With so much functionality in one device, the only limit you can have is your imagination.
You may also like: What to Look For When Buying a 3D Printer