Click here to get this post in PDF
As a business owner, it's your duty to ensure that all your online business transactions remain secure. In today's digital world wherein almost everything can be done in a single tap of a finger, there's also the associated risk of falling victim to fraudulent activities, such as identity theft and data breaches.
Security threats are so prevalent and it's critical to take the necessary precautions so you can keep your customers' trust and confidence in your brand. Improving online security isn't only for your own interests, but also your customers'.
Choosing A Secure E-Commerce Platform
An e-commerce platform enables your business to commercially sell your products or services over the Internet. This means that the software is responsible for the facilitation and transfer of information and funds over the Internet. That being said, you must carefully choose your e-commerce platform not only based on functionality, convenience, or design, but, more importantly, based on the layers of security that it can provide.
Vulnerable platforms are more susceptible to security risks, such as an account takeover wherein a malicious attacker or a third-party hacker might gain access to a platform's credentials and information. Such incidents could also highly compromise the security of your customers, that's why you need to make sure that your platform is secure enough to protect your business.
What About Online Payments?
Another key component of online business transactions that you need to secure is how the payments are sent or completed by your customers. Since you're offering digital transactions, you should be prepared to receive and process payments that are sent over the Internet. Find out which online payments are secure and, at the same time, widely used by consumers online.
Credit cards are among the most secure and widely used payment options when transacting online. Most customers prefer paying via credit cards because they don't need to immediately pay for the item using their own bank account or money. Instead, the credit card company would initially fund the purchase for the customers. Additionally, credit card companies don't hold their customers liable for unauthorized transactions or purchases.
Other secure online payments to consider for your online business are:
Debit cards: Paying via debit cards is also secure because debit card companies follow regulations almost similar to what credit card companies adhere to. Also, when a debit card is used from an unrecognizable IP address, it would trigger the customer to verify their identity; else, the transaction won't push through.
Wire transfers: Wire transfers are also secure, as long as both your bank and the customers' banks are reputable institutions. 
Mobile Wallets: Another secure payment option that you can offer to your customers is a digital or mobile wallet. Users would most likely authorize payment through a PIN or their fingerprints to verify their identity. Examples of mobile wallets include Google Pay, Amazon Pay, and Paypal.
Updating Your Web Applications
Getting a secure e-commerce platform won't be enough if you want to continuously ensure the security of your online business transactions. You also need to conduct constant updates and changes on your web applications. Doing this will help you identify as early as possible whenever there are vulnerabilities, loopholes, and malware that are already threatening your online business. 
These loopholes and vulnerabilities might make your customers' information at risk of breaches and infringement. Keep in mind that hackers are always on the lookout for the slightest flaws in websites and online platforms that they can easily exploit. To avoid this, you can consider signing up on an automatic system update so that your online transactions remain protected in case you forget to download or update the latest safeguard.
Enhancing Security With Data Encryption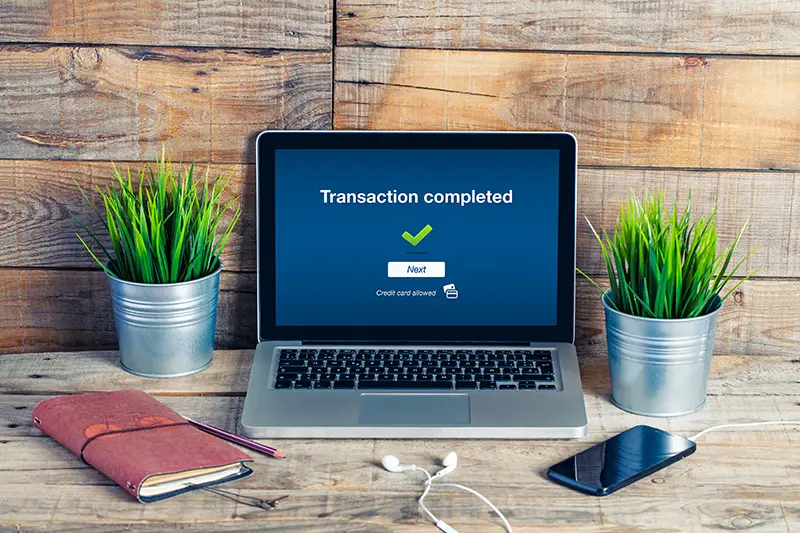 Data encryption works by strengthening the defense mechanism of your platform, while also protecting sensitive data both of your business and customers. In simpler words, encrypting would translate the data into another code or form so that only certain people with authority over the decryption key (the secret key) can access the data. Furthermore, encryption protects the passwords from potential hackers who might infiltrate your system.
Security Builds Confidence
Securing your online business transactions is very critical when it comes to building the confidence of your customers. More than anything, you need to establish how your business is prioritizing the security of its customers so that they won't hesitate to do repeat purchases from your store.
Start with a secure e-commerce platform to avoid loopholes and vulnerabilities. Then, make sure to apply online payments that aren't only flexible, but also reliable when it comes to providing extra layers of security. Always update your web applications, and, lastly, consider encrypting your data to protect information from hackers and malicious third-party attackers.
You may also like: Understand These Security Measures For Utmost Business Protection!