Click here to get this post in PDF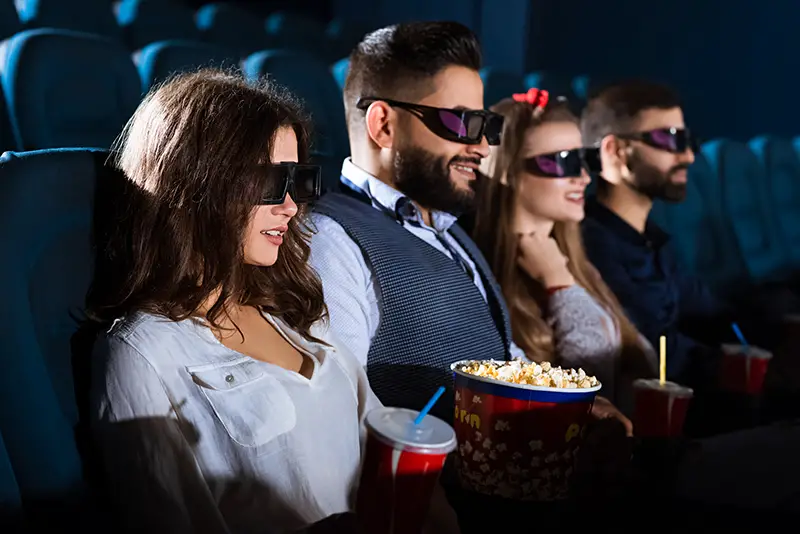 If you were born in the '90s, you have witnessed a massive shift from live, real-time entertainment to customized streaming services. From running ahead of your siblings to grab the best chair in the living room to catch your favorite show broadcasted live on T.V. to sitting cozy in your bed with a laptop and a subscription to a steady streaming service or one of the third-party apps, the way we accessed entertainment has completely altered. 
And what has caused this change? The internet! Tag along to know how this amenity that we call the internet has changed the way we seek and indulge and entertainment forever.
The Ease and Convenience in Distribution of Media
Again, if you hail from the 90's generation, do you remember those amazing blockbuster stores? It seems like a long time ago. Remember how we were crazed when we got our hands on the VCR and then DVD players! We went ecstatic! And remember those music players and those top ten billboard cassettes with Michael Jackson's songs? Again, it seems like ages ago. But, people have fond memories of those times. 
As technology advanced and the internet became an essential amenity in every household, just like water and electricity supply, it changed the way entertainment content is distributed. 
The internet has introduced us to music streaming sites such as YouTube, Spotify, Sound Cloud, and so on. You type any song from any era on the forums mentioned above, and voila! You get to listen to it whenever and wherever you want. All you need is a steady subscription to the internet and a gadget, and you are good to go!
The Changed Dynamics of Shows and Movies
Back in the day, audiences would flock to cinemas and theatres to watch blockbuster movies. As time passed, VCRs and DVD players were invented. As for the shows and documentaries, they were aired live on T.V. channels at fixed times. 
With the advent of the internet, we are now ushered into the age of streaming. With tons of quality streaming services such as Amazon Prime Video, Netflix, and Hulu, streaming shows, and movies, our leisure time has become fun. Furthermore, we can stream the content of our choice wherever and whenever we like. 
In addition, you can also invest in a streaming stick such as Roku or Fire Stick where you have the liberty of downloading all the aforementioned apps along with third-party apps for streaming. This will give you a massive variety of content to indulge in. Since I have a Fire Stick, I also get to enjoy tons of free fire stick apps. So, if you are looking for the best streaming stick, then my suggestion would definitely be Fire Stick. Here's a comprehensive list of Firestick apps you could use.
Moreover, you can browse and watch trailers of the upcoming movies and make an informed decision about whether you want to catch the movie in the cinema or not. You even Google the plot and see its rating on renowned film websites. This allows you to figure out the genre and type of movie. All these are the perks of the internet, and they are enhancing your entertainment selections and indulgences.
The Reach of the Internet
Internet today is available in every nook and corner, every household, and every region. This means that the internet has a massive reach. This also means that if a particular movie, show, or even a video for that matter is good, it will have an audience across the globe! This is also a good thing for the stars and celebrities as their content can reach tens of thousands of people.
And the fact that you can access movies and shows from every era is amazing. For instance, the blockbuster show F.R.I.E.N.D.S. was created and aired back in the '90s. But people still watch it today. Thanks to the streaming giant, Netflix, for making it and tons of other licensed shows available for us to enjoy. 
The Element of Cost
The element of cost should be considered here too. You no longer have to go to a rental store and get a DVD of a newly-released movie. We live in the times of torrents and streaming. In a matter of a few days after the release, you will find the movie online. And all you are paying is your basic monthly internet fee, and that's about it.
Moreover, distributing promotional material about an upcoming movie has become a piece of cake for the production houses, too, involving zero investment. Thanks to the internet! They can post their movie trailers and plot snippets on Google and YouTube, free of cost. 
Therefore, this changed distribution model for movies, shows, and promotional content saves zillions of bucks for both moviemakers and audiences. 
The Gigantic Streaming Sector
As mentioned earlier, streaming platforms have attracted a massive audience across the globe. This is because they are hosting licensed old blockbusters from the past and coming up with their own original series and shows every year. This has changed the entertainment landscape, and it has only been possible because of the internet. 
Some original series, which turned out to be a huge success, are as follows:
Game of Thrones (HBO original)
La Casa De Papel/ Money Heist (Netflix original)
The Handmaid's Tale (Hulu original)
Patriot (Amazon Prime Video original)
Peaky Blinders (Netflix original)
And the list goes on! Viewers today are spoilt with tons of content to watch. 
Social Media Buzz
Since we are talking about internet-based entertainment, social media cannot be left out! Social networking sites have impacted us in the most obvious way. It connected the people of all demographics across the world. It has also emerged as a source of entertainment. 
Let's take the example of Facebook. The said social media giant also owns Instagram and WhatsApp. When it started, people only used it to share thoughts and photos with their families and friends. But today, brands are endorsing it for its marketing potential. And not just marketing, many small businesses are operating via Facebook and Instagram. Also, it has offered a platform to people across the globe to raise their voices against the injustices in society, corrupt politicians, racial discrimination, and so much more. As a result, it has become a prominent element in voicing and shaping people's views. 
As far as entertainment is concerned, social media is known for its 'viral' content. It could be funny, shocking, helpful, so on and so forth. Moreover, social networking sites have also become P.R. tools. Celebrities across the globe interact with their fans using these forums. 
Lastly, social media has given birth to a new breed of celebs. They are called influencers. Influencers today have followers in millions, and to stay entertaining and relevant, they come up with innovative and creative ideas while creating their content. In addition, influencers collaborate with brands and businesses and endorse their products. And when it comes to entertainment, those millions of followers follow them because they find their content entertaining. 
Concluding, the internet has given a new meaning to entertainment. Not only it has transformed the old entertainment formats, but it has also given birth to new kinds of entertainment.
You may also like: The relevance of technology in modern-day business
Image source: Dreamstime.com