Click here to get this post in PDF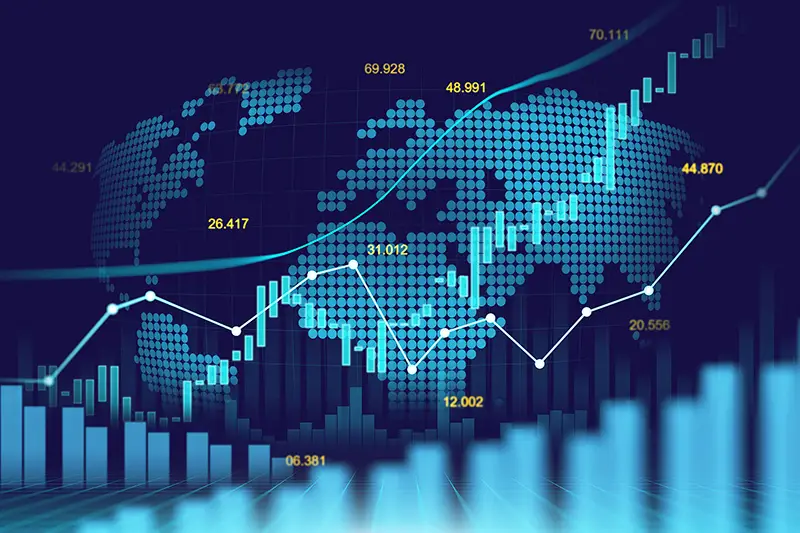 The events of the last two years have had a drastic, dramatic effect on economies around the world. Here in the UK, we're feeling the crunch, with the rate of inflation a long way away from its 2% goal and predictions that a rise to 10% is on the cards. 
The forecast remains perilous across the board. The British Chambers of Commerce revisited its expectations for GDP growth this year from 4.2% to 3.6%. 
But what does knowing this information mean? How does identifying economic trends help businesses? And how can individuals make the most of seeing what's coming? 
What are economic trends?
Economic trends are patterns that from in the global financial landscape after influencing factors make an impact. These could be patterns that develop after a sudden rush to buy a certain commodity, such as the demand for lithium in Australia. Or it could be patterns that emerge after a huge event, like a global recession. 
Once the patterns that emerge are identified, a trend emerges. For instance, in a recession, there's typically a downward trend before economies recover. If these things happen several times, it's possible to predict how the economy will behave if these events happen again. 
What are the influencing economic factors? 
We've already mentioned some examples of what the influencing economic factors could be, but here's an overview of the ones you're most likely to come across: 
Economic growth and decline
Gross domestic product
These are the key factors that affect the economy. How much our produce is worth, how high inflation rates and unemployment levels are, and major economic issues like a recession all have a significant impact on an economy. 
This is why a lot of the talks about trade after Brexit have centred on how the UK's economy will be impacted. It's also why the cost of living crisis centres around high inflation levels.  
Why is analysing economic trends useful for individuals? 
On an individual level, it can be difficult to work out how identifying the economic trends – and understanding the influences on the economy – can be useful. After all, these are huge factors that can feel a world away from the everyday. 
But there are industries and job roles that individuals work in that regularly rely on economic trends. For instance, people who trade on the markets will need to be across all the trends of the moment. They must predict what's coming up in forex or commodities in order to make a profit, using things like CFD trading to see a return on investment by going short or long. 
Why is analysing economic trends useful for businesses?
Like individuals trading on the markets, businesses can make predictions that help to forecast profits. They can also estimate the figures and adjust what they expect based on the changing trends in the economy. 
For instance, in the years following the 2008 recession, businesses had to look at how profitable they were. Some businesses reinvented themselves, others folded. There were restructures and changes in management in order to adapt to the downward economic trend.
So, whether you're an individual or a business owner, it's worth keeping up to speed on what's happening in terms of the economy.  
You may also like: Tips on How Your Business Can Overcome Economic Despair
Image source: Shutterstock.com