Click here to get this post in PDF
Food wastage in the hospitality industry is at an all-time high, with thousands of tonnes of food being thrown out each year. Unfortunately, this excessive food waste is all too familiar for most hospitality business owners, as it negatively impacts the profitability of their business operations. And let's not forget to mention the adverse environmental effects of food waste ending up in landfills every day.
With a growing shift towards digitizing business processes, software company Operandio are leading the way with their new remote temperature sensor technology that is set to revolutionize the hospitality industry. 
How does food waste negatively affect your hospitality or food service business?
Hospitality and food service operators often work with very tight profit margins, making every dollar count. Therefore, in the event of spoiled food, hospitality operators must result in throwing these items away. Not only does this involve discarding simple produce, but more often, prepared meals or dishes that have taken hours to days to prepare. This highlights not only the money lost from purchasing these goods, but more concerning, the labour cost of producing these dishes. Often, restaurants need to then purchase additional stock to compensate for these unforeseen losses, further increasing their cost of goods. This simultaneous loss of profit and increased expenditure is seen too often in hospitality and food service establishments.    
Some of the leading factors contributing to food wastage in hospitality include:
Overproduction of food
Inadequate food storage
Unprepared or poorly trained staff
Equipment malfunction
In the unfortunate and all too common, event of equipment malfunctions, food expires and is no longer edible.
Adopting a smarter, more efficient approach to tackling food waste should be a priority for all hospitality and food service establishments. Enter Operandio's new automated remote temperature sensor technology.
How does Operandio's new temperature sensor technology work?
There are two main components to Operandio's temperature monitoring system:
The sensors, which you can easily install in your desired location of your business in a manner of minutes;
A hub collects data from the sensors and pushes it to the cloud;
The app, which you install on your phone the same way you would any other application.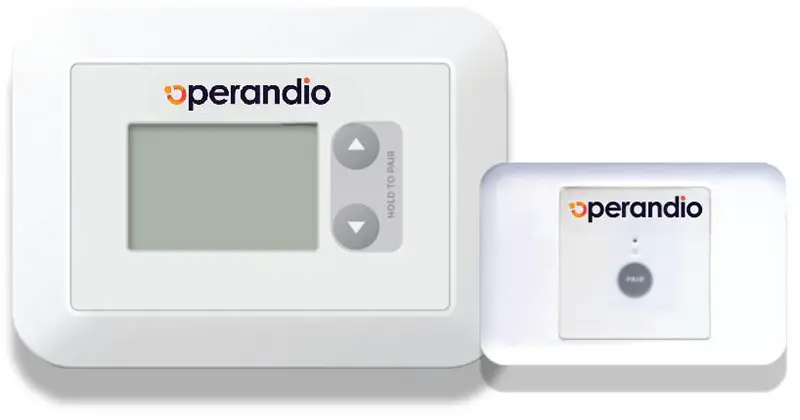 Operandio Sensors (Source: Operandio)
It's that easy, thanks to the intelligent sensors that monitor and deliver, in real-time, all temperature data straight to the app. This results in:
Instant notification via SMS and email alerts in the event of temperature irregularities 
Monitor multiple locations simultaneously, from back of house cool rooms to front of house display fridges and freezers
Track changes in temperature and humidity over time.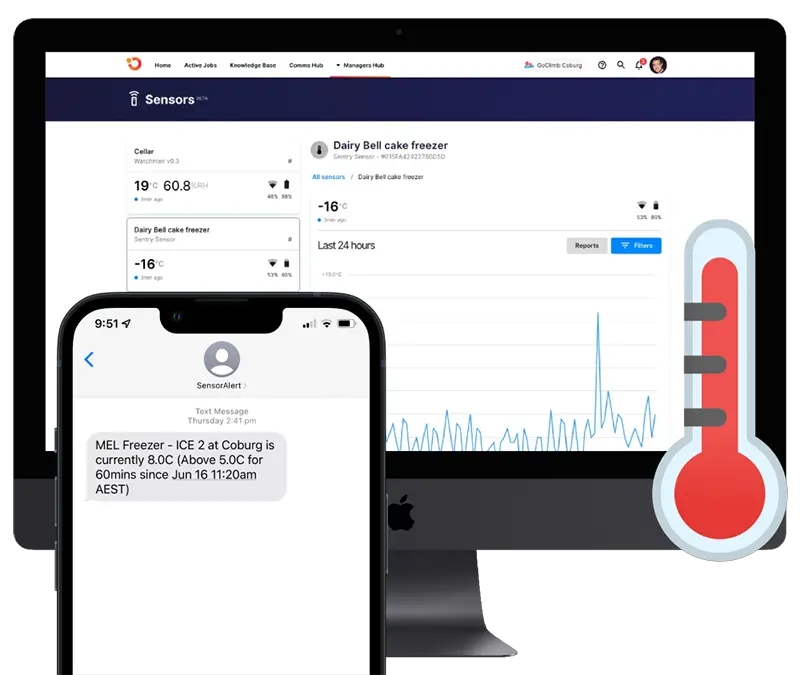 Sensors and Remote Monitoring (Source: Operandio)
What are the benefits of Operandio's temperature sensor technology for my hospitality business? 
Increase efficiency by automating your manual operations
Operandio strives to make businesses more efficient, and their latest temperature sensing feature is a prime example.
Once the smart sensors have been installed and connected to your Operandio account via the app, you are ready to automate all your temperature monitoring processes. The following time-saving actions will result in increased efficiency for your business:
All temperatures and humidity are automatically recorded by the app
Instant notification when there is a change in temperature
Monitor changes in conditions over time and identifies trends  
So throw away your pen and paper and expect reduced labour costs because this new autopilot technology means no more time-wasting training staff on how to manually record temperatures. This automatic temperature tracking also allows time-poor hospitality staff to focus on more important revenue-producing tasks
Save your business money by avoiding inventory loss and equipment malfunction
Any hospitality owner or chef will tell you there is nothing worse than finding out your food inventory has been spoiled because your equipment has malfunctioned overnight. This brings your entire business to a standstill, and the loss of revenue can be devastating. 
Luckily this is now completely avoidable, thanks to Operandio's automatic and continuous temperature monitoring technology that allows your hospitality business to significantly reduce the risk of equipment malfunction. With instant notification of changes in temperature via SMS or email, this allows venue operators to take immediate action to prevent appliance failure and the loss of food inventory.
Not only does this help you save money by reducing food wastage, but also the high cost of repairing or replacing expensive equipment.   
Ready to install Operandio's new sensor technology in your restaurant?
If you're ready to save thousands of dollars and eliminate food wastage at your hospitality or food service venue, then you need to try Operandio's latest temperature sensor technology.  
You may also like: How Technology Can Make Your Business More Efficient