Click here to get this post in PDF
Digital marketing is the most cost-effective way to improve business notoriety and spread the word about what you do. From generating leads to improving customer retention, you can maximize your marketing efforts through digital marketing.
If you're still unsure of what strategy you should conduct, don't fret. Throughout this article, we'll guide you to the seven easy ways to grow your business using a digital marketing strategy. Let's dive in!
1. Create Quality Content
Content marketing refers to any marketing strategy focusing on creating and publishing informational content. With this practice, marketers define content as written works, such as tutorials, glossaries, and white papers. 
When done right, content marketing can bring many benefits to your business. It helps you reach your target audience, increase your conversion rate, improve brand awareness, and generate quality leads. 
But first, make sure to create high-quality content that can satisfy your readers' queries. 
To get your articles to reach your target audience, conduct keyword research with tools like Semrush. Then, write based on what the software suggests to you. You can also find out what questions your target customers often have through forums like Quora and Reddit.
In the case that you've published some blog posts, but your business grows stagnant. You need to evaluate your content marketing strategy. Some of the great starters include changing your tone and repurposing your content for a different audience.
Alternatively, you can always conduct Search Engine Optimization (SEO) in line with your content marketing strategy.
2. Utilize SEO Practices
SEO is about optimizing your website and written content to make it more visible to the search engines. As a result, your brand can overtake its competition. 
Practising SEO is really crucial, especially for online businesses. It helps the search engine's spiders collect your site's information. They'll score your internal links, backlinks, page speed, and content. If you do well, they will reward you with the search engine's first page.
As performance is also a ranking factor, make sure your website runs at light speed. 
Thus, you need to host your site on a reliable hosting provider. One of the great examples of providing first-class performance is Hostinger. With the LiteSpeed webserver integration, the provider will ensure your site doesn't take too long to load.
Additionally, you have to make sure your site is secure. SSL integration is a confirmed ranking factor. Luckily, you can get a free one with Cloudflare.
Lastly, optimize your site for speed. Use tools like Page Insights to see how you can improve loading times.
Apart from that, SEO can help create a good company reputation and bring in quality traffic. This is because the practice of SEO is customer-centric. By providing optimized content, you can build connections with your target audience.
3. Get the Most Out of UGC
UGC, short for User Generated Content, refers to any content that's created by regular users. It can be a product review or a social media mention from someone who purchased your product or service.
Suppose a customer mentions you on his social media. In that case, your brand reaches a new audience. As a result, more people know about your business. 
If you respond to the mention or repost his feed, your customer will feel appreciated. Therefore, UGC can also be a great way to bond with your customers. 
On top of everything, UGC made by happy customers is as good as a five-star review. This is because great UGC can trigger a domino effect. The more often your target customers see your UGC, the better their impression of your brands.
4. Start a Mailing List
As email marketing allows direct communication with your target customers, you can start the campaign to boost your business' success. To do that, you need to get your email list first and foremost. 
To get the list, display a subscription form on your website. Next, you can integrate marketing tools specializing in email marketing like Mailchimp. Apart from helping you organize the email list, you can generate automated marketing emails, create effective CTAs, and optimize personalized promotional emails.
5. Use Effective CRO Tactics
CRO or Conversion Rate Optimization is about optimizing your marketing campaign to get the best possible outcome. Some of the best practices include sending abandoned cart emails, displaying personalized ads, and A/B testing CTA buttons.
Abandoned cart emails refer to follow-up emails for someone who has items in their cart, but leaves the site before check out. In a study, 72% of marketers believe this strategy to be effective. Thus, make sure to send one within 24 hours and another after two days.
Personalized ads are advertisements aiming to remind your target customers of the products they saw on your site. To do this, you can use cookies, as they can follow your visitors' browsing journey. With their help, you can display your personalized ads on the websites your potential buyers are visiting.
A/B testing your CTAs helps you figure out which version performs better. To conduct this strategy, you need to:
Prepare a control version and a test version,
Show both versions to an equal split of users at random,
Analyze the results and display the version that fulfils the success indicator.
As a result, you can get higher conversion rates.
6. Use Localized SEM
Search Engine Marketing (SEM) is a strategy that allows you to spread the word about your business on search engines through paid advertisements. 
When using localized SEM, you paid the search engines to show your site as one of your target regions' search results.  For that, you can suggest placing ads to your business on relevant keywords. 
To support the strategy, start translating your pages and adjusting the currency for the payment options. On top of that, using a ccTLD on your domain and a server in the region is also a great way to create consistency, and improve recognisability and response times. 
7. Create a Consistent Network Image
Being present on all relevant platforms, including social media, is crucial when helping your business stand out. Apart from expanding your customer base, you can nurture a good relationship with them through direct messaging. Your marketing should entice customers to visit your site.
To keep your posts uniform across multiple platforms, you need to have a branding and style guide. Branding covers your brand's logo, colour scheme, and fonts. Meanwhile, the style guide sets the writing format, company tone, and the terms that your brand uses.
---
Some Digital Marketing Trends You Might Have Missed
---
Conclusion
Those are the seven non-complicated ways to grow your business using digital marketing. You've learned that this strategy needs constant effort for it to run effectively. However, you've also found out that digital marketing is crucial in getting your business to the right demographic. Therefore, don't wait any longer and integrate digital marketing into your strategy.
About the Author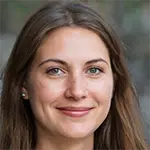 Juliet is an Editor at PRable.org, all in one content marketing agency. She loves creating articles about technology, innovative product reviews, and technical writing to help scale up digital growth. She is a writer by day and a frustrated singer by night.