Click here to get this post in PDF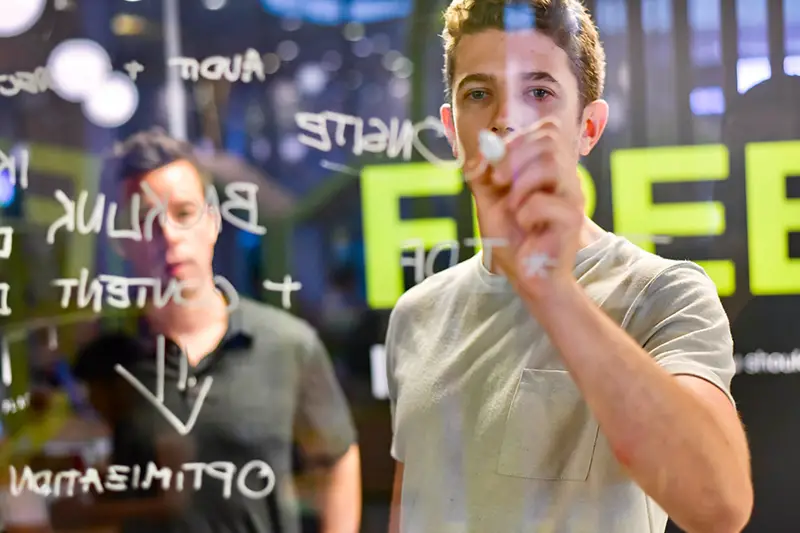 Performance marketing is an umbrella term used to refer to various paid marketing efforts (i.e. advertising) in which the ad publisher or marketer (including marketing agencies) is only paid when a certain action related to performance is completed. These actions include a sale/conversion, a generated lead, or even a click. For more guidance through the digital ecosystem, Performance Marketing Services will help you measure, analyze and adjust to maximize ROI — which fully optimizes your funnel to increase sales.
Paid performance marketing can come in many forms, and affiliate marketing is the most popular. In fact, the terms 'paid performance marketing' and 'affiliate marketing' have been used interchangeably over the years, which is correct to some extent.
It is, however, important to understand that there are other forms of paid performance marketing, from performance-based influencer marketing to sponsored content to traditional advertising.
So, how can we get started with paid performance marketing? Here are our tips:
1.   Know Your Options
As mentioned above, paid performance marketing can come in many different forms, and the most popular ones are:
Affiliate marketing: in its most basic form, in affiliate marketing we allow third-party marketers to promote our product, and we'll give them a commission for each sale
Advertising: when the advertising is using a performance-based cost model (I.e. pay per click or pay per action), then it is considered a paid performance marketing campaign
Sponsored content: i.e. when we post our content on an influencer's platform.
Social media and influencer marketing: can come in various forms, but typically involving performance metrics like engagement rate (likes, comments) and conversions
The main idea behind paid performance marketing is that you should be able to measure the results, and we will only pay for the promotion when a certain KPI milestone is passed (i.e. after one click).
2.   Payment Models in Paid Performance Marketing
It's important to understand the four common payment models used in paid performance marketing so we can effectively design our campaigns:
Pay Per Click: you only pay an affiliate or advertiser for each click they refer to your landing page. While this payment model is generally not popular except for targeted advertising and its variations, it can be useful in certain applications and objectives.
Pay Per Sale or Acquisition: you only pay the advertiser/affiliate/publisher for the actual sales generated from the campaign and only the transaction is complete. The most common payment method, for example in affiliate marketing
Pay Per Lead: we only pay the affiliate or publisher when a referral coming from them successfully converted as a lead, where a lead is typically defined as someone who completed a registration/sign up for example to an email newsletter or free trial.
Pay Per Action: the business will only pay the marketer/advertiser when a certain action outside a click, sale, or lead generation is completed.
3.   Setting Up Measurement and Attribution System
As discussed above, the key element of paid performance marketing is how you can accurately measure the performance of each marketer and/or marketing channel, which will translate into a maximized ROI.
Some channels are obvious enough to measure. For example, a click is a click. However, some other channels might be very complex to measure. For instance, measuring the contribution of the number of readers of a blog post to your actual sales might not be so obvious, and this is where we might need to use an attribution model.
While there are various tools that can help you in tracking various metrics and even building an automated attribution model, the most important thing is to understand how a specific channel works for your business, which can be totally unique.
4.   Define Your Objective and Develop a Plan
Building a successful B2B marketing strategy should begin with proper planning, and you should especially define what you are seeking to achieve from the campaign.

Here are some key questions to ask in planning your performance marketing campaign:
What are the objectives of your paid performance marketing?
What is the ideal audience that you are targeting with your marketing campaigns?
How much budget is available?
How much ROI do you want to see from the investment?
How will your campaigns be unique compared to your competitors'?
How do you expect the campaign will benefit your business six months or a year in the future?
By answering these questions, we can get a clearer picture of building a solid plan and define the KPIs and metrics to measure to assess the paid performance marketing efforts.
5.   Designing a Conversion-Optimized Landing Page
While we can involve third-party marketers (i.e. influencer marketer or affiliate marketer) in our paid performance marketing efforts, all of these efforts should involve the target audience visiting our landing page whether to sign up for our email newsletter or to make a purchase.
A great landing page is very important in ensuring performance marketing success. No matter how good and effective your campaign is, it won't be effective if your landing page is not optimized. On the other hand, no matter how good your landing page is, it won't be so attractive if your offer is not interesting.
Design your landing page and offer based on a thorough understanding of your target audience, and aim to provide a seamless, optimized user experience. Make sure your landing page is mobile-friendly or mobile-responsive, and that it loads quickly.
Also, update your landing page's content and design regularly to stay ahead of your competition. Always test various aspects of your landing page, and improve what you can.
6.   Measuring ROI
We can measure the ROI of our paid performance marketing in various different ways, but mainly we can measure the following metrics:
Conversion rate
Cost per lead
Lead close rate/lead conversion rate
Customer lifetime value
Cost per acquisition
Measuring these metrics in relation to the KPIs of our paid performance campaigns can help us figure out whether the investments we've made on the performance marketing efforts are profitable.
So, how can we define whether our marketing ROI is 'healthy'? Although there's no one-size-fits-all answer for this, in general, we should aim for a ratio of 5:1 between revenue from a lead and cost per lead.
---
Inbound Marketing vs. Paid Marketing for New Businesses
---
End Words
Paid performance marketing is an effective way to promote your business considering the power of social media at the moment, where everyone can become your marketer and at the same time your ideal audience can interact directly with your business in a seamless way.
Performance marketing can effectively allow your business to reach new potential prospects and customers, while at the same time can lower your cost and risk than traditional marketing efforts.