Click here to get this post in PDF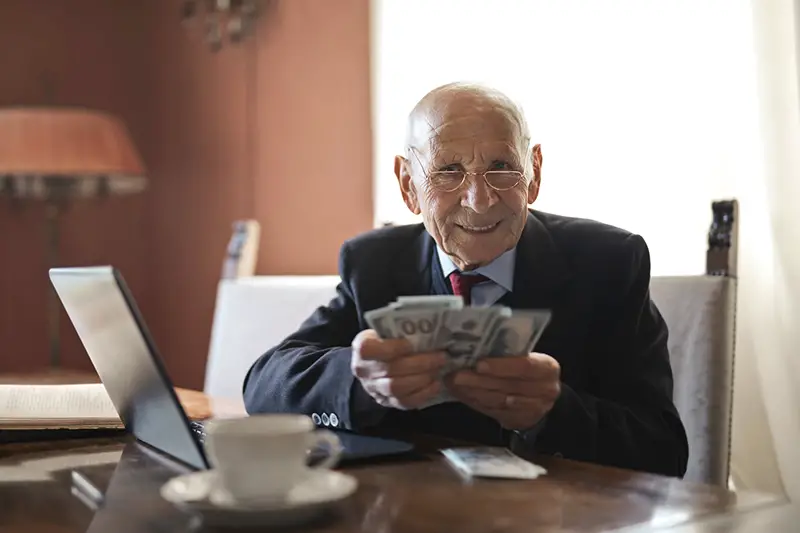 Are you getting retired soon?
Feeling concerned about your income sources after you retire?
Gone have the days when retirement used to be the name of inactivity. People had to rely on limited sources of income to provide for their living. Things have changed now. Don't panic! I am not going to say that you will need to work even after retirement.
What if you keep receiving a good amount of money without working? Sounds great, right? Yes, it's possible to enjoy the life of your dream without working after retirement. If you are still on duty, you have plenty of ideas to generate reliable sources of passive income.
The term "passive income" is getting traction these days.
Not sure what it means? Passive income refers to money that you can get without having to work.
According to the IRS or Internal Revenue Service, a person can make passive income preferably from two sources: business investments and rental property. However, there's a lot more than that. You can do many profitable things right now to enjoy the rest of your life comfortably.
In this article, you are going to discover true and tried ways to generate good passive income. Can't wait anymore? Let's get started!
Rental Income
You have worked harder all your life to make money. Would you like to benefit from it like never before? 
If yes, then investing your hard-earned bucks in buying rental units is probably the best decision you could ever make. Rental properties come in different sizes. You can buy according to your financial capacities. 
This will be a wonderful source of income when you do nothing after retirement. You won't have to look elsewhere for financial assistance. A rental property should give enough sustenance and financial independence to live a stress-free life.
Not sure how to purchase a rental property that best fits your budget? Try looking into your surroundings. Perform some quick internet research to see available options. You should find more than a few commercial properties, apartments, shops, or small houses.
You might be interested in a couple of rental properties. Making the best purchase decision could be a challenging task. Try recording information of each property so that you can think about all available options.
A few things that are worth checking before buying a rental property include the investment return, financial risks, and total cost. You should first analyze the return that you expect from a specific property. Also, analyze the potential risk factors involved. Have an exact idea of the total cost that you will have to bear to complete the purchase process. 
Once you have decided to buy a specific property, make sure you are across the government rules and regulations. There could be taxation requirements that you may need to fulfill.
Becoming a landlord isn't a difficult thing to do. Just make sure you are across the tenant state laws. Getting professional assistance from a local real estate dealer is advisable if you are not cent percent sure. 
Stock Market Investment
Investing in the stock market is a rational way to generate passive income for life after retirement. Although it's a risky way to boost your financial position, it can be the most lucrative method to ensure a good inflow of cash. 
Many people rely on stock market investments to generate revenue. You just need to be slightly careful while making investments. Make sure you are across the tactics that help in making the most of the stock market.
Don't worry if you are not sure about how to invest in the stock market. You should develop a good understanding by going through useful guides available online. Start learning about the basics of stock investments. Begin your endeavor through small investments so that you can learn how it all goes.
There are several reliable stock marketing investment platforms on the internet that you can count on to generate good value. However, don't forget to check the authenticity before you register with any of them.
Affiliate Marketing
Are you a netizen? Do you love spending a lot of time on the internet? If yes, then affiliate marketing is a good option to pursue.
Affiliate marketing is a trendy way to generate passive income. You can try to build your blog or become a social media influencer to promote others' products or services. You just need to place a link to their site to receive a specific share of income on each referral.
Students can also use affiliate marketing as a tool to generate income to meet their study expenses. Dealing with your assignments could be a challenging task when you have to focus on generating passive income through affiliate marketing. You can get essay writing help if you are busy with an affiliate marketing project to create passive income.
Some of the most prominent affiliate marketers on the internet are eBay, Amazon, and ShareASale. Many other online companies use affiliate marketing as a tool to increase their rapid growth. You can consider all the available options and opt for the ones that offer maximum benefits.
You earn a specific commission on every visitor that clicks the link and makes a purchase. The ratio of commission varies according to the type of products and websites. Generally, you can expect to receive from 3 to 7 percent. 
If you become successful in gaining good traffic to your website, you will also be able to generate a good income from affiliate marketing. It's a good source of passive income as you just need to place an advertiser's link to make things work.
App Creation
Making an app is another awesome way to create a steady source of passive income. You just need to make a one-time investment in building the application. You should be able to receive the reward for years to come.
App development is a big industry. There are hundreds and thousands of apps available in each niche. You need to think out of the box. Try to come up with a solution that no one has talked about yet. You can also try to do an existing idea differently.
How do you make money from apps? Create in-add advertisements or charge a reasonable fee from people for downloading your application. Once people start downloading your app, you can expect a good income from it.
Don't forget to add updates and features to maintain a good level of interest. See user feedback to make adjustments. Constant updates are crucial if you want to keep your application in good status. You can take help from a reliable app developer to implement your ideas.
Create an Online Course
A lot of people make money by selling their courses online. This trend is gaining traction with the advancement in technical skills. Several trustworthy platforms can help you sell courses to thousands of people across the globe. Udemy is a reliable website that helps you find customers for your online course. 
You just need to put in efforts once by creating a good course. If you have the knowledge to share, you can take advantage of course creation. Have a good plan and then start recording video sessions. Try to make it fully organized so that people can derive value from it. 
You can offer discounts to make the offer more attractive. This will help you boost sales and make good revenue in less time. Try listing your course on a few websites so that you can generate income from different channels.
You may also like: Retirement Planning for Small Business Owners: Everything You Need to Know
Image source: Pexels.com