Click here to get this post in PDF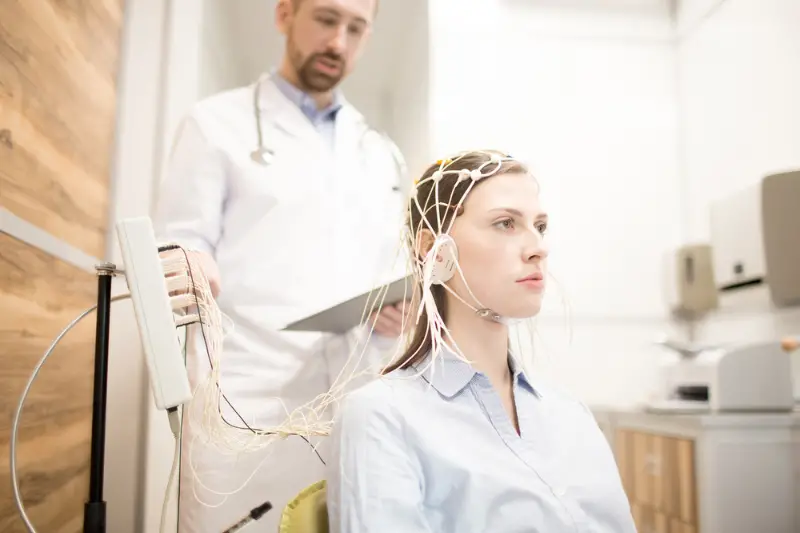 In this era, technology constantly pushes the boundaries of human capabilities. BrainAcess, powered by Neurotechnology, is at the forefront of innovation, revolutionizing the field of Brain-Computer Interface (BCI). This groundbreaking technology harnesses the complexity of brain activity and utilizes AI-based algorithms to open up new possibilities in human-machine interaction. Let's delve into how BrainAcess technology works and its potential applications.
The Birth of BrainAcess: Merging AI and Neuroscience
Neurotechnology, a trailblazer with extensive experience in AI and deep neural networks, embarked on a remarkable journey in 2019. Their mission? To decode the intricate language of the brain. This ambitious project eventually gave rise to BrainAcess, a suite of products and solutions tailored for EEG (Electroencephalogram) and BCI applications.
Unlocking the Potential: EEG Solutions for BCI
BrainAcess offers a range of EEG solutions designed for brain-computer interfaces, human-machine interactions, and more. These cutting-edge products feature dry-contact EEG electrodes, wireless connectivity, and a compact form factor, making them highly portable and versatile. Integration into various applications is seamless, thanks to software development kits supporting multiple programming languages.
One of the most compelling aspects of BrainAcess is its AI-enabled BCI algorithms, enabling a direct connection between your brain and the computer. The applications of this technology are vast and exciting.
Applications of BrainAcess AI EEG Technology
Computer Control: Say goodbye to traditional input devices. BrainAcess allows you to control computers and devices using your thoughts, eliminating the need for physical input devices.
Mind-Controlled Games: Immerse yourself in the world of gaming like never before. BrainAcess enables mind-controlled computer games where your thoughts translate into actions within the game.
Enhancing Productivity and Wellbeing: Monitor your mental state to optimize productivity or meditation experiences. BrainAcess can evaluate tiredness, focus, and relaxation, making it ideal for critical tasks and personal improvement.
Sleep Monitoring: Gain insights into your sleep quality and receive feedback to enhance your sleep patterns and overall health.
Neuromarketing: Explore how individuals interact with products and interfaces, providing invaluable insights for marketing and product design.
Assistive Technology: For those with lost motor functions, BCI technology can control bionic limbs through the power of thought.
Lie Detection: Given the difficulty of consciously controlling brain activity, BCI technology could potentially be used in lie detection.
The Essence of BCI Technology
At the heart of BrainAcess technology lies the ability to read and interpret brain activity, translating it into commands and information that computers and devices can understand. BCI systems often include stimulation components to present options to users, typically through displays, sounds, or tactile stimulations.
Measuring Brain Activity with EEG Headbands
Various methods are for measuring brain activity, each with its advantages and limitations. BrainAcess utilizes EEG (Electroencephalography), a method that records electrical signals using electrodes placed on the scalp. While it may have limitations in spatial resolution and noise compared to other techniques like fMRI or MEG, EEG offers practical advantages, especially in portable applications.
Dry-Contact EEG as a BCI Technology
Neurotechnology focuses on utilizing dry-contact EEG electrodes for BCI applications. Unlike traditional gel-based electrodes, these dry-contact EEG electrodes conform comfortably to the shape of the head, making them suitable for extended use outside the laboratory environment.
BCI Technology Paradigms
BrainAcess technology supports various BCI paradigms, including:
P300: This paradigm relies on visually evoked potentials and is used for selecting options by focusing on a particular item. It's beneficial for tasks like typing or criminology investigations.
SSVEP: Steady-state visually evoked potentials involve focusing on objects flashing at specific frequencies, allowing for quick and efficient option selection.
Motor Imagery: Based on changes in EEG recordings associated with imagined or observed movements, this paradigm has applications ranging from computer games to assisting people with motor impairments.
Brainwaves: Brainwave-based BCIs leverage electrical oscillations in EEG recordings to detect states of mind such as relaxation, concentration, or tiredness.
Challenges and Future Prospects
While BCI technology has made remarkable strides, challenges remain. These include comfortable and portable EEG hardware, adaptability between sessions and individuals, and the need for more EEG datasets to train machine learning algorithms effectively.
Introducing the Halo EEG Headband
In the pursuit of comfortable and portable EEG solutions, BrainAcess introduces the EEG headband. This innovative headband not only conforms comfortably to the shape of your head but also eliminates the need for conductive gel. It's designed to provide a lightweight and comfortable experience, making it ideal for extended use in various real-life applications.
BrainAcess Halo EEG headband represents a significant advancement in wearable EEG technology, ensuring that your experience is both convenient and effective.
BrainAcess represents a giant leap in harnessing the untapped potential of the human brain. As technology continues to advance, we can only imagine the boundless possibilities that await in the realm of Brain-Computer Interface technology.
You may also like: The importance of technology in business growth
Image source: Depositphotos.com