Click here to get this post in PDF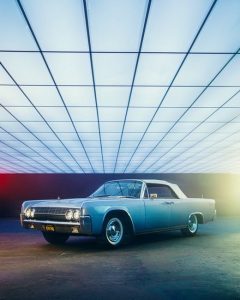 If we were to ask you to guess how car dealers make money, you would probably guess that they do it by—gasp—selling cars. Car dealerships are, after all, in the business of trying to get people to purchase cars from them.
To some degree, you would be right. New cars cost more than ever before, and it's helping car dealers make a lot of money right now. But they also make money by doing more than just selling new cars.
If you've been wondering, "How much money do car dealers make?", you should take a look at some of the different streams of income that they have. Check out a few of the ways in which car dealers make money below.
Accepting Trade-Ins and Selling Used Cars
When you buy a new car at a car dealership, you'll have the option to trade in your old car in exchange for a discount on your purchase. This is often the easiest way to go about getting rid of an old car that you don't want anymore.
In theory, it might seem as though a car dealership is doing you a favor by taking your old car off your hands. But in reality, this is a big part of their business plan. They specialize in taking trade-ins and reselling them at a profit in most cases.
If your old car is a real clunker, a car dealer might simply ship it off to an auction and have it sold there. But if they can recondition your old car and bring it back to life, they'll usually do it right in-house and resell it to turn a nice profit.
Most car dealers don't keep a ton of used cars on their lots. But the ones they do have in stock help them to make a decent amount of money every year. It's why so many car dealers accept trade-ins from those buying a new car in the first place.
Offering Financing Options to Car Buyers
The average person can't afford to pay for a new car outright in cash. They have to obtain financing for a car and pay it off slowly over time. So there is an F&I manager in every car dealership who helps their customer to get a good deal on their car. 
If you're going to do this when buying a new car, you're more than welcome to fund your purchase through any number of lenders. It's a good idea to get preapproved for a car loan before you start shopping for a new vehicle.
But you can also wait until you're working with a car dealership to find financing for your car. Dealers have financing departments that can help you get your hands on the funding you need to buy your new car.
And if you choose to get financing through a car dealer, they will, of course, make money off of it. In fact, they'll usually make way more money off financing than they will off the sale of a car.
Providing Extended Warranties on New and Used Cars
There is a lot of debate over whether or not people should invest in extended warranties when buying a new or used car.
Some people will tell you that you should absolutely take advantage of an extended warranty and prevent paying for expensive repairs during your first few years of owning a car. Others will tell you you're better off risking repairs and steering clear of paying for a warranty that may or may not cover them anyway.
Regardless of how you feel about extended warranties, they are yet another way that car dealers are able to make money. If you decide to invest in one, a car dealer will make a profit off it.
Extending Specific Protection Packages to Car Buyers
Extended warranties are designed to cover most of the major parts of a car. But they won't always cover things like, say, tires and wheels.
For this reason, there are also specific protection packages that you can get through car dealers when you buy a car. A good tire and wheel protection package, for example, will offer your tires and wheels the protection they need and help you replace them if they're ever damaged.
Just like with extended warranties, there are some people who will tell you that you shouldn't ever purchase a protection package for your tires and wheels or for any other part of your car. Many car owners don't end up using them.
But if you're worried about a specific part of your new car, you can likely find a protection package for it. And your car dealer will make money when you decide to invest in it.
Setting Car Owners Up With Maintenance and Repair Services
The majority of car dealers want to do more than sell you a car. They also want to help you take care of it over the years by providing you with a service department that can do maintenance and repairs. You can learn more about how they work to form lasting connections with customers by taking this approach.
Offering a service department allows car dealers to continue to make money from customers over time. Many of them will even offer things like free oil changes to their customers these days in the hopes of enticing them to bring their cars back when they need more expensive maintenance and repair services.
If you want to know the answer to the question, "How much money do car dealers make?", you should check to see how much their service department is bringing in. That's often where dealers make the bulk of their money.
So, How Much Money Do Car Dealers Make? It All Depends
The amount of money that a car dealer makes all depends on which services they offer to their customers. If they accept trade-ins, provide extended warranties, and make maintenance and repair services readily available, they can make a small fortune.
The answer to the question, "How much money do car dealers make?", varies from one dealer to the next. And dealers have the option to increase their profits and grow larger by increasing the services that they offer.
Read our blog to discover more about how new and used car dealerships achieve success.
You may also like: Popular vehicle purchasing practices in the UK