Click here to get this post in PDF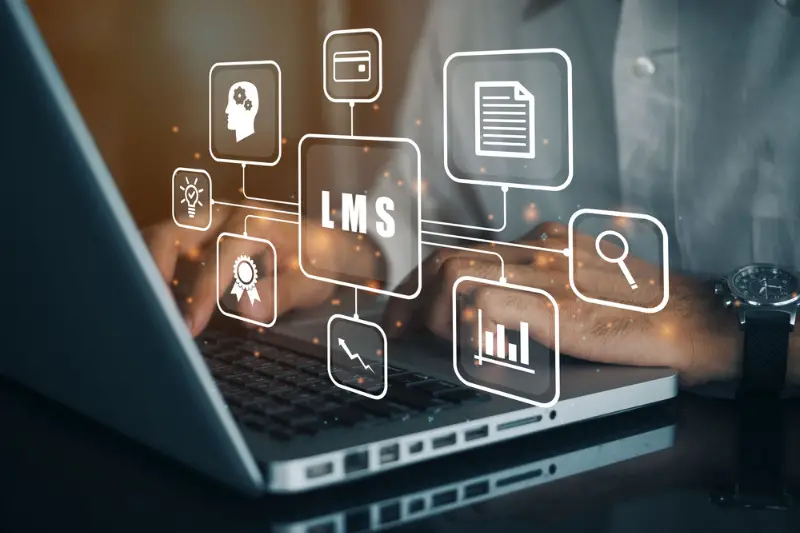 In today's fiercely competitive business landscape, organizations are constantly on the lookout for unique and prominent strategies to drive their success beyond expectations.
One revolutionary methodology that has been embraced by both local and international firms is employee growth and retention. The key to achieving business growth lies in continuously developing high-quality work and knowledge.
Enter the Learning Management System (LMS), a powerful tool that has shown tremendous potential in boosting business performance. 
In this blog, we will explore how implementing a corporate LMS can overcome roadblocks such as training costs, HR automation, and employee turnover, ultimately driving business success in the financial services industry.
What Exactly is a Corporate Learning Management System (LMS)?
A Corporate Learning Management System (LMS) is a software platform that facilitates the management, delivery, and tracking of employee training and development programs within an organization.
It serves as a centralized hub where employees can access learning materials, courses, and resources, while administrators can create, manage, and monitor the learning activities of their workforce.
Here are the five compelling advantages of incorporating a corporate LMS into your organization.
Efficient Training Management: Simplify, automate, and conquer your organization's training challenges with a corporate LMS. No more paper trails or confusion—just streamlined learning at its finest.
Engaging Employee Experience: Break the monotony and ignite a passion for learning. With a corporate LMS, turn training into an exciting journey where employees can level up their skills and collaborate with fellow learners.
Personalized Learning Paths: Say goodbye to one-size-fits-all training. Unlock the power of customization with a corporate LMS, tailoring learning paths to each employee's unique needs and goals. 
Insights that Inspire: Unleash the power of data with a corporate LMS. Track progress, measure success, and uncover valuable insights to fine-tune your training programs. Transform guesswork into informed decision-making.
Scale Smart, Save Big: Expand your training reach without breaking the bank. A corporate LMS offers scalability, enabling you to train thousands while keeping costs in check. It's like having a cost-effective superpower for your organization's growth.
Who Utilizes Corporate Learning Management Systems (LMS)?
Corporate Learning Management Systems (LMS) are utilized by a diverse range of organizations, including businesses of all sizes, HR departments, training and development professionals, managers, supervisors, and employees. These systems serve as a centralized platform for managing and delivering training programs, onboarding processes, and skill development initiatives.
HR departments benefit from the automation of training processes and the ability to track employee progress. Training professionals can create and distribute online courses, assessments, and learning materials.
Managers and supervisors utilize LMSs to assign and monitor training for their teams, ensuring skills alignment. Employees themselves access the LMS platform to engage in training, track their progress, and participate in collaborative learning activities.
Types of Corporate Learning Management Systems
Learning management systems (LMSs) can be categorized based on two fundamental aspects: whether they are open-source or commercial software and whether they are locally hosted or cloud-based solutions.
Organizations should consider their budget, IT capabilities, customization requirements, and ease of maintenance when choosing between these four options:
1. Open-source LMS
These are license-free solutions suitable for non-profit purposes. They offer the advantage of customizable code, allowing users to tailor the system to their specific needs. However, implementing and maintaining open-source LMSs require technical expertise and investment in server and hosting architecture.
A popular example of an open-source LMS is the Open Edx platform, known for its XBlock technology enabling easy content creation, platform customization, and robust management capabilities.
2. Commercial LMS
Commercial LMSs are proprietary training software that comes with license fees. These LMSs are developed and supported by vendors who provide technical assistance and ensure the system's sustainable operation. Commercial LMSs can be installed locally on your infrastructure or delivered as cloud-based software-as-a-service (SaaS) solutions.
3. Locally Hosted LMS
Locally hosted LMSs involve hosting and maintaining the software in-house, requiring significant setup fees and specific license durations. The organization's IT team assumes responsibility for its operation and security.
4. Cloud-based LMS
Also known as SaaS solutions, a cloud-based LMS is hosted on the web by vendors and accessible from anywhere, using any device. They eliminate the need for heavy IT infrastructure and technical expertise on the user's part. The LMS vendor takes care of system maintenance and data security through encryption protocols and provides access to the service.
What are the Primary Features of an LMS?
While specific training needs may vary, most Learning Management Systems (LMS) fulfill three fundamental requirements: user management, course management, and training progress assessment.
These core features enable organizations to effectively handle user administration, organize and deliver courses, and evaluate the progress of learners.
1. User management: The LMS allows administrators to add and edit users, organize them into groups and departments, and assign specific roles and permissions to each user.
2. Course management: Administrators can upload, manage, and deliver learning materials such as videos, documents, quizzes, and assessments to learners. They can also organize courses into modules and learning paths for structured learning experiences.
3. Progress tracking: The LMS provides tools to track and assess the progress of individual learners or groups. This includes monitoring completion rates, tracking quiz scores, and generating reports to evaluate training effectiveness.
Additional features found in some LMS platforms include:
Learning paths: LMS platforms may offer the ability to create customized learning paths that guide learners through a sequence of courses and activities with specific evaluation criteria and deadlines.
Event calendar: LMS platforms can include a built-in event calendar to schedule and manage in-person training sessions, webinars, or virtual meetings. Learners can be notified of upcoming events and access relevant materials.
Certification: LMS platforms can generate certificates upon completion of a course or assessment. This feature allows employees to receive validation and recognition for their training achievements.
Mobile learning: A good LMS will provide mobile accessibility, allowing learners to access training materials and courses on any device via a mobile app. It may also support offline learning, where learners can download content and sync their progress when they reconnect to the internet.
Social media tools: Some LMS platforms integrate social media-like features such as discussion boards, user feedback, likes, and shares. These tools foster collaboration, interaction, and engagement among learners.
Gamification: LMS platforms can incorporate gamification elements, such as points, badges, leaderboards, and rewards, to enhance learner engagement and motivation during training.
In Conclusion
A Corporate LMS in the financial services industry is essential for centralized user management, course delivery, and training progress tracking. Choosing between open-source or commercial and locally hosted or cloud-based LMSs depends on organizational needs.
Gyrus is an ideal corporate LMS, offering AI-driven features, a world-class learning experience, and scalable cloud infrastructure.
Empower your employees with Gyrus. Contact us for a demo, free trial, or pricing information to unlock your organization's learning potential and drive your business forward.
You may also like: 5 reasons to build a custom LMS solution for your business
Image source: Depositphotos.com