Click here to get this post in PDF
Software can be one of the essential tools for businesses today. The software is used for various functions, from inventory management to document editing. Often the software isn't equipped with an in-house solution or integration tools that allow it to work with other platforms and applications. 
This may leave the task of converting files from one format to another to be compatible. Converting files can be a cumbersome task requiring hours upon hours of work. This article will walk you through how to convert pdf to jpg on Windows using the SwifDoo PDF converter.
JPEG vs PDF
PDF is a standard format for a file that contains text and images. It's a popular way to share documents because it's a universal format that preserves the original document's layout. It is primarily used to store documents created using a word processing program. The PDF format has become common because it offers advantages over other formats, such as the ability to be read on different devices and operating systems.
JPEG is a well-known image format that supports compression. JPEG images are widely used on the Internet because they can be compressed to reduce file size without losing much quality. Many digital cameras use JPEG for storing pictures because it is smaller than other formats such as TIFF or PNG.
While PDFs are often used as an alternative to paper documents, JPEGs are typically used for photos and other graphical content, including charts and graphs. The two formats are not interchangeable, but you can convert PDFs into JPEG files using third-party software such as SwifDoo PDF Converter for Windows.
Convert PDF to JPEG with SwifDoo PDF
With the help of SwifDoo PDF, you can convert PDF to JPEG on Windows.
SwifDoo PDF is a powerful batch converter that easily converts PDF files to different image formats, including JPEG, PNG, TIFF, and BMP. It supports batch conversion, which means that you can convert multiple PDF files at the same time. The program's interface is straightforward and intuitive, so even novice users can easily use it.

Step 1: Download and install SwifDoo PDF on your computer. Launch it, and click the "Add Files" button to add your PDF file to this software. 
Step 2: Choose an output format for your document by clicking the "Add Files" drop-down list on the right side of this program's interface; then, choose "JPEG" or any other image format as the output format for your file(s).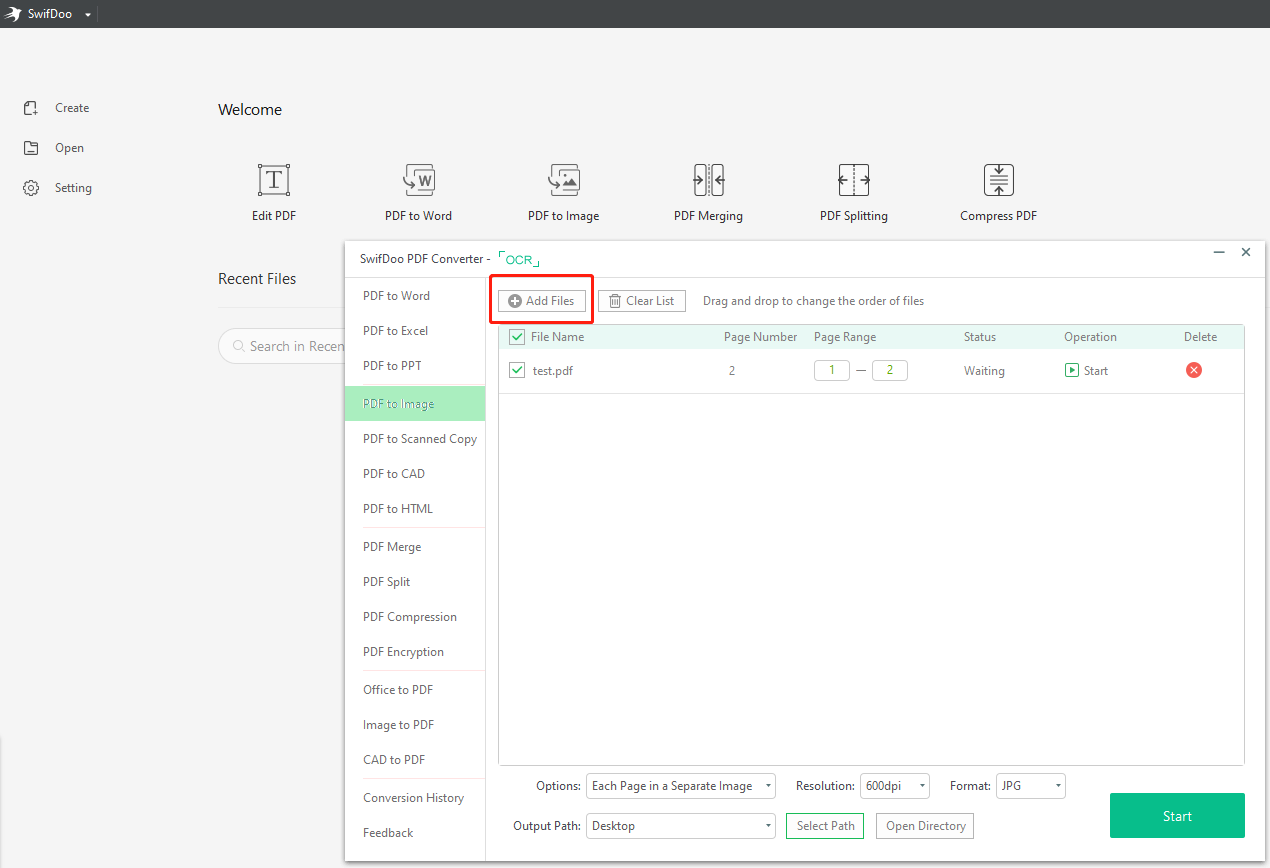 Step 3: If necessary, adjust output quality by using the "Quality" slider bar in the bottom bar of this program's interface; then click the "Convert" button to start converting your PDF files now.
Can I convert a PDF with passwords to JPEG images?
You can convert a PDF to JPEG using SwifDoo PDF, but you will need to ensure the PDF does not have any passwords or other security features.
If the PDF has a password, you will be prompted to enter it before you can convert it. If the PDF includes other security features, like a digital watermark or an electronic signature, these will also be stripped out when converting to JPEG.
SwifDoo PDF Online Converter
SwifDoo PDF Online Converter is a free online tool that allows you to convert PDF to JPG on Windows. It is the fastest, most secure, and most accessible way to convert your documents. You can use it to convert your files in seconds through a simple and user-friendly interface.
Converting a file using this service is very easy. You must go to the website, upload your document on the "Browse" button, and click "Convert." The conversion process will take less than a minute, and then you can download your result by clicking on "Download."
Final Thought
SwifDoo PDF is an affordable, easy-to-use, and reliable PDF-to-JPG converter for Windows. It can convert many PDF files into JPEG, TIFF, and PNG formats. It also supports converting encrypted PDF files that otherwise get rejected by most other PDF converters.
The software makes the whole process easier for you and can help you save lots of time and effort in the long run. The tool can also be fun to play around with and help you discover new skills and tips when working with PDF documents and images in the future.
You may also like: 4 Things You Need to Know About PDF Files