Click here to get this post in PDF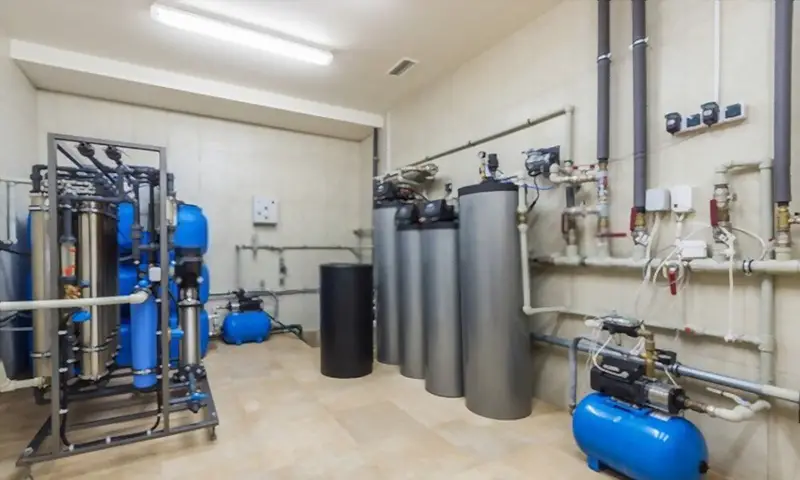 If you are looking to buy a water softener or more items alike, there are a couple of things you ought to put on the table first. Buying appliances and water systems are usually not a cheap investment, and if you decide you will invest in one then you need to invest in the best one. 
In this guide, you will precisely learn what a water softener is, what hard water is, the benefits of a water softener, and how to buy the best water softener. Let's dive into it, shall we? 
What is a Water Softener?
Whether you are living in an urban area, a city, or a rural area, water will never be safe enough to consume. In the cities, the source of your water is probably from a nearby water treatment plant while in rural areas, you probably use water from wells or rivers.
The number of contaminants and level of hard water may be different in these two places. Those in the city may have fewer contaminants because water is already being treated. This, however, does not mean that it is 100% safe for consumption.
With industry and agricultural chemicals and pollutants being released into the environment all the time, you need a step further to purify your water.
On the other hand, water from wells and rivers may be highly contaminated since they don't pass through any treatments. This means that you have to put a system in place to purify and soften your water before consumption or any other use.
That is where water softeners come in. These are systems or equipment used to remove hard water-causing chemicals and minerals from your water, leaving you fresh, healthy water to drink, clean, and shower with. There are many benefits that come with softened water. However, you should make sure you buy only reputed brands like autotrol water softener.
Benefits of Water Softeners
There are multiple benefits of investing in a home water softener, from health benefits to cost-effectiveness. Check them out below;
Better Tasting and Smelling Water
If your water comes from a well or a river, you probably have tasted the earthy taste and smell that comes with it. Or if it is from a water treating source, then there are always some funny, unpleasant taste and smell. All this may be caused by traces of hard minerals in the water.
Some of these minerals that cause a funny taste or smell include iron, chlorine, and other additives that may be present in the water source. Using a water softener system will come in handy for this. It eliminates this taste and smell, leaving your water smelling and tasting fresher. 
Healthier Hair and Skin
You wonder why your hair is always dry and dingy no matter how many times you wash it in a week. Or hate how dry and itchy your skin gets. You've probably been made to believe that that is your skin or hair type. While that may be true, maybe you should first stop to think about your water.
Hard water causes dryness of hair and skin when used because of the minerals present. But a water softener can easily solve that problem for you. Unlike hard water, it moisturizes, and rejuvenates your skin and hair, giving you smooth, shiny hair and skin.
Save you Money
If all the above-mentioned benefits haven't yet gotten your attention, then maybe this will; investing in a water softener seems like a lot. But in the long run, it saves you money. And who doesn't want to save some bucks, in all their purchases, right?
Soft water doesn't leave buildup in your hot water tank, as opposed to hard water, which causes buildup in the tank. This forces it to work harder to deliver efficiently, which causes it to require more power. 
What is Hard Water
When water has a higher concentration of hard minerals such as calcium and magnesium, then it is known as hard water. These minerals occur naturally in the water, depending on the water supply. Hard water doesn't cause immediate effects on the user but over time, the consumer starts to notice issues and have problems.
It may cause hair to dry and dingy due to long-term use, or skin to become irritating, itchy, and dry. Other effects of hard water include funny smell and taste in drinking water, acceleration wear and tear in plumbing equipment, and more as such. 
How to Buy the Best Water System 
Selecting the right water softener is important. You want to make sure that it is going to meet all your needs. First of all, you want to make sure that you select the right size. For you to do this, you must know the number of impurities you want to clear from your water, or rather, the concentration and level of your hard water.
The next thing you want to make sure of is that you get the right features. You must be acquainted with the features and control of the water software you intend to buy. Check out the regeneration cycles, how long the cycles take, the amount of salt needed for regeneration, and such.
You also want to make sure that you buy from the right company. This can be hard especially due to the many companies and brands out in the market. Make sure to check out reviews, ask for recommendations, and do some good research to buy from a certified and reputable company. 
You may also like: Health Supplements and Staff Wellbeing