Click here to get this post in PDF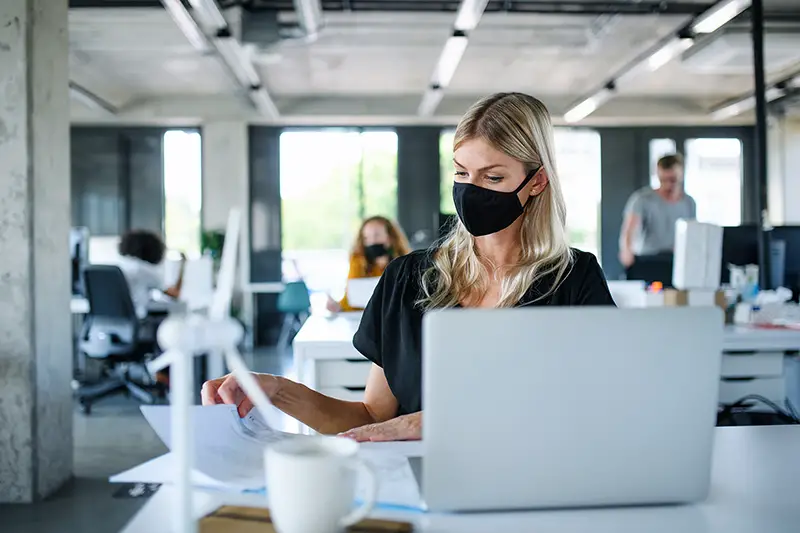 Coming back to the office after being away for so long can be very hard. Sometimes people can be nervous or uncertain about their jobs, especially during this economy. The following are some tips to make the transition easier for both your employees and yourself.
1) Consider offering employee assistance programs (EAP), which can be used to help employees with mental health problems access the resources they need.
Although this is not directly related to workplace safety, EAPs can prove beneficial for employees who are struggling with mental health issues but haven't come forward about it out of fear of losing their jobs or other negative consequences. Allowing them this space allows you to help them get their lives back on track–everything from how to get over post-covid mental sluggishness to diet and exercise–without bringing down productivity levels in the process. This also goes a long way toward protecting your organization's reputation as an employer of choice and helps put an end to the stigma surrounding mental health problems.
2) Keep managers informed about changes to leave policies.
In addition to letting employees know that their businesses are concerned about their safety, this also gives line managers an opportunity to provide suggestions or insight into workplace safety issues beyond those involving medical leave.
3) Provide an easily accessible return to work plan for employees that are able to come back to work, but may need restricted hours or additional support.
Making it easy for the employee to access this information in their own time will help them focus on recovery in a less-rushed setting. It would also be good practice in terms of creating an accessible workplace and reducing barriers to employment.
4) Ensure any policies regarding medical leave are clear and up-to-date so they reflect current legislation.
This shows employees that your business is concerned with following all legal procedures when addressing issues affecting worker health and safety. It might be a good idea to ask for legal advice in creating policies or to double-check that your current ones are up-to-date.
5) Make sure each employee has access to their own medical records.
It can be a lengthy process to access these records in a timely manner, so in the meantime, making sure they have them available in accessible form can help speed up reviews and authorization for time off.
6) Provide occupational health and safety training for managers of employees who may need time off or require modifications to their work arrangements.
Although this is not directly related to workplace safety, providing training can help managers get on board with workplace accommodation for workers with certain needs. A good course in the basics of accommodating employees would also greatly benefit businesses by helping them avoid human rights complaints due to discrimination or lack of information.
Conclusion
Businesses can take these steps in order to create a safe return to work program for employees returning to the office after a lengthy hiatus. Your plan should reflect the needs and preferences of your organization and the employees you represent, so feel free to adjust this list as needed.
You may also like: Rethinking your office space in the post-Covid era
Image source: Shutterstock.com