Click here to get this post in PDF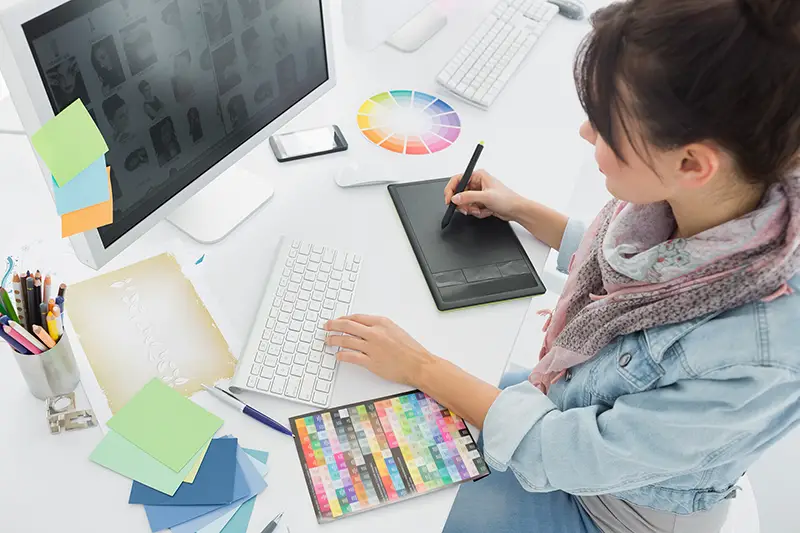 Out of all the B2B companies in the US, statistics tell us that 64% use a variety of marketing strategies. This means that the pressure to improve yours is getting heavier by the minute. Along with managing your business, there comes the concern of finding new ways to promote your brand.
Unknown to many, graphic design is an excellent tool to help you elevate your strategies. If you haven't used it yet, now's the perfect time. Here are ways that design can help increase sales and awareness for your business:
Logo and Branding Materials
Brand identity is essential for every business, whether B2B or otherwise. This is what will identify you and differentiate you from the competition. If you already have one, there is always room for improvement.
A redesign keeps you relevant and up to date with the trends. And for this, using online template logo makers just won't make the cut. For your branding identity to be effective, it has to have the following qualities:
Flexibility – branding visuals should look good across all your platforms, from billboards to business cards.
Consistency – good branding visuals should be consistent with your vision, mission, and objectives.
Distinctiveness – your branding materials should differentiate you, so make sure these are unique.
Simplicity – your logo should be simple enough not to distract the viewers away from your brand message.
Website Design
Your website is your business's online home. This is where companies would find more information about what you offer. Make sure it's a place they would want to stay in longer. Get a designer that's reliable and good at designing killer websites.
With the internet offering just about any service you need, the difficulty is in finding the right one. Ensure that your web designer will get your website to do the following:
Represent your brand well
Use graphics and images that reflect your brand personality
Offers easy navigation and search
Responsive on multiple devices
Again, there are online resources that you can go to for web design. However, the design you'll get may not do the job correctly. A pro designer can help you get your site up to par with customized call-to-action buttons, efficient layout, and easy navigation.
Collaterals
These are your business cards, letterheads, catalogs, brochures, and many other marketing materials. Don't be content with plain and basic. These collaterals should project your image of professionalism and trustworthiness. When you give a business card to someone, make sure that it makes a good impression of your brand.
Significant collaterals provide your B2B company with these advantages:
Social Media
Traditional advertising is seeing a decline since the advent of social media. While it is not entirely dead, marketers and advertisers are now focusing on social media marketing more than ever. Great design can help you elevate your marketing campaigns on social media channels.
A standout branding identity helps people see you through all the noise, which is common whatever social media platform you're in. However great your text content is, your social media posts become more noticeable with compelling graphic design.
Content Marketing Strategies
One of the most effective types of advertising is the use of content marketing. You know it is working when 70% of marketers actively invest in it. A study also found out that 32% of marketers believe that visual images are the most critical form of content for their business.
So, for your B2B company's content marketing strategy to get positive results, it needs good design. From infographics to videos, always include design on your blogs and website.
Package Design
For B2B companies that have physical products to sell, graphic design is a must. Product displays, outer packing, and inserts are some of the ways design can help your brand. These are excellent opportunities to get consistency for your brand and stand out from the competitors.
Email Marketing Strategy
Your email marketing strategy needs design to make it produce better outcomes. While there are a few marketers who doubt email's efficacy as a marketing tool, statistics prove otherwise. For every $1 you spend on email marketing, you earn $38, or a whopping 3,800% ROI. 
How to get your recipients to notice your email? Through graphic design and content that's high in quality. If you're already using email to promote your brand, it's high time to redesign your email and newsletter templates. A content rewrite should also be in the works.
Final Thoughts
Competition is getting more cutthroat as marketers use new and better strategies. To get ahead of the marketing game, you need to continually revisit your strategy and see if these are still working for you. Great graphic design should always be a part as it gives many advantages that text alone can't.
You may also like: Importance of B2B Brand Strategy & Marketing and B2B Branding
Image Source: Shutterstock.com