Click here to get this post in PDF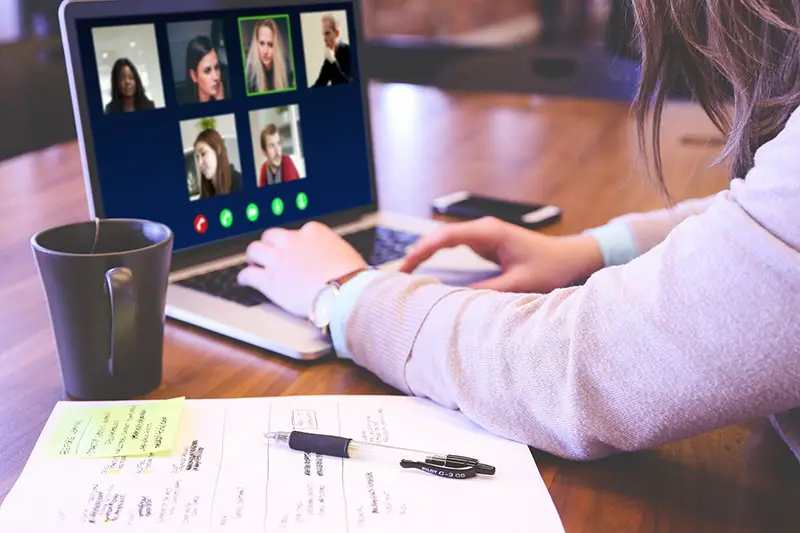 "Out with the old and in with the new."
This seems to be becoming the theme of corporate events today, especially after the COVID-19 pandemic paved the way for a new normal in almost every aspect of society.
Before the outbreak, event hosting was previously all about gathering as many people in one place as possible. But now that social distancing has become a requirement for health and safety reasons, businesses are looking for other ways to make this happen and have stumbled upon the benefits of virtual events. 
With virtual events, companies can expand their audience reach while also saving on costs and reducing their carbon footprint.
Want to host your own virtual event soon? 
Here are six tips you can use when conducting a virtual event:
1. Make sure it is relevant.
Relevance has always been an important factor to consider when choosing a traditional event, but it becomes even more critical in virtual conferences.
Being relevant means an event should be:
Timely – When organising an event, you should make sure it applies to the current situation or any other factors that affect your audience. An example of this is the COVID-19 pandemic.
Actionable – Offering advice that people cannot act upon in the current climate is pointless. For example, marketing training programs must update their strategies and adjust focus on helping brands navigate the aftermath of COVID-19.
Of course, it doesn't necessarily mean all virtual events must be related to the pandemic. It's just that it is this variable that has a significant impact in the current events scenario.
2. Get the word out.
Identify the USP of your virtual event or what makes it special. Maybe a famous speaker is hosting it, or your event could be a unique networking and skill-sharing opportunity. You could be using the best platform for virtual conferences in which case you can emphasize the special features and experiences event attendees can expect from your event.
Whatever the key selling points of your event, highlight these in your marketing.
Promote your virtual event by email and via social media platforms. Create a detailed Facebook event and conduct an event countdown using Instagram Stories. Reach out to your LinkedIn connections or use InMail to personally invite people you think would be interested in or could benefit from your event.
Ramp up promotions around two to three weeks before your event and create an event hashtag. Also, ask your speakers to act as event ambassadors and share the details of your event on their own accounts or pages.
3. Maximise the technology.
For a more immersive experience, new innovations in virtual event technology allow hosts to create a virtual space where participants can "walk" around using customisable avatars. The experience is very much like actually strolling a physical exhibition area in person, except it can be done remotely.
The best part is, this isn't limited to watching exhibitors showcase their offerings. Participants can also engage and "speak" with them like how they normally would in the real world.
4. Design the experience for added value.
Many event organisers and creators will be hosting virtual events on similar platforms, so you need to think about how to make your virtual gathering stand out. In this case, experts recommend curating the entire experience to make it unique and add value to the attendees.
One example of this is to incorporate ticket add-ons to your event. This can come in the form of merchandise sent to the participants before or after the event, like a signed copy of a book for author talks or a discount voucher code for product launches.
Doing this can help boost funding and solidify your brand while ensuring a wider audience reach. Even better if you can bring a sponsor on-board for a more memorable experience for your attendees.
5. Choose the best timing.
The schedule and timing are crucial for virtual events – even more so than in-person gatherings. This is because these online conferences often cater to attendees across different time zones.
If you're targeting people worldwide, you may have a hard time setting the perfect date and time. However, you need to remember that there's no way you can please everyone.
Instead, pick a core audience – preferably those located somewhere with higher attendance percentage – and implement a most convenient schedule for them.
Besides the time and date of the event, also think about the event duration. One hour is considered a good ballpark duration to aim for, but there is no universal formula for this.
If you're hosting several events, you'll eventually get a feel of your audience's attention span and work from there.
For example, talks that last for 60 minutes long may seem like a good idea if you have three different speakers. But when put into action, you may begin to realise that 30 minutes for one speaker is more than enough to ensure that your audience is engaged and focused throughout the event.
6. Always have a test run.
No matter the type of virtual event you're hosting, you must make sure you conduct a test run before the actual event date. This will help you reduce unexpected situations and prepare for any hiccups that may occur.
A mock event will also help you iron out technical glitches and boost your team's dynamics as the hosts.
If you're bringing in presenters, it is also a good idea to get them involved in the run-through. This will help familiarise them with the platform and prevent any unpleasant surprises from happening.
Take Your Business to a Whole New Level
Virtual events have given companies and organizations a creative channel for conducting seminars, conferences, workshops, fairs, and other similar activities, and making attendance possible for an international audience.
Now's the time to level up your game. 
But to ensure success, consider these tips when planning your first virtual event. 
About the Author
Ahmed Tameemi is a serial tech entrepreneur, XR expert, and futurist, as well as the Managing Director at Outreal XR, an award-winning virtual, augmented and mixed reality company, specializing in virtual events. Pioneering in the creation of stunning extended reality (XR) experiences, Outreal XR delivers immersive digital realities that result in total emotional engagement. Their newest innovation, HoloFair, is a virtual events platform where users can connect with others in the 3D virtual world.
You may also like: Role of Video Conferencing in 2021
Image source: Pixabay.com