Click here to get this post in PDF
The healthcare industry is one of those never-get-tired, always-in-demand industries. It is an industry that will always have a job for you, no matter your educational background. The rise in the aging population, the increase in deadly diseases, and the advancements in medical technology are reasons behind this industry's growth.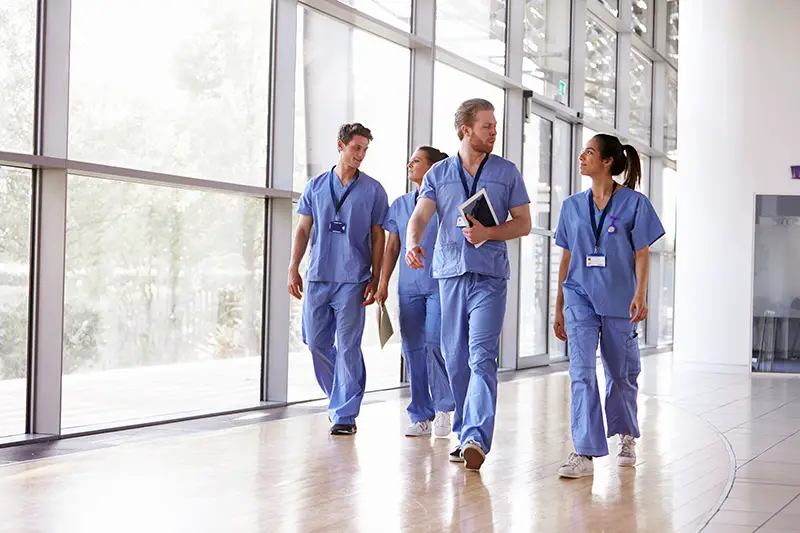 The Bureau of Labor Statistics expects the healthcare-related professions to increase by up to 16%. There could be an additional 2.6 million new healthcare jobs in the market as we continue to move to 2030. If you've been on the fence about getting your degree in healthcare, now is the time to take the plunge. Here are some of the most sought-after healthcare degrees that you should consider:
1. Public Health
Community safety and health risks should be at the forefront of any government's agenda. After all, a healthy population is a productive population.
Public health officials work with government agencies and community organizations to develop and implement programs that improve the health of a population. Public health officials' focus areas include epidemiology, biostatistics, and environmental health. A degree in public health will equip you with the skills and knowledge to protect and improve the health of communities. A Master's in Public Health program typically takes two years to complete. Additionally, with a higher degree, your career choices open up to include roles such as health policy analyst and program coordinator.
On average, the annual wage for epidemiologists is $74,560. Depending on your experience, education, and location, it may be higher or lower.
2. Nurse Practitioners
A Nurse Practitioner (NP) is a registered nurse who has completed an advanced nursing program. NPs are qualified to provide a wide range of primary care and preventive health services to patients of all ages. Treating illnesses, prescribing medication, and managing chronic health conditions are some of the duties of an NP.
You can choose to specialize in a particular area of healthcare, such as pediatrics, geriatrics, or women's health. If you're starting your career, an NP program is a great way to get your foot in the door of the healthcare industry. However, if you're already a practicing nurse, a Master of Science in Nursing Program will help you pivot your career in the direction you want to go. According to BLS, the job outlook for nurse practitioners is expected to grow by 52% by 2030. And if numbers motivate, you can earn about $54/hour as a nurse practitioner.
3. Physical Therapist Assistant
Injuries, accidents, and chronic health conditions can lead to a loss of mobility. A physical therapist assistant (PTA) works under the supervision of a licensed physical therapist to help patients regain their mobility.
The duties of a PTA include developing treatment plans, providing therapeutic exercises, and helping patients with their daily activities. BLS looks at a 32 percent projected increase in PTA jobs by 2030. To become a PTA, you will need an Associate's degree from an accredited physical therapist assistant program.
The median annual wage for physical therapist assistants was $58,040 in May 2019. The top earners in this profession make upwards of $86,980. If you want to be one of the high-earners in this field, consider acquiring a specialization.
4. Medical and Health Service Managers
Healthcare service managers are like jack-of-all-trades. They are responsible for the overall operations of a healthcare facility. It includes managing budgets, developing policies, and meeting quality standards. This could be the perfect career if you enjoy problem-solving and working with people.
As a medical and health service manager, you can expect to work in hospitals, nursing care facilities, and physician's offices. The job outlook for medical and health service managers is projected to grow by 32% through 2029. You will need a Bachelor's degree to qualify for this role. Honestly, it depends on the employer. A Master of Science in Healthcare Administration will give you the edge if you're aiming for higher-level positions. The median annual wage for medical and health service managers was $115,160 in May 2019. The top earners in this field make upwards of $187,199.
5. Occupational Therapy Assistants
Occupational therapy assistants are responsible for helping patients regain their ability and perform therapeutic tasks, including stretching. They work under the supervision of an occupational therapist and often collaborate with other healthcare professionals.
Developing treatment plans, monitoring patients' progress, and documenting outcomes are some of the duties of an occupational therapy assistant. You must complete an accredited occupational therapy assistant program to become an OTA. It will take about two years to complete the program and prepare you for the licensure exam.
The job outlook for OTAs is bright, with a 33% projected growth by 2029. The median annual wage for OTAs was $60,220 in May 2019. The top earners in this profession make upwards of $84,970.
6. Medical Assistants
Entering the healthcare field as a medical assistant is a great way to get your foot in the door. Medical assistants perform clinical and administrative tasks in physicians' offices, hospitals, and other healthcare facilities.
Clinical tasks include taking medical histories, recording vital signs, and preparing patients for examinations. Administrative duties include scheduling appointments, handling billing, and coding medical records. With the aging population and the increasing number of insurance coverage, the demand for medical assistants is on the rise. The job outlook for medical assistants is projected to grow by 18% by the time we reach 2030.
Most medical assistant programs can be completed in about a year. Some employers may require certification, but it is not always necessary. You can expect to take $36,000 as a medical assistant. The top earners in this profession make upwards of $51,840.
The lack of healthcare workers is a global issue, and there is a pressing need for qualified individuals to fill these roles. With the right education, you can pursue to have a successful and fulfilling career in the medical industry. The most important thing is to find a degree that interests you and matches your skillset. Since you'll be spending a significant amount of time and money on your education, choosing a degree will lead to a career you love is essential.
You may also like: Prioritizing Preventive Measures as a Healthcare Provider
Image source: Shutterstock.com