Click here to get this post in PDF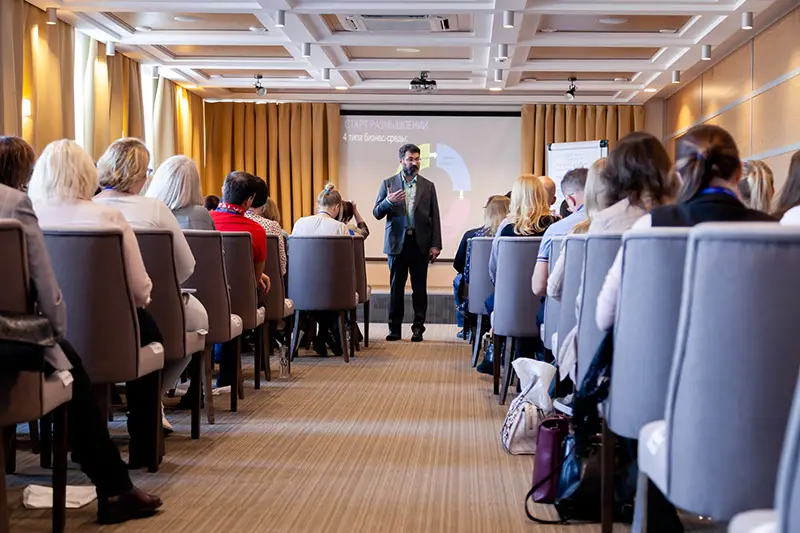 Abu Dhabi is one of the most famous destinations for corporate events in the Middle Eastern region. Thanks to the wide range of unique facilities and attractions it houses, the emirate has become one of the prime destinations for business meetings, product launches, industry conferences, and many more.
If you're planning to hold any of these events anytime soon, you must first know what an effective business event management entails. This article provides six tips that will guide you through the process of planning a corporate event.
1. Choose the right kind of event for your goals
Before choosing a type of corporate event to organise in Abu Dhabi, you should first consider the specific goals you want to achieve. Identifying what you aim to accomplish in the endeavour will guide you in the right direction.
For example, introducing a new offering to the market is best done with a product launch. If you want to gather everyone in the company together to applaud excellent work, a corporate party should do the trick.
But if your goal is to solidify your brand's position as an industry authority, you might want to go big by hosting a convention.
When you have a clear-cut purpose, you can easily pick out the most appropriate event to plan.
Don't forget that your gathering should be aligned with your company's brand strategy. Don't throw a party for the sake of throwing a party. Instead, treat it as an interactive brand experience.
2. Set a working budget
Almost all aspects of a corporate event require money. Take into account the most important factors when setting a realistic event budget. This includes:
the venue
audio-visual equipment
catering
entertainment
technology
staffing
You also need to determine whether the budget will incorporate outgoings only or if there will be supplemental income from external revenue sources, such as sponsors and exhibitors.
If the event is recurring or has happened in the past, you can use the previous budget as a baseline for the new one. Just remember to factor in the inflation and any adjustments to the event supply costs.
It would also be best to add a bit of extra. Every event costing should have built-in flexibility in the form of estimates instead of fixed vendor prices. And don't forget to have a contingency budget. 
From there, get into the details on where and how you'll allocate your resources. Learn to prioritise wisely. An event will lack substance if you spend too much money on decorations rather than hiring a skilled presenter and tech crew.
3. Consider your timeline
Aside from money, another valuable resource you must use wisely is your time. To do so, you'll need to come up with a timeline for the project.
An event timeline will help you track all the tasks that need to be accomplished chronologically. Use a master checklist to facilitate all the tasks and streamline everything using tech-savvy tools to simplify even hundreds of infinitesimal details.
If possible, begin your preparations 12 months before the event. List down everything that needs to be accomplished within nine, six, four, and two months. As you reach the final month, keep track of accomplished tasks for every week, day, and down to the hour until you get to the day of the event.
Having a timeline will let you monitor the overall progress of the event preparation more efficiently and focus on solving issues as they arise.
4. Decide on the size of your event
Corporate events can be categorised based on their size, determined by the approximate number of attendees you expect to participate in it. This can be used as a determining factor in different event elements, including the venue, the theme, and the facilities you'll need for the gathering.
For example, events with a maximum of 100 delegates can be categorised as micro-events (a.k.a. simple events). This cover more intimate training sessions and meetings that will require:
booking a room, possibly a conference hall
break-out refreshments
presentation equipment and maybe some handouts, if the event demands
registration
In contrast, midsize events can be a bit more complex and may require more technology. This could be a company-wide occasion or leadership summit for some meet-and-greet between VIP clients and C-level executives with as many as 1,000 attendees.
5. Book an event venue suited for the event.
Now that you've decided on an event and have a working budget, it's time to select the appropriate venue.
Be careful not to book just any place with a good rating, though. While up-and-coming places can potentially be a good choice, you must assess how well a venue suits your goals first before you reserve the place.
To make sure you choose an appropriate venue, you need to develop the event architecture first. This will give you a clear list of specifications required for your event's success.
You'll also need to consider the location as it affects how many people can attend. If a venue is convenient, easy-to-find, comfortable, and has a great atmosphere, you're off to a good start.
Another thing to think about is the timing of the event. If you're short on budget, you can book your event during a non-peak time, like Monday morning for a media breakfast, as venue rent is usually lower during this time.
6. Promote your event
Promoting the event is one of the most important parts of event management. After all, how can attendees show up to your event if they don't know about it in the first place?
Even if you're holding a micro-event with a very short guest list, you still need to send word about it via official invites.
Of course, if the gathering is bigger, you'll need to be bolder in promoting it. Fortunately, with social media, the Internet, and other technologies that enhanced how people communicate today, this can be quite easy to accomplish.
Here are some ways you can promote your corporate event:
Send an email invite to specific guests.
Publish advertisements on industry newsletters, websites, and digital communities
List your event in an industry directory or listing.
Encourage partners and sales teams to promote the event to visitors.
Market the event on social media, especially on platforms your target audience frequents (e.g., LinkedIn for business executives and professionals).
If you're promoting online, don't forget to create a landing page for the event. This will serve as the invitation and the "lead capture page" for the project.
A Final Word
The success of a company gathering lies in how well it is planned. 
Use this guide when organising your first corporate event in Abu Dhabi to ensure you don't miss any detail.
You may also like: Why You Should Host Corporate Events
Image source: Dreamstime.com