Click here to get this post in PDF
Any business that wants to implement NetSuite should consider whether or not they have the resources to successfully perform the integration themselves. For most companies, the answer is "definitely not". This isn't just because the process takes a dedicated team up to several months (or more) to complete but also because it requires guidance from people with NetSuite experience.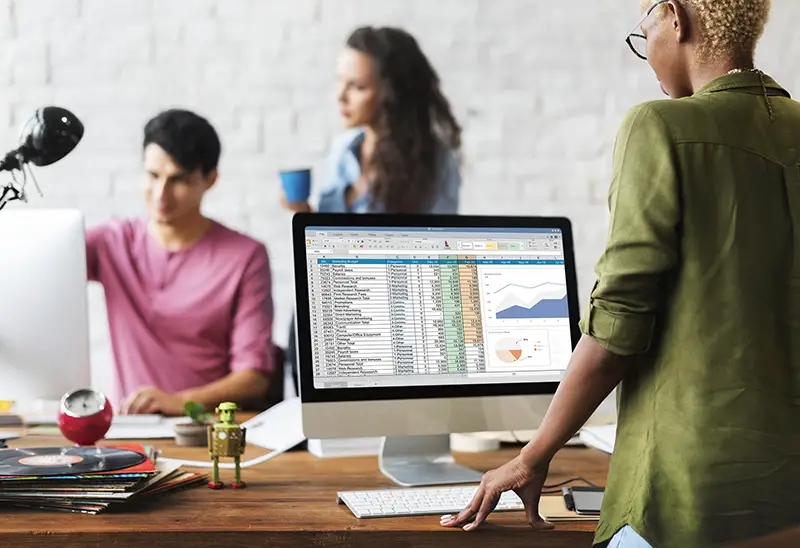 For this reason, many companies decide to find a NetSuite implementation partner like Entartes. As third-party consultants who've been through the process before, they're able to lead businesses of all kinds through each phase of the NetSuite implementation. Before settling on the right partner, though, a business should know what to look for. 
They'll have a proven track record
There are several ways to establish this; here are a few starting points:
Check online reviews – Many NetSuite implementation partners will have online reviews from customers or industry experts or side-by-side comparisons from competitors. If you want to know how they really treat their clients, you may be able to get that information from online reviews.
Ask for references – Client references are usually the top examples of success that a company has to offer, so consider these to be descriptions of the implementation partner's peak performance.
Inquire about their approach – Since you may end up talking to multiple implementation partners before choosing the right one, it would make sense to get a feel for how they would approach your specific NetSuite implementation. You could ask how they typically handle integrations like the one you're planning and what they've done for similar companies in the past. If they're a strong candidate, they'll know exactly how to answer these questions and more.
They'll be transparent in communications
A NetSuite implementation is a massive project, and communication is key from the very beginning. An implementation partner should start by being transparent about their costs – you don't want your budget to be exhausted halfway through the process because of hidden fees. 
Transparency in the planning stage is important too. Details like deadlines, timelines, and project breakdowns should be shared throughout the company, so everyone stays informed.
This may not be strictly necessary, but you might want to ask about using project management software for communicating feedback, goals, and approvals. This helps keep everyone on the same page and prevents clumsy mass emails or feedback that gets lost in the shuffle.
They'll have experience in your industry
General experience is important for an implementation partner, but you should also look for industry-specific experience. For example, if you're a software company, you may not be best served by an implementation partner whose main experience is with retail establishments. Your company, no matter the industry, will have specific customization needs, regulations, and processes to work with. In order for the NetSuite implementation to go smoothly and effectively, you should look for a partner who understands your company's specific needs.
They'll offer long-term support
A NetSuite implementation goes well past deployment; it also requires extended training, fine-tuning based on feedback, and sometimes even additional customization. The right implementation partner will continue working with you until the new platform is fully integrated, no matter how long it takes.
They'll have both business and technical skills
You may need a NetSuite implementation partner mainly for their technical expertise, but you really need more than that; they should also have a deep understanding of the business they're working with. For example, they should be able to calculate your return on investment after the implementation. Rather than simply going through all the necessary steps, they should also understand the business goals that everyone is working towards.
They'll know how to plan a successful NetSuite implementation
A NetSuite implementation is only as good as its plan, so you want an integration partner who will treat the planning phase with the attention it deserves. Many implementations are delayed due to poor planning, but this is completely preventable in most cases – they just need a better plan. This not only helps keep the implementation on track but also helps the project stay within budget. Resources can be more accurately allocated, and a certain degree of flexibility can be established to account for potential changes of plan.
They'll treat you like a valued client, not just a number
NetSuite implementation partners come in all sizes, and bigger isn't always better. Sure, the larger companies may have more resources, but this doesn't necessarily translate to a better outcome. If you're looking at expertise, collaboration, or customization of service, you may be more satisfied with a smaller implementation partner. Plus, you're also likely to get a more competitive quote from a smaller company compared to the larger ones.
They'll have a compatible company culture
Given how long most NetSuite integrations take, it's crucial to pick an implementation partner that shares some basic cultural and company values. For example, the direct communication style of an implementation partner based in New Jersey might cause friction among a Texas-based company, where their communication style would be misconstrued as abrupt and tactless.
Another consideration is whether or not the implementation partner would be able to mesh with your team members. It's true that they're the experts leading an important project, but they shouldn't simply march in and take charge; they should be team players who can consider the needs of their temporary co-workers.
They'll be able to manage change
If it isn't handled properly where employees are concerned, a NetSuite implementation may never reach its full potential. The employees are the ones who will be using the platform as part of their daily workflows, so they need to feel like they have a stake in the process. If the implementation partner clearly communicates that their feedback is valued throughout the integration process, the employees will be more likely to adopt the platform upon deployment.
The takeaway
For many companies, a NetSuite implementation starts with finding an implementation partner. With the above criteria in mind, you'll have a much better chance of finding the perfect implementation partner and ultimately achieving success with your NetSuite implementation.
You may also like: What is the Significance of Implementing UAT in ERP projects?
Image source: Shutterstock.com