Click here to get this post in PDF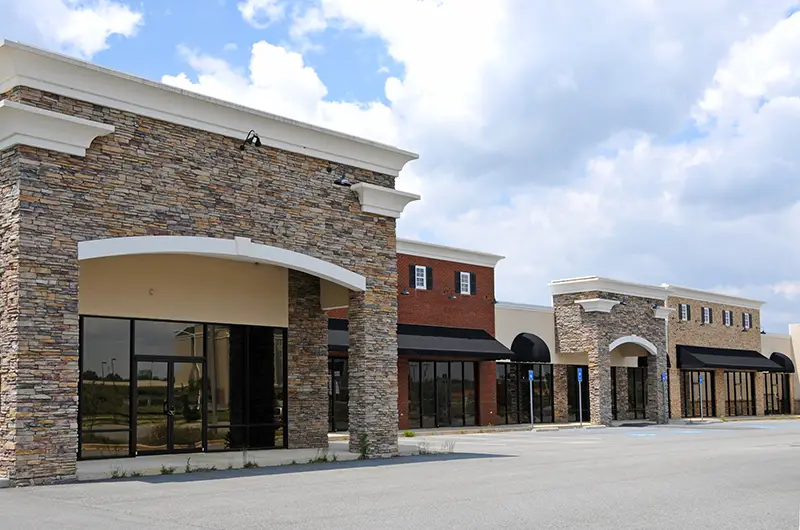 According to Statista, commercial properties comprise buildings such as offices, shops, eateries, and undeveloped land, all aimed at generating revenue. They encompass any real estate that serves this purpose. 
The global commercial real estate industry is vast, with an estimated market size of nearly USD 33 trillion in 2020. The EMEA, Asia Pacific, and North America regions alone accounted for over USD 10 trillion each.
As the market for commercial properties becomes increasingly competitive, property owners must find new ways to attract and retain tenants. One of the most effective ways to achieve this is by transforming a drab, outdated commercial property into a modern and visually appealing space. 
By doing so, property owners can increase their property's value and create a more desirable environment for prospective tenants. 
This article will discuss several tips and strategies for transforming your commercial property, including upgrading building exteriors, modernizing interiors, enhancing amenities, and implementing sustainable practices.  
Improve Curb Appeal
Your property's curb appeal is an important part of attracting new tenants. If your building looks rundown and unkempt, potential renters will assume that the inside of your building is equally unappealing. To make sure this doesn't happen to you:
Make sure your building is well-maintained and free of debris. Your property should be clean, with no peeling paint or damaged windowsills. If there are broken lights or cracked pavements around your entrance, fix them before they become a major eyesore for potential customers.
Keep landscaping well maintained. About Insider points out that enhancing the visual appeal of your property can be achieved through effective landscaping. A well-designed outdoor area that incorporates trees, flowers, and other plants can create an inviting atmosphere and highlight the natural charm of your property. Moreover, landscaping can aid in decreasing energy expenses by offering shade to your property during the scorching summer season.
Revamp Your Roof With Paint
Using roof tile paint is a quick and easy way to improve the look of your property. It's a low-cost, low-maintenance solution that can be used on new or old roofs, so it's perfect for commercial real estate investors who want to turn their drab roofs into eye-catching features. 
Applying a fresh coat of paint gives your roof tiles a new lease on life and creates a more uniform and polished look.
Companies like Promain UK Ltd. also provide water-based acrylic roof tile paints for concrete interlocking roof tiles, which is a simple yet effective way to transform your commercial property. They also provide weatherproof roof tile paint to extend the lifespan of your roof, reducing the need for costly repairs or replacements down the line.
Upgrade Common Areas
Upgrading common areas is an easy way to make your property more appealing to tenants. Common areas like lobbies, hallways, and restrooms are often the first thing tenants see when they visit your property. If these spaces are dirty or outdated-looking, it can negatively affect their impression of your building as a whole.
If you're looking for ways to upgrade common areas on a budget:
Make sure that lobbies, hallways, and restrooms are clean, bright, and inviting by adding plants or artwork,  improving lighting,  cleaning up clutter,  removing stains from carpeting,  painting walls if needed,  and replacing worn-out furniture with newer pieces (if possible). You may also want to add comfortable seating options if possible.
Improve usability by making sure all doors work correctly so no one gets locked inside accidentally during business hours. Also, check door handles regularly since they tend to break off over time due to constant use/abuse by people.
Add Amenities
Amenities such as a gym, conference rooms, and a kitchen are important to tenants. Tenants today are looking for more than just a place to work. Consider adding amenities like a fitness center, outdoor seating area, or coffee shop to your building to make it a more attractive place to be.
Improve Lighting
High-quality lighting is essential for creating a comfortable and productive work environment. Consider upgrading to energy-efficient LED lighting, which can also help reduce energy costs.
Ensure that your commercial property's interior spaces have enough light to see but not so much that it's blinding. A well-lit space will make tenants feel safe and secure while they are working or visiting your building.
Consistency is key when it comes to commercial property lighting. You want to ensure that there aren't any glaring differences between one room and another, no matter how big or small of an area they cover. 
It's important to keep in mind the needs of both employees who work at different times during the day/evening hours as well as potential clients who may visit during those same periods. Good lighting should be available throughout all areas where these people spend time on site.
Create Flexible Spaces
Flexible spaces are a great way to create a unique environment for your tenants. Open-concept offices and large common areas are becoming more popular, as many modern businesses are looking for flexible, open-concept spaces that can be easily reconfigured as their needs change. Consider renovating your building to create more open spaces or adding movable walls to allow for greater flexibility.
Many buildings have the potential for this type of reconfiguration. It just takes some creativity and forethought on the part of the owner or property manager to make it happen.
Consider Sustainable Design
According to Property Reporter, a study reveals that buildings that command higher rental prices generally provide top-notch outdoor spaces, such as roof terraces adorned with green roofs, rainwater harvesting systems, and photovoltaic panels.
Apart from outdoor spaces, pricier buildings typically offer upscale bike storage, parking spots, and electric vehicle charging options. Superior shower facilities, changing areas, and locker facilities distinguish high-rent buildings from their rivals.
These results indicate that landlords are progressively incorporating sustainable amenities to lure potential renters.
The benefits of sustainable practices are clear: reduced operating costs for your building,  increased tenant satisfaction,  improved health outcomes for people who work or live in these properties,  reduced risk from extreme weather events like hurricanes or tornadoes,  reduced greenhouse gas emissions that contribute to climate change, the list goes on.
Conclusion
The key to attracting more tenants is to make your property stand out from the rest. If you want to attract new tenants, it's important that they feel welcome and at ease in their new home. By transforming your commercial space into something fresh, modern, and inviting, you'll be able to provide just that.
You may also like: 3 Strategies To Make The Most Of Your Property Purchase
Image source: Depositphotos.com