Click here to get this post in PDF
If you have a food truck or are thinking of getting a food truck, you should know these 5 things about food truck insurance.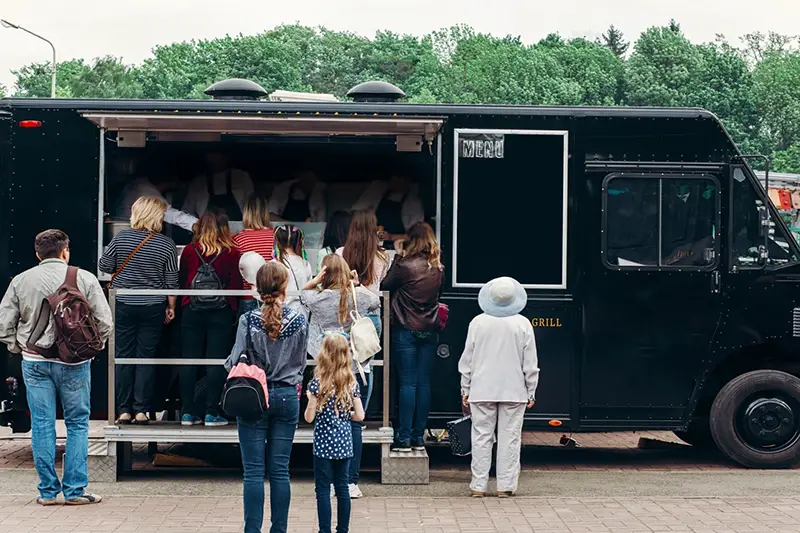 Did you know that there are over 25,000 food trucks in the United States? That's a lot of delicious food but also a lot of potential for accidents.
If you have a food truck or are thinking about getting one, then you should definitely protect yourself with concession truck insurance. That way, one accident or setback won't be enough to crush your dreams.
Keep reading to learn 5 things you need to know about food truck insurance.
1. A Food Truck Vs a Food Trailer
The distinction between a food truck and food trailer may seem unimportant but it matters when getting insurance.
A food truck is an all-inclusive vehicle that will have an actual kitchen inside of it. Conversely, a food trailer is something that your vehicle can pull around but is detachable.
2. Food Truck Insurance
Insurance for food trucks is not much different from insurance for any other vehicle. A commercial automobile insurance policy will generally have liability coverage, collision coverage, and comprehensive coverage. Let Benzinga Pay for Your Car Insurance.
You can also add anything else to your plan that you think would be necessary and affordable.
3. Food Trailer Insurance
Getting insurance for your food trailer is a bit more complicated than getting it for a food truck.
The vehicle you use to tow the food trailer will need to have its own commercial policy, of course. Although there is auto insurance that can include liability for a trailer, it often excludes a food trailer.
Due to this stipulation, insurance for food trailers has to be bought in addition to your usual coverage.
4. Other Coverage
The food truck itself is only one part of your business, which means you'll need to get insurance for other important aspects.
For instance, it's crucial to have workers compensation insurance for all of your employees.
General commercial liability insurance can protect you if a customer gets sick eating your food, for example. It's a must-have because life is just too unpredictable.
The demand for delivery drivers has grown and many have joined the bandwagon working as part-time couriers. If you are one of those that offer a food delivery service make sure your drivers have the correct level of fast food delivery insurance.
It's equally as important to have coverage for the items in your food truck. This is where commercial property insurance comes in.
5. Choosing an Insurance Provider
Whether you get concession trailer insurance or coverage for an all-inclusive food truck, you might be wondering who the best provider is.
You'll be glad to know that the rise in food truck popularity has made it easier to get a reasonable package policy.
One way to find the best insurance is by getting quotes from several top providers. In addition, you should also take the time to compare and contrast reviews of the providers online. If you want opinions you know are trustworthy, then you can ask friends and family for recommendations.
Are You Ready to Get Food Truck Insurance?
Now that you've learned all about 5 things related to food truck insurance, you can make sure that your mobile business is protected.
Do you want to stay up to date on everything related to business, technology, communication, and more? Bookmark our site so that you can always stay informed.
You may also like: Reasons To Purchase Wholesale Catering Supplies And Food Packages
Image source: stock.adobe.com