Click here to get this post in PDF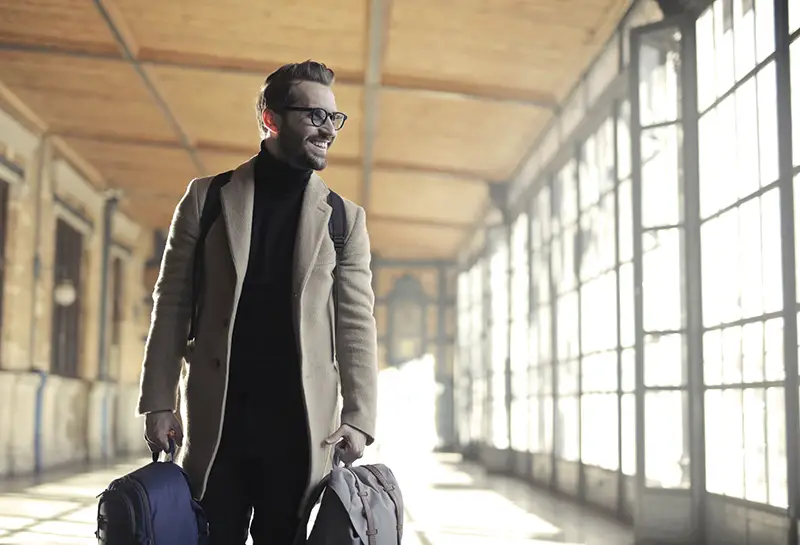 Nowadays, instead of businesses being local, they have gone global. Traveling for business has become a necessity. And as per your job, you might have to travel more frequently to various parts of the world. People think that going to a business meeting is more like traveling for a vacation, but it is far from it. There is an immense difference when someone travels for work reasons.
Going on a business trip is not spontaneous, unlike a vacation. It involves a lot of preplanning and consideration. You have to follow a strict schedule, attend meetings, pack necessary items, and much more. You would want to have everything in order before getting on the airplane to ensure that your trip stays fruitful. Therefore every business professional must start planning their trip well in advance to avoid the hassle of throwing everything in their bags at the last minute. Here are a few preparatory measures you need to take before you go on a business trip.
FIND THE RIGHT ACCOMMODATION
Your business trip will go without any hiccups if you find the right place to stay. It is also a good practice to book accommodation for at least two weeks before your travel date. Hotels popular for work-related stays often get filled up quickly, so you will have to move fast before all the rooms get booked. After all, nobody wants to stay in a hotel they didn't want to. After you know your meeting date, you should drop everything and start searching for temporary housing solutions. It can be a hotel that you always wanted to stay in or a guest house of your liking. The earlier you book your accommodation, the less you will have to worry about finding one at the last moment. If you do not have the time to personally search for flights and accommodation it is worth using the services of travel experts such as Greeking.me, a leading Greek travel company, that specialises in creating custom itineraries.
CHECK ALL YOUR TRAVEL DOCUMENTATION
The most crucial part of traveling is having all your travel documentation in order. Without the right travel documents, your trip will not be possible. It is pretty obvious. Check if your passport contains empty pages for the officer to stamp your entry. If your business meeting requires you to travel to a country that requires a visa, make sure you apply for it beforehand. You would not be able to buy a ticket if you don't have one. 
Some embassies are slow in processing travel documents and can take a lot of time to give you your passport back. So, it is wise to give yourself around two or three weeks before your meeting day to apply for it. 
GET SOME TRAVEL INSURANCE
Travel insurance is a must, not only if you want to travel for business, but also in general. You wouldn't want to get sick, not to mention during a business trip. However, something like this can happen and will happen. So, go ahead and search for some travel insurance online. Go for an insurance option that suits your needs and requirements and is affordable.
Other than that, do not forget to carry a small first aid bag with you. It is a wise decision to have one that contains all your prescription drugs, in case you get sick during your travel.  Drugs such as paracetamol, ibuprofen, and Immodium are necessary for frequent travelers. Make sure that you only carry drugs that the airline allows. It will be a waste of time for you if you have restricted medicines with you. 
CHECK THE TRAVEL POLICIES OF YOUR COMPANY
Every company has travel policies in place for their employees. They are something that provides them with peace of mind and ease of travel. Ensure that you use the hotels, insurance plan, and other booking tools and tips provided by your company. It will allow you to reduce unnecessary expenses. Also, failing to abide by these policies can sometimes result in fines. So, contact your company in advance and get to know the things you need to follow and what to avoid.
It would be best if you pack your bags sensibly. You need to take along stuff that you require and ditch packing any extra clothes and accessories. It is a business-related trip, not a vacation, So you have to treat it like one. Pack some formal shirts, pants, a pair of dress shoes that you can wear to your business meeting. The more you pack according to your requirements, the easier it will be to carry around your luggage from place to place. 
What you can do is carry only one extra pair of spare clothes. It is because your main luggage could get lost or the airline might misplace it. Some backup clothing is the only excess luggage you should carry. After all, you will not spend days sightseeing and visiting tourist destinations. You will attend your meeting and go back home. 
CONCLUSION
Through some planning, preparation, and common sense, you will ensure that your business trip happens without any hitches. Start planning for it a few weeks before your traveling day. Also, create a list of tasks to do and start checking them off as you complete them. Doing so will allow you to not worry about anything on travel day. You will only grab your luggage, get on the airplane, and fly off to your destination.
You may also like: Making the Most of Your Next Business Trip
Image Source: Pexels.com