Click here to get this post in PDF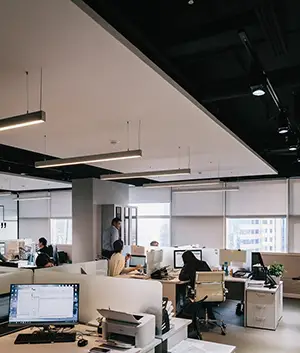 You want the best for your employees when they work. A serviced office space allows everyone to be comfortable at work. As a result, employees become more productive. Before you sign an office space rental deal, these are the features you have to look for.
Fast broadband
If you run a large office and you have hundreds of employees, you need to have a telephone line. It lets you send messages to your employees without the need to walk to their stations. It also allows everyone to talk to each other with ease. Calling clients, partners, and other important people is also easy with a stable telephone line. Although your employees have a smartphone, you don't want them to use it for professional transactions.
Telephone line
Access to the internet is crucial to the success of any business. When employees have internet access, it's easier for them to research, do their assigned tasks, and communicate with others. It also allows you to connect with partners and investors in different parts of the world. Without reliable broadband, that office space option shouldn't be on your list.
Sufficient parking
You need to check how many cars the parking lot can accommodate. It should be enough to cater to everyone who drives to work. You don't want your employees to have a hard time parking or not even find a space. They could end up signing in late even if they arrived on time.
Cleaning services
Given the current pandemic that could easily affect office spaces, cleaning and maintenance services are crucial. Make sure a professional office cleaning service regularly disinfect surfaces and empty the trash. You might also need help if someone spilt coffee on the floor or broke something in the workplace..
Availability of a conference room
If you can rent an office space that comes with a conference room, it would be great. However, if it doesn't have one, there should at least be a conference room within the building that you can use. You need it for business meetings. You might invite potential investors to come over, and you want that space to pitch your ideas.
Security cameras
You can't rent an office space that's not secure. The safety of your employees should be a priority. You also don't want them to feel unsafe while working. They won't sacrifice their lives, especially when they're raising children. Security cameras can somehow make them feel confident to go inside the building. It's even better if someone monitors the footage to determine who goes in and out of the area. Potential intruders won't succeed because of this feature.
Hopefully, you will find the perfect office space containing all these features. Once you do, you should sign the deal right away. You can consider office space to rent in Manchester that has everything you need. You don't need to commit to a long-term contract until you're confident that you will remain in the same place for a long time.
You may also like: How to Find the Perfect Venue for Your Conference or Corporate Meeting