Click here to get this post in PDF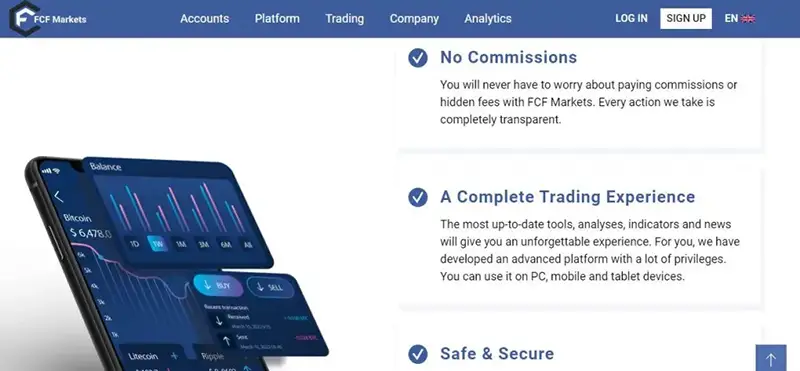 The financial instruments are available via FCF Markets, an online broker, including foreign exchange, contracts for difference, and commodities. Maybe you've heard of FCF Markets in your search for a trustworthy broker to manage your regular trading. Find out whether dependable broker FCF Markets is for your regular trading needs in this article's discussion.
Reputation
When considering whether or not to use FCF Markets for routine trading, trustworthiness should be your priority. Since its inception in 2014, FCF Markets has earned a solid reputation for delivering excellent customer service. But, before making any judgments, it is essential to research and read reviews from other traders.
Marketplace Platform
While determining whether or not to use FCF Markets as your primary trading venue, you should also consider the quality of the trading platform it provides. MetaTrader 4, a highly adopted and frequently utilized trading platform, is available to FCF Markets' customers. Real-time quotations, sophisticated charting tools, and user-definable indicators are just a few of the features and tools available to traders on this platform. Traders of all skill levels will find the MetaTrader 4 interface intuitive and straightforward.
Instructive Materials
FCF Markets offers them a wide variety of learning materials and applications to assist their customers in becoming better traders. These online tools include webinars, video guides, and a significant Frequently Asked Questions (FAQ) page. Newcomers to the trading sector may benefit significantly from these materials. The instructional materials may teach traders about trading principles, methods, and tools.
Commissions and other fees
When determining whether or not to use FCF Markets for systematic trading, the fees and commissions it imposes are another critical consideration. While FCF Markets' product spreads are among the best in the industry, customers should be aware that the business collects trading fees. When creating an account, it is essential to understand the fee schedule in detail since the commission rates differ based on the traded product and the account type. Overnight fees, assessed when a deal is left open for more than one day, are one example of the extra costs associated with using FCF Markets. Over time, these costs might eat into your transactions' potential profits.
Customer Support
While determining whether or not to depend on FCF Markets as a broker for systematic trading, it is also crucial to consider the quality of customer service the company offers. Email, phone, and real-time chat are all ways to contact the company's support staff. When customers have questions or issues, they may contact the support staff, which is accessible around the clock. This may be crucial for investors who have pressing concerns or queries regarding their investments and need answers promptly. Traders can always count on prompt and friendly support from FCF Markets' customer service team.
End Note
FCF Markets is a trustworthy broker for routine trades. The organization has earned praise for the quality and dependability of its services. FCF Markets' trading platform caters to novice and experienced traders with its intuitive interface and wealth of available features and resources. Furthermore, the broker's training materials may assist traders in increasing their proficiency and expertise. 
Nevertheless, you should carefully evaluate the FCF Markets fees and commissions and any other expenses that may be payable. Lastly, traders can rely on FCF Markets' timely and professional customer service to guide them when needed. For the most part, before opting to depend on FCF Markets for day-to-day trading, it is advised that you do your homework and read evaluations from other traders.
You may also like: How To Find The Right Commercial Loan Broker