Click here to get this post in PDF
Federal agencies in the U.S. have been making strides to go paperless following the M-19-21 memorandum issued by the Office of Management and Budget (OMB) and the National Archives and Records Administration (NARA) in 2019. It states that the upkeep for storing analog records has become prohibitive and affects delivering vital services to the public. According to another OMB memorandum (M-23-07), they only have until June 2024 to do so.
This move isn't anything new. Digitization plans for federal agencies go back to the mid-2000s, with the formation of the Federal Agencies Digital Guidelines Initiative (FADGI). Spearheaded by the Library of Congress, FADGI is a collaborative effort by federal agencies to develop and promote common technical guidelines for digitizing cultural heritage materials.
While private businesses aren't obligated to adhere to FADGI, compliance is necessary if they're involved in government projects. On top of that, it can go a long way in improving productivity. Here's an in-depth look into FADGI and why compliance may be an ideal business move.
Technical Expertise
To say that FADGI is concerned with digitizing content for seamless viewing is too general of a description. Ensuring the clarity of analog records when converted to electronic formats requires technical expertise. It becomes more important when choosing document digitization solutions that enable businesses to comply with FADGI.
For this, experts involved in developing and updating FADGI's guidelines are divided into two working groups: 
(1) The Still Image Working Group – responsible for creating guidelines for reproducing analog records as still images. Its guidelines cover the following:
Technical specifications for scanners and other equipment
Best practices for digitization 
Quality assurance procedures
Metadata standards
(2) The Audio-Visual Working Group – responsible for guidelines for digitizing audio and video materials. Its guidelines cover the following:
Technical specifications for audio and video recorders and other equipment
Best practices for digitization workflow 
Quality assurance procedures
Metadata standards
All documents about FADGI are free to view and download on the FADGI official website. It also provides free tools to aid federal agencies (and, to an extent, private businesses), such as ADCTest and OpenDICE.
Rating Digital Materials
The most definitive feature of FADGI is its star rating system of evaluating the quality of digital images. The system uses four stars, one being low-quality and four being high-quality, based on several factors, including (but aren't limited to) image resolution, color accuracy, contrast, file format and compression, sharpness, and noise.
While not flawless, this system is useful for comparing the quality of different digital images. It can also be used to set quality standards for digitization projects. Here's a look into the stars and how the images with their ratings can be used.
One-Star: Resolution is ≥190 pixels per inch (ppi); not ideal for distribution or use beyond keeping an original copy for reference.
Two-Star: Resolution is ≥242.5 ppi; only ideal when the capability of achieving a higher rating is limited, though still not recommended for widespread use.
Three-Star: Resolution is ≥294 ppi; acceptable image quality for most uses like online viewing and archival storage.
Four-Star: Resolution is ≥396 ppi; excellent image quality and can be used for anything, including producing high-quality printouts.
As of this year, three stars is the minimum image quality for submission of images to archiving bodies like the Library of Congress. It's also worth noting that the rating system doesn't consider hard-to-quantify factors like the impact on overall user experience.
Why Businesses Should Care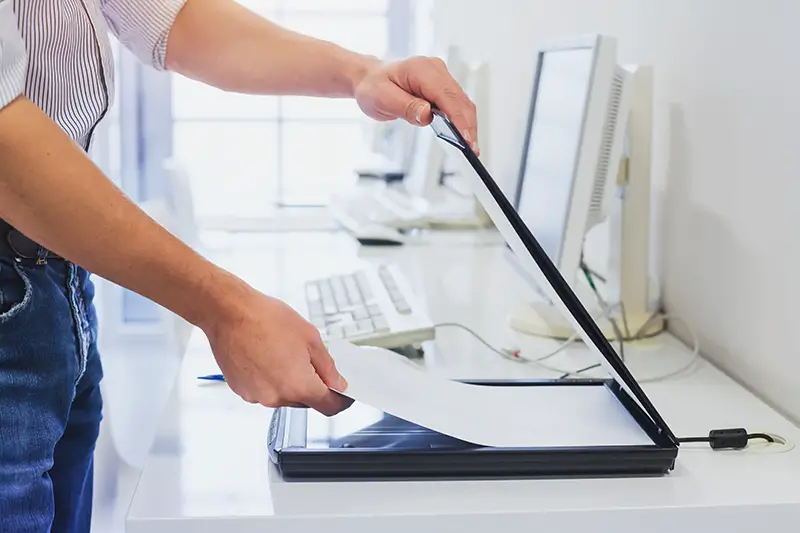 Whether or not businesses work with federal agencies in several projects, knowing a thing or two about FADGI can suit their interests well. For starters, the guidelines can magnify the benefits of document scanning and other applicable processes. Imagine the following:
Finding the right document in under 30 seconds instead of over 30 minutes
Fulfilling requests for audits and Freedom of Information Act inquiries faster
Keeping documents off-site to protect them from damage by natural disasters
Freeing up additional workplace space for essential office equipment
In most cases, complying with FADGI can be as straightforward as getting capture solutions that feature FADGI verification modules. It can be used to assess the quality of images at any stage of the digitization process, from scanning to final output. The module can also track the quality of images over time to ensure that quality standards are maintained.
However, compliant capture solutions are only scratching the surface. Businesses should also conduct internal audits of their existing digitization practices and develop plans to address any capability gap. Everyone down to the rank and file should be involved in this process. 
Conclusion
Complying with FADGI may be optional, but business leaders can't recommend it enough. As the world's dependence on digital technology grows, businesses and organizations must ensure users' seamless access to information, no matter how old it may be. Achieving this entails a two-pronged combination of using compliant hardware and updating existing digitization capabilities.
You may also like: Here's Why You Should Digitize Contract Management
Image source: AdobeStock