Click here to get this post in PDF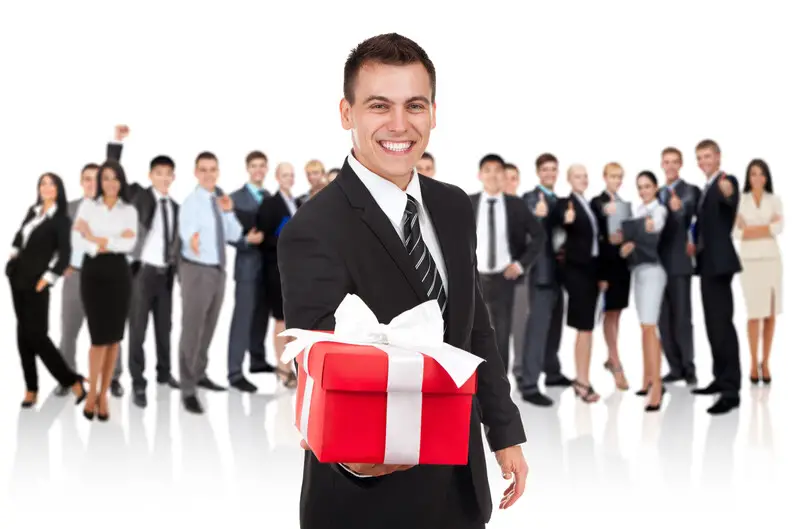 What Is Corporate Gifting?
Corporate gifting is the practice of sending someone a special and often personalized gift from your business. This someone may be a customer, client, vendor, prospects or the recipients may be your own employees. It is a way of creating touchpoints with all these different actors—all of whom play their own important and designated roles within your business and help it grow and thrive. The gifts may be physical items such as personalized clothing, technical gadgets, various kinds of gift hampers, etc., or non-physical gifts that include digital or e-gifts (an Audible or Netflix subscription) as well as experiences (concert tickets, resort stays and the like).  
Some popular reasons to send corporate gifts include:
Holiday gifts
Birthday presents
Client appreciation gifts
Congratulatory gifts on professional feats (such as receiving a promotion or gaining a new qualification) or personal achievements (marriage, having a baby, etc.)
Anniversary gifts for clients or employees
Welcome gifts for new employees, customers, etc.
These gifts are meant to serve a slew of different purposes, such as building brand awareness, encouraging engagement with your business, driving response (as with client, customer or prospecting gifts); increasing productivity and keeping up the motivation of your employees (as with employees' reward gifts, anniversary and welcoming gifts); and more. 
Corporate Gifts: An Excellent PR Strategy
Corporate gifting is increasingly seen as a core component of a business's overall strategy regarding employee retention, lead creation, and customer acquisition. Psychological factors attached to corporate gifting can help a business grow in several ways: by building meaningful, long-lasting relationships with customers and clients; increasing customer loyalty to one's brand and services/products; making employees feel more connected to the company and increasing their motivation and engagement, and making it easier to turn prospects into clients.
Recent trends strongly suggest that corporate gifting will continue to grow in the coming years, and more departments outside of sales and marketing will start leveraging the power of corporate gifting. It has been predicted that automation efforts and greater personalization vis-à-vis corporate gifting will become the top priorities of businesses with a view to maximizing their ROIs on the gifts.  
Having a Well-Defined Corporate Gifting Strategy
Corporate gifts can yield rich results for a business. However, for that to happen, all businesses must have a well-defined corporate gifting strategy. Below are a few things businesses should consider before they jump on the corporate gifting bandwagon.
Having a clear policy outline
All businesses should ensure that they have a clear and set policy regarding their corporate gifting approach. The most important things to consider include one's budget, types of gifts, who you'll send them to and when, and how to zero in on gifts that align with the core and primary values people associate with your business. For example, if your business already has a reputation for being hot on sustainability topics, you must gift environment-friendly items (physical or otherwise). Again, if you promote a healthy lifestyle (usually, although not necessarily, when in the health and fitness sector), you can settle on gifts like a 'fitness class gift card' or a 'hydro-flask bottle' and the like.  
One-to-One or One-to-Many?
The One-to-many gifting strategy is ideal for a broader outreach approach. Here, you focus more on targeting entire groups/clusters of customers or employees and less on individualized communication. That said, achieving individualization on a mass scale is still possible. Consider the industry or sector you are sending your corporate gifts to and select items that will bear relevance to that sector. Think of functional gifts such as decorative lanyards for agent managers, key chains for property management staff, etc.
On the other hand, you enjoy the greater scope of getting creative and taking the initiative when you use a one-to-one marketing approach. The latter allows you to have more individualized communication as you can tailor your gifts based on the tastes, interests, hobbies, behaviors of your recipients (thanks to social media these days, you can always have ample information on your target recipients/demographics). 
Of course, you can always mix these two approaches (one-to-one and one-to-many) depending on the desired results and when you have a more flexible budget. However, smaller companies and startups will best stick with the one-to-many approach.
Make your gifts actionable
All corporate gifts should be aimed at provoking a response from the recipient. You must conceive your gifts as part of your call-to-action, meaning it is important that recipients actively interact with your send and that this interaction turns into an experience for them. For example, a branded coffee kit that will be used and shared by an entire department of an office will be part of the experience of your client company. Again, on a more personalized level, an Audible subscription sent to a recipient who you know loves listening to audiobooks will help create a memorable experience. In short, the trick is to make your gift unique. Branded coffee mugs or hoodies may be a good idea for promotional products, but on most occasions, you'll need something more personal and less generic regarding corporate gifts. 
Unique Corporate Gift Ideas
Coming up with unique gift ideas is important to stand out from competitors. The gifts should be useful and practical but also something that will delight and surprise your recipients. Here are some ideas:
Fitness shower oil or yoga pants for gym lovers/fitness enthusiasts
A batch of desk succulents or a decorative tea/coffee set for an entire office
Airplane footrests for frequent travelers
Airplants or herb drying racks for plant and gardening enthusiasts
Four-pack wine kit for wine connoisseurs
Custom paining of the recipient's Facebook profile
A one-year Amazon Prime, Spotify Premium or Netflix membership 
A custom magic 8 ball. They're simply for amusement but can be a great laugh when the whole office gets involved. Ask it a question then give it a shake to see its verdict.
You can make your gifts even more interesting by adding appropriate and meaningful notes to them. The trick is to stay imaginative all the time and that will help you create unique gifts no matter whether you are using a one-to-one or one-to-many approach.  
Gift Hampers
We are also highly in favor of using gift hampers or gift baskets as corporate gifts. Gift hampers are a convenient option since one can choose from a diverse range of categories and can thus personalize one's corporate gift with ease. 
Want to make a gift to a wine connoisseur? Choose one of many great gourmet wine hampers offered by specialized gift hamper companies. Similarly, you can go for 'craft beer hampers', 'personalized stationery baskets', 'luxury gift baskets' of different kinds, 'customized snack box', 'wellness hamper' and many more. Again, if you are gifting on special occasions, you can choose from Birthday Hampers, Easter Hampers, Christmas Boxes, and so on. 
The best thing about using gift hampers for a corporate gift is that you won't need to rack your brain in order to come up with an appropriate present. Just browse through the selections of a reputed gift hamper business, and you are certain to find something that will fit your requirements to a tee.
You may also like: Best Corporate Gift Ideas that will Leave a Lasting Impression