Click here to get this post in PDF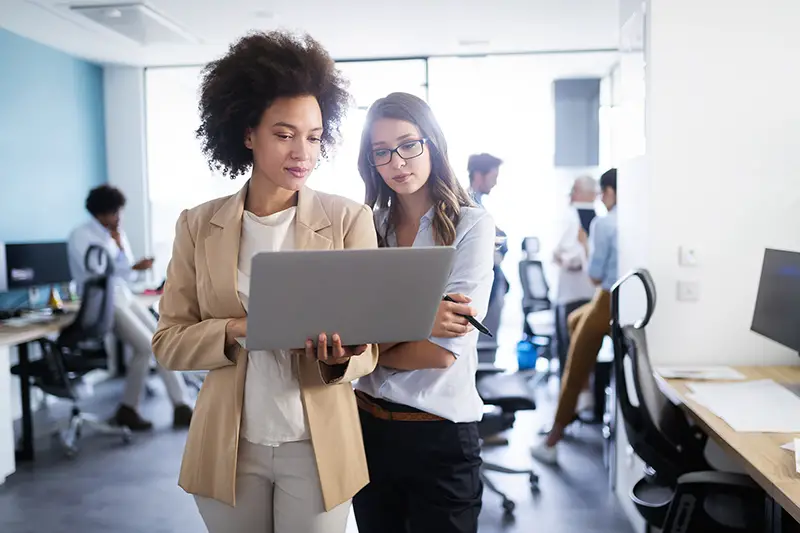 The ERP is like the flywheel in modern business solution architecture. It serves as the basis of financial statements and other reports necessary for the management and regulatory compliance. The ERP handles more than just accounting. It's home to your customer database, manufacturing schedules, materials management tools, and handles orders and shipping. This powerful business tool is most effective when it integrates with your eCommerce platform. E-commerce ERP integration is crucial to get maximum results from both solutions. 
How ERP eCommerce Integration Benefits Business
When you integrate eCommerce and ERP, you get a combined powerhouse of technology that improves almost every area of your business. 
Improved customer experience
When you integrate the information in your ERP with your eCommerce platform, you put information that your customers want at their fingertips.
Once a customer logs-in to their account, they can see copies of their invoices and check order status or see tracking information. ERP and eCommerce integrations give buyers insights into your supply chain. They can see stock levels before they make a purchase. This improves the customer experience and stops backorders dead.
Better decision making
Integrated systems let you spot aged and overstocked inventory and move it quickly with eCommerce flash sales. Sales and marketing staff have better insight into buyer behavior. And because data is more accurate (fewer hand keyed transaction means fewer chances of error) you make better decisions. And financial reports are more accurate too.
Streamlined processes
When a customer makes a purchase on the website, they do the data entry task for you. With an integrated system, the order information flows effortlessly to the ERP where the sales order is created, the order is pulled, packed, and shipped and an invoice created from the sales order. The invoice and tracking information can then flow back to the eCommerce website where it is accessible to the customer.
The same data flow can be used to automate the processing of return authorizations too.
Scalability
Integrated systems allow you to scale easier. Because you are operating efficiently, operations aren't a barrier to growth. As sales through the eCommerce channel increase, there's no need to add additional accounting or customer service staff to handle the calls or paperwork.
Reduced Errors
Automated workflows and elimination of duplicate data entry go a long way to reducing the number of human errors your employees make.
From initial order entry, including quantities and shipping addresses, to the transmission of tracking information the number of human activities is reduced. Anything you automate operates with fewer data errors. 
Challenges to Integration
So, if ERP and eCommerce integration is so important to B2B business, why doesn't every company do this?
Well, some things are easier said than done – and integration is one of those things.
The ERP contains the most detailed information about a company and its history.  This includes current and past customers, orders, current products, discontinued products, price lists, inventory amounts, and purchase histories. It's an enormous amount of data.
The incredible amount of data makes updating an ERP a difficult undertaking. So, most ERPs aren't up-to-date with the latest release. Some haven't been updated in years, if ever. So, not only is the ERP usually dated, but it is also usually operating on old technology. That ERP may have been state-of-the-art 15 years ago, but today it's the technological equivalent to a primitive graphing calculator. 
And because no two companies are the same, no two ERP implementations are ever the same. Two companies may adopt Metasfresh for their ERP but through customization to their own needs, the ERPs may operate very differently.
A combination of old technology, out-of-date software, and extensive customization makes integration a challenge. 
Integration Approaches
So then, how can you take on eCommerce ERP integration given these challenges? The answer depends on the number of systems that you will eventually integrate.
If you are only integrating the eCommerce and ERP (you use no other software) then a point-to-point integration may be the simplest approach. 
It looks like this: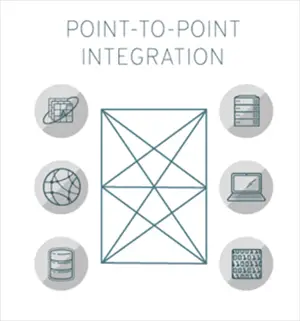 Each technology solution to be integrated is directly connected to the other solutions. As you can see, with only 6 systems to be integrated, you'll need 24 integrations. Since most companies have many more than 6 systems, the peer-to-peer approach isn't manageable. 
The other approach is to use middleware to connect the eCommerce, ERP, and other business solutions.  With middleware, you create a layer of technology between the systems to be connected. The two most common middleware approaches are the Hub and Enterprise Service Bus.
A hub looks like the spokes on a wheel. The spoke connects to an application and then converts that data to a format the Hub understands. The Hub's job is to broker the messages and then transform content into a format the destination system understands. It also servers as the router for the messages.
This approach works if you don't plan on adding new technology or new solutions. 
The Enterprise Service Bus approach uses a different integration strategy. It looks like this: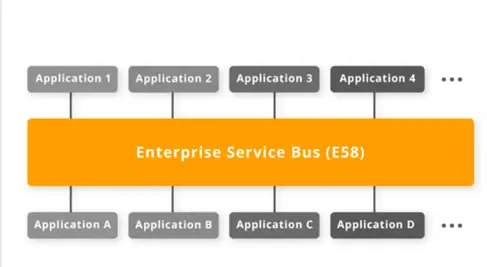 Every application talks to the ESB and the ESB doesn't worry about transforming and routing data. Application adapters do that job. The bus just operates as a central clearinghouse. 
No matter what approach you take, the data will need to transfer or synchronize. This leads to the next big element to eCommerce ERP integration: synchronization.
Synchronization Strategies
Hubs, ESBs, and point to point methods are all just ways of getting information from one application to another. Almost as important as the answer to the question of "how" is the answer to the question "how often".
Data can be held and transferred in batches, or it can be transferred in real-time. How often you synchronize your data really depends on how often the data changes. If you've ever used an ATM, you've experienced real-time processing. As soon as you withdraw money from your account, the balance updates. Real-time processing constantly compares the information in the two systems and when it detects a discrepancy. 
Unless you deal with a high volume of data that changes frequently, most businesses use batch- processing. With this method, the system scan occurs on an established basis. It can be once a day, twice a day, or any other period. When the scan is complete, the data in the systems are synchronized. 
Real-time processing is resource-intensive and requires more computing power than batch processing. 
Select eCommerce Platform and Partners for Success
ERP and eCommerce integration is important to B2B success. Since your ERP is probably fixed, you will need to select your eCommerce platform and your integration partners carefully.
Look for a platform that is proven to integrate with your ERP, one that has a robust API, and can connect using middleware or a point-to-point strategy.
As important, select a partner with deep experience with integration. 
You may also like: How ERP-CRM Integration Can Boost Revenue
Image source: Shutterstock.com