Click here to get this post in PDF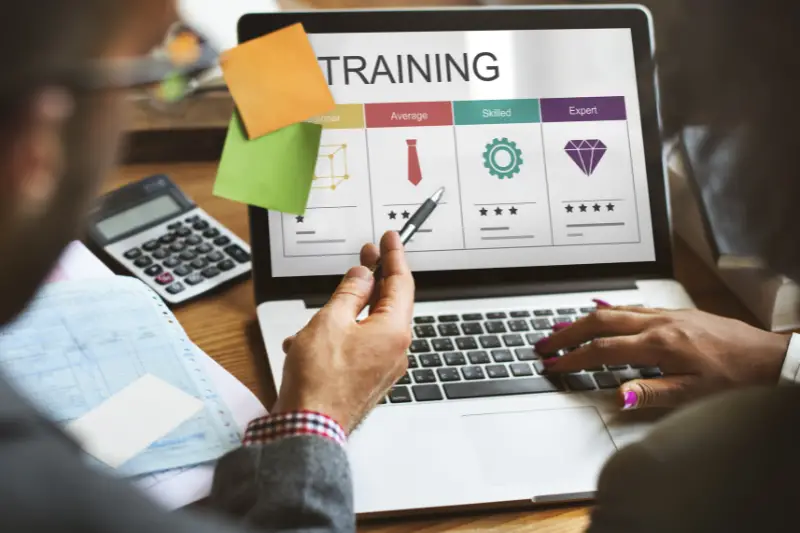 Learning Management Systems can improve organizational productivity and management. Employee learning must be a continuous focus for organizational leaders to maintain a more knowledgeable and productive workforce. Secure video hosting can help organizations get productive by providing a secure platform for sharing data and files. This can help prevent data breaches and unauthorized access. Companies of all sizes, government agencies, local municipalities, traditional educational institutions, and eLearning-based institutions all use LMSs. Traditional educational methods can be improved while organizations save time and money. What is LMS? How will it improve your company's productivity and management? Continue reading to learn more.
What is an LMS?
A learning management system (LMS) is a piece of software or web-based technology that is used to organize, implement, and evaluate a specific learning process. The most fundamental LMS includes a core functional platform that allows administrators to update learning content, give lessons to students, send notifications, and share data with authorized users. Learning is critical to the success of any organization because it enhances business results, increases productivity, and boosts organizational competitiveness. Learning contributes to positive business outcomes in critical areas and at critical points in an organization's evolution, such as acquisitions and mergers, restructurings, and product launches.
How will an LMS enhance your business productivity and management?
Enhance Collaboration
This is one of the most significant aspects of using an LMS, particularly for teams that need to enhance their collaboration. This allows individuals to share and access information when and where they are needed. Documents can also be categorized and distributed to specific members of a group, making it simple to assign specific online resources to the right people. Instead of having to ask around and sort through an unorganized file of documents, everyone can easily access the information they require.
Customized Learning
Customized learning with content that is appropriate for the employee aids development. Learners, for example, have relevant information-pushed and centralized in a complete view into tasks such as learning history, survey data, business objectives assigned, certificates of completion, and e-signatures. Suggestions and collection of relevant content aid in increasing engagement and providing clear direction. Informal, cooperative, and engaging communities of practice that provide easy access to experts and knowledge sharing can supplement formal training. Employees can also obtain learning whenever and wherever they need it, whether at their counter, on their smartphone, or downloaded for offline usage.
Cost-effective
Training and onboarding are important corporate expenses that can consume a significant amount of resources. Consider the consequences of having a human resources representative or hiring manager assist someone running through the company software every time a new hire joins the team. The opportunity cost of doing business the traditional way is significant. Using an LMS, only the person who needs the training will be tasked with sorting via training materials. It also saves time in troubleshooting because the employee won't be interrupting to ask questions after the training is finished. All of this adds up to super-low costs for the company.
Management
Maintaining an online project is a difficult task, especially when working with a remote team. Fortunately, online productivity tools enable group leaders to better communicate with their teams and keep them on track. They can assign roles, track group progress, and share critical documents that employees require to complete their tasks. Managers can also set the system to send automatic reminders at a specified time to assist teams in staying on track. Managers can add tasks to the list and categorize them by department, category, and priority. Team members can also access group to-do lists. They can also follow up with employees to make sure that the right tasks are completed on time.
Blended Learning
Learning administrators must be able to implement a blended learning strategy that includes both formal and informal learning, as well as career pathways or learning programs. Advanced LMS software will make sure that admins have all activities and data at their fingertips directly from their LMS homepage, allowing them to efficiently plan and implement various types of learning requirements. As part of the learning offering, they can even incorporate third-party content or solutions.
Avoid Human Errors
Aside from the expense implications of having human resources committed to training, there is another issue to consider: human error. A manager or someone who is training an employee on top of their regular duties may miss something because they are distracted, such as a looming deadline or an increasing pile of paperwork on their desk. This also guarantees that nothing is overlooked by remote employees who may be unable to approach a coworker and ask a question. As the training programs are created, key stakeholders can go over them to make sure there are no gaps.
Integration
Integrating compatible apps, tools, and other add-ons with your LMS can also help to increase cooperation and get more value out of your technology platform as a whole. For example, certain LMS has a variety of third-party integrations, which can help improve training communication. It also incorporates Google Drive, making collaboration on training content easier.
Track Performance & Progress
Using a single tool, you can track individual worker performance and progress. Did they, for example, meet their target sales last week? Are they gradually honing their interaction skills to improve their customer service ratings? What about certifications for their position or department's compliance? An LMS provides a comprehensive view of completion statistics, assessment data, and real-world performance metrics. API integrations, which allow you to pair different tech software and share data across platforms, are one of the most prevalent Learning Management System apps for progress tracking.
Conclusion
An online learning management system, also known as e-learning and virtual learning, can offer the most features while also saving money. Organizations must carefully select the right eLearning software for their long-term needs. With cloud-based software, for example, you can focus on the area with the greatest business need and then scale up as needed. As an outcome, your business benefits from ongoing improvements as well as low maintenance costs. For organizations that would benefit from a centralized training database, implementing an LMS is a wise business decision. When considering future automation efforts for the business, this powerful tool should be prioritized.
You may also like: Enterprise Learning Management System Trends to Make an Impact in 2022
Image source: Shutterstock.com