Click here to get this post in PDF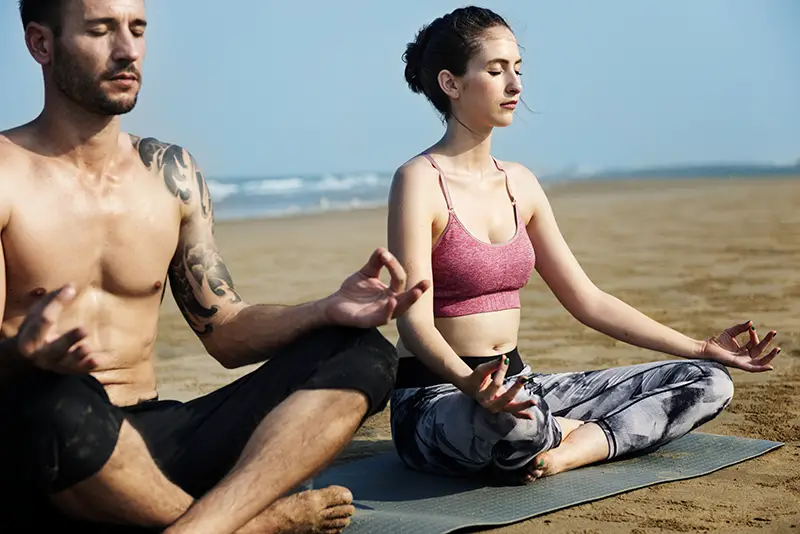 Just about everyone is feeling stressed at the moment. With many offices operating remotely during the COVID-19 pandemic and budgets tighter than ever, lots of people are feeling the pressure at work. As a business owner, it can be difficult to inspire productivity and innovation during this time of uncertainty.
As a leader, it's important to look for innovative ways to keep people engaged. Investing in benefits is an important step, of course. Employee benefits are a great way to help improve morale, health, and loyalty among your workers, but these benefits won't necessarily boost your business.
To really bring the team together and improve productivity, however, consider something that everyone can do together: guided meditation. Here are just a few ways employee meditation can be beneficial to your organization.
Meditation Can Improve Memory, Focus & Attention 
Employees might be "working" for eight hours a day, but that doesn't mean they're focused and attentive the entire workday. Because we spend so much time switching from one task to another, it can be hard to get any meaningful work done. These days, most people feel like they have a short attention span and not much capacity for memory.
Meditation can help. Because the practice is based on gently directing one's focus back to the present when the mind begins to wander, it is a great way to build skills in memory, attention, and focus. Many people find that they are better able to avoid distractions when they practice meditation.
See a Boost in Efficiency & Performance From Employee Meditation 
Every business wants their employees to operate at peak performance and efficiency. But of course, you can't just micromanage and work people as hard as possible and expect good results. Your employees will burn out unless the approach to improving productivity is based on inspiration and positive psychology, not fear.
Performance is mostly about psychology. By helping people to work on their mindset and state of mind, it's possible to improve organizational productivity. Meditation can be a key component in this initiative, helping employees to reduce anxiety and feel more grounded.
Meditation & Mindfulness Can Boost to a Positive Company Culture 
Company culture is important, even when (especially when!) your team is working remotely. A positive culture not only has an impact on productivity but will also make a difference in turnover and may help encourage innovation. Toxic cultures drive employees away, but positive cultures draw them in.
Meditation and mindfulness help employees feel more present and can help them to relate to one another more effectively. People who practice mindfulness and meditation are less likely to be bothered by minor irritations and may be more compassionate toward their coworkers. Positive cultures are built on a foundation of happiness, and meditation can help to facilitate better morale and general well-being among employees.
Mental Health, Employee Satisfaction & More! 
Meditation is a simple practice, but it can make a huge difference in many different areas of your employees' lives. They'll feel less stressed and anxious and might notice a boost in their mental health. Research has even revealed that meditation can even be beneficial for the immune system!
Employee satisfaction will not only make for a happier, more harmonious office, it also helps to benefit the business in many ways. People who meditate are generally more resilient, better at making decisions, and are better able to regulate their emotions. Meditation is truly a win-win!
Incorporating Meditation and Mindfulness
With all the known benefits of meditation, it's not too surprising that many business owners are beginning to incorporate regular guided sessions into the workplace. It's usually best to bring in an expert to guide these sessions. If that's not in the budget, you can learn to lead meditation sessions yourself.
Figure out the format that will work best for your employees. You might want to lead short sessions several times a week, or a longer session once or twice a week. Ask your employees for their opinions and feedback. You won't necessarily be able to please everyone, but it's good to get some consensus on the format. After all, you're in this together!
---
Exercising Can Help You Survive the Tough Times of Running a Business
---
While it might feel strange at first to bring meditation into the office, it's important to realize that the benefits build over time. You—and your employees—will get more comfortable with the process in time and start to see a difference in the work environment. Meditation truly gets better and better the more you do it!
Image Source: Rawpixel.com