Click here to get this post in PDF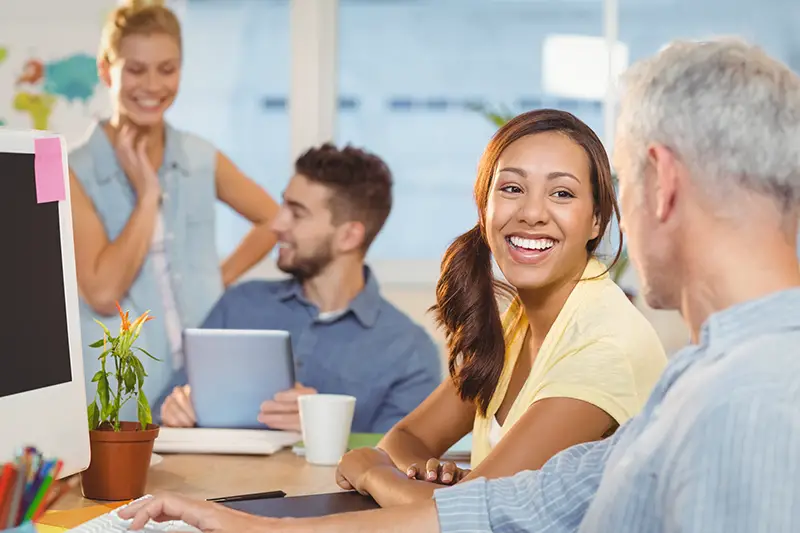 Employee retention is as crucial as acquisition in today's highly competitive business environment. With the cost of hiring and onboarding new talent, it's often more beneficial to focus on retaining your current workforce. That being the case, here are some innovative and effective ways to improve employee retention in your business.
1. Foster a positive and inclusive work culture
A positive work culture that values diversity and inclusivity is attractive to employees. They must feel valued and respected for their unique perspectives, skills, and backgrounds. Encourage open communication, promote team collaborations, and celebrate every individual's contribution to the business if you want to keep your staff happy and working for you for as long as possible.
2. Offer a competitive salary and benefits
Competitive salary packages are a given when it comes to employee retention. However, equally important are the benefits that accompany the salary. This is where things like small business health insurance come in. By offering a comprehensive health insurance package, you show your employees that their health and wellbeing are paramount, enhancing loyalty and retention. The same goes for things like subsidized gym memberships and free lunch allowances, amongst other things.
3. Encourage a decent work-life balance
Work-life balance is critical in today's fast-paced world. Promote flexible work schedules, remote working opportunities, or condensed work weeks to show employees you care. Acknowledge the importance of personal time and show empathy towards employees' outside-of-work responsibilities when they are struggling, and they will pay you back by being extremely loyal in return.
4. Provide opportunities for growth and development
Employees are more likely to stay in a company that provides learning, growth, and career progression opportunities. This could include on-the-job training, workshops, online courses, or attending industry conferences. Employees who feel they can grow and advance within your company are less likely to look elsewhere.
5. Implement an employee recognition program
Recognizing employees for their hard work and contributions significantly boosts morale and job satisfaction. That is why it's probably a good idea to consider implementing an employee recognition program where outstanding efforts are acknowledged and rewarded. This could be something as simple as an 'Employee of the Month' feature, or more substantial rewards for significant accomplishments. As long as it shows your employees that you truly value them, you will probably find that they truly value working for you too.
6. Make employee engagement a priority
When employees feel engaged, they are more likely to stay with a business. Prioritise activities that foster engagement, such as team-building events, regular company updates, and opportunities for employees to voice their ideas and feedback. A company where everyone feels engaged, and part of the bigger picture promotes loyalty and retention.
7. Have regular check-ins
Regular one-on-one meetings allow managers to connect with their employees on a personal level. These meetings can be used to discuss progress, address concerns, and provide constructive feedback. When employees feel heard and understood, they're more likely to be satisfied and stay with the company.
8. Encourage internal promotions
Favouring internal promotions over external hires can greatly improve retention rates within your company. This practice demonstrates to employees that their hard work and dedication can lead to upward mobility within the organization. It motivates employees to stay and work towards these advancement opportunities.
9. Provide meaningful work
Employees want more than just a paycheck – they want to find meaning and purpose in what they do. That means if you are able to provide opportunities for challenging and impactful work where they can make a real difference, they will be much happier with their job overall. When employees feel their work is significant, they're more likely to be committed to their jobs and work harder.
10. Transparency and trust
Trust is a critical factor in employee retention. Foster a culture of transparency where decisions, changes, and company news are communicated openly. When employees trust their leaders and understand the direction the company is headed, they're more likely to remain loyal.
11. Implement a strong onboarding process
A positive onboarding experience sets the tone for an employee's journey in the company. A well-structured onboarding process that allows new hires to understand their roles, responsibilities, and the company culture right from the get-go can increase their likelihood of staying with the company because they will always know what is expected of them and be able to carry out their duties to the best of their abilities, while also being more confident in raising any issues they may have with you.
12. Offer financial planning assistance
Many employees struggle with financial planning, and offering assistance in this area can be a unique and valuable benefit. Whether it's planning for retirement, managing student loan debt, or general financial wellness, this benefit can relieve stress and increase employee loyalty in one fell swoop.
13. Introduce mental health support
The conversation around mental health has gained prominence in recent years. Offering mental health support, such as access to counselling or mindfulness courses, shows employees that their mental wellbeing is a priority. This can lead to increased loyalty and decreased burnout.
14. Offer sabbaticals
Long-term employees could be offered the option of a sabbatical. A sabbatical, whether paid or unpaid, allows employees to take a break, pursue personal interests, or avoid burnout. They often return refreshed and more loyal to the company, so if you have good staff you want to keep hold of, it's a really valuable way of doing so.
15. Use exit interviews strategically
When employees do choose to leave, take the opportunity to conduct insightful exit interviews. These discussions can provide valuable information about why employees leave and where improvements can be made. If you note what leavers are telling you and make changes based on that, you can undoubtedly boost retention rates.
Employee retention is a multifaceted challenge that requires a comprehensive and thoughtful approach. The key lies in understanding your employees' needs and desires and committing to fulfilling them.
Image source: Depositphotos.com