Click here to get this post in PDF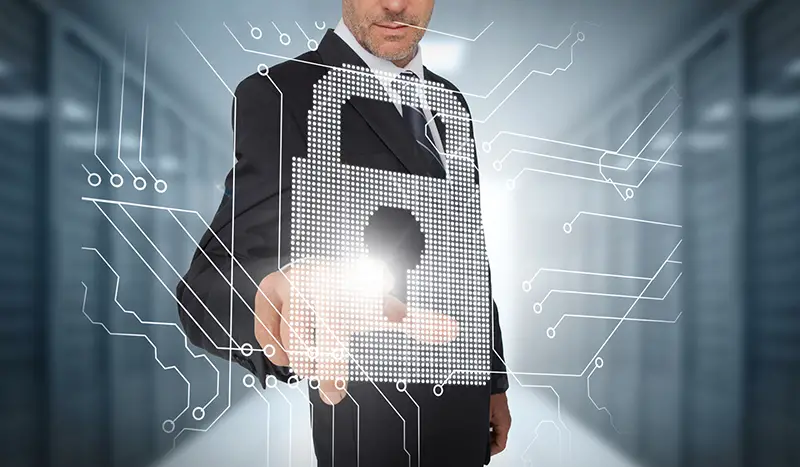 Business security is essential for generating and maintaining success and trust in your company. Customers, clients, and consumers all want assurances that their data and information will be safe and secure, while employees and investors do not want to wake up to bad news about property damage, theft, or other issues. 
These reasons make business protection essential. You may already have some policies in place, yet these are not always enough. If you want to instill confidence in your team and customers, you must consider improving security and protection for your business for the new year. Here are 12 effective ways to protect your business for 2023. 
Work With Professionals 
As much as you think you know, you still do not possess as much knowledge as professionals. Working with professional firms to protect your business solves several crucial problems and means you are safe from liability in case something goes wrong. This is particularly important when working with a construction dispute lawyer and eliminates any jargon that could confuse you. 
It is not solely legal professionals, though. Many businesses also benefit from working with cybersecurity experts to identify potential network gaps and grinding effective ways to plug holes to prevent breaches. This puts your business in a stronger position and gives you and your customers the vital peace of mind that information is secure. 
Set Up Cyber Security 
Every business should have cyber security systems in place, but you may ignore how vital this security is. This is a common attitude among small companies that believe they are too small to target, but the opposite is typically true. 
Since small businesses do not have the budget to establish impenetrable firewalls, they become a more appealing target. Hackers also know that you don't have the funds to fight back, making their attack much more straightforward. Increasing your cyber security network resilience will eliminate these risks and make your business more secure. It's worth checking the strength of this security regularly as hacking techniques are evolving continuously. 
Backup Your Data 
Even with robust security systems, you still need to establish a backup, just in case. Hopefully, you never need these backups, but there is always the risk that your system goes down at the worst moments. Not only can this leave your company exposed, but it can also cause substantial data loss. If you are on the verge of completing a large order, this is the last thing you want. 
Backing up your data through servers or cloud storage can solve this problem. It will protect your business from accidental power loss and ensure you do not panic if the system goes down. Furthermore, your team should be able to access sensitive data and information no matter where they are, which will boost business efficiency. 
Outsource Network Management 
As much as you might want to keep track of your business at all times, you need to sleep and even enjoy your life outside of the company. Requesting an employee to monitor the business when you are away is unfair, so finding other solutions should be a priority. 
Outsourcing network management can be a fantastic alternative as it means your network is constantly under surveillance. Outsourcing firms are dedicated to helping your business and will solve any issues even if you are not there to contact them. Furthermore, as many outsourcing firms operate from different time zones, they are perfect for keeping track of your company status outside office hours. 
Train Your Staff Regularly 
While you should prioritize security onboarding, you cannot rely on your employees to remember every detail they learn during their first few weeks working for your company. Regular employee training will ensure they keep crucial policies in mind and do not put your company or customer information at risk. 
Hackers will always look for new ways to access your business data, so our employees must be aware of potential techniques. For example, recognising phishing emails should be a regular training program, while regularly changing their passwords can help them keep their accounts secure. 
Secure Your Premises 
It is not just cybersecurity that can become a risk. Your business premises should also be kept secure. ID cards or work badges and welcome areas can keep your business premises safe from invasions, especially if you run a highly profitable business that may be an attractive target. 
You should also establish a safe and secure opening and closing policy. You may not want your employees to carry out this task alone, so assigning teams can make your employees feel more comfortable when no one is around. Access control systems are also useful, especially for broader premises where many people visit regularly. 
Use the Right Portals 
If you sell products or services online, you need to use the right portals to ensure security for any transactions, no matter how small. Online ordering has become the norm, so customers feel more comfortable using these portals. However, there may still be some apprehension if they encounter a portal that looks a little off or unfamiliar. 
You can use several trusted portals, including the Shopify portals, platforms, and PayPal options. In addition, you can use encrypted setups, which means that third parties cannot access the information, and your business will also not directly store any sensitive information. 
Get Business Insurance 
Insurance is essential no matter who you are or what you do, and it is especially vital for your business. This insurance can protect your company from a wide range of potential problems, including property damage, injury, or other issues that your company could encounter. 
While business insurance will not protect your business at the time, it will make it easier to overcome problems after the fact. If you run a small business, this can be crucial for helping you manage your budget and prevent significant losses. At the very least, it reduces the amount of worry you may have that your business will struggle to survive following vandalism or specific targeting. 
Protect Your Intellectual Property 
Every business needs to find ways to protect intellectual property to keep content and other creations safe from plagiarism. However, this is not always so straightforward, especially in competitive businesses or areas where you operate close to a similar business. 
Protecting your IP avoids potential charges from lawyers as their clients may believe that you stole ideas from them when it was the other way around. Keeping clear records of your creation process and securing any copyrights should give you the IP protection you need and can avoid stressful and potentially expensive experiences with similar enterprises. 
Make Sure Everyone Is Accountable 
It is not solely your responsibility to keep the company safe and secure. Everyone at the office or working remotely is responsible for protecting assets, information, and company property. You can ensure this by making sure everyone is accountable for company safety and security.
Encouraging your team to follow protocols correctly will prevent complacency, especially as this complacency can quickly seem the norm to new employees. If they notice more senior employees taking shortcuts, they will assume it is okay for them to do the same. If not taken care of, there is the risk that negligence could creep in, and a severe security issue could arise.
Create a Positive Culture 
Positive working environments can significantly reduce the chances of something going awry. Happy employees are more likely to fight for your business and should not have any perceived grievances that may encourage them to take out their frustrations on you or their coworkers. 
Providing positive feedback and encouraging a culture where everyone has one another's backs is excellent for team building too. It makes your employees focus on supporting one another and doing whatever they can to keep the company safe. Even if they are not wholly passionate about their job, they may still recognize the benefits that such a satisfying and supportive environment can have. 
Have A Plan
You can do everything possible to prevent business attacks or breaches, and something can still go wrong. While this can be frustrating and generate panic, it does not mean that all your effort was for nothing. 
Establishing contingency plans and knowing how to overcome any issues your business faces can mitigate even the most severe damages or problems. What's more, you can consider this a learning experience that should help you to avoid the same problem occurring in the future. Running a business and protecting data and assets is all about being as proactive as possible, but since there are some issues you cannot predict, you will also benefit from lessons you may experience after something does not go to plan. 
Peace of Mind 
Protecting your business will provide essential peace of mind that will put you and anyone associated with your business at ease. Although you may have some protocols and safety measures established already, it is always worth evaluating your approach to consider how you could make your security more robust. Then, if any of these ideas appeal, you can consider the best ways to implement them.
You may also like: Understand These Security Measures For Utmost Business Protection!
Images source: Depositphotos.com