Click here to get this post in PDF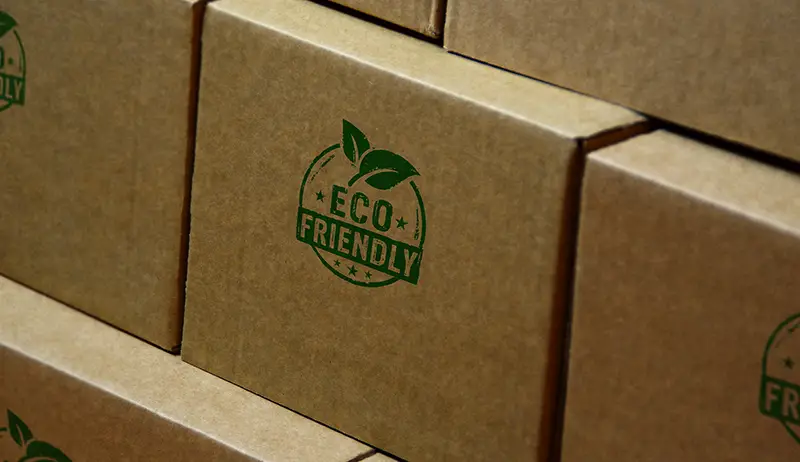 The packaging industry is evolving fast, with a huge demand for eco-friendly alternatives. The popular sustainable trends we see emerging in the last few years have transformed the way clients perceive traditional packaging and made a literal sustainability revolution in the field. 
The experts from Packlion are here to talk about the future of packaging and how eco-friendly trends are revolutionizing the packaging industry. Keep on reading to learn more.
What are the public concerns about packaging?
Some of the most significant environmental stigmas surrounding the packaging industry have to do with the sourcing of materials, manufacturing processes, storage and transportation procedures, and most importantly – the waste that is being generated upon disposal. 
These factors directly affect the planet's well-being and could potentially cause or worsen serious ecological and climate problems. Unfortunately, traditional plastic packaging is far behind sustainable packaging when it comes to eco-consciousness. 
That's why consumers expect companies to take measures to reduce their carbon footprint, use renewable natural supplies, lower packaging waste, and reuse or upcycle materials. This can be achieved by switching to eco-friendly packaging.
Most important trends in eco-friendly packaging
Biodegradable packaging
The best type of eco-friendly packaging is one made of natural, biodegradable, and compostable materials. This type of packaging preserves the environment in many ways. 
First and foremost, it dissolves completely shortly after disposal, so using and throwing it does not generate long-term harmful waste. Biodegradable packaging is made of natural and renewable supplies, it does not contain plastics and chemicals, and therefore its breakdown is safe for the environment.
There are different types of biodegradable packaging. Some of the packaging is fully compostable, and some types of plant-based packaging are even edible. There are also biodegradable plastics, a.k.a. bioplastics, that have the looks and qualities of plastic packaging, but they are made of plant biomass (ex: corn starch, wheat, sugar cane).
Typically, paper and cardboard packaging are the most commonly used alternatives to plastic wrapping, fillings, and boxes, thanks to their natural sourcing, lightweight properties, and durability. 
Recyclability
Recyclable packaging is another sustainability trend worth looking into. Why generate waste and wait for the packaging to break down naturally when you can recycle and reuse it? To make the most of your recyclable packaging, educate your customers on safe disposal and recycling procedures, and add the relevant eco markers to the packaging.
Here is a list of recyclable materials you can choose for your containers, filling, wrapping, and outer product packaging:
Paper
Cardboard
Glass
Recyclable plastic
Please note that not every plastic packaging is recyclable. Packlion would urge you to steer away from single-use plastics and go for more eco-friendly materials.
Zero plastic
Another eco-friendly trend in the packaging industry is the zero plastic movement. It stands for sustainable packaging that contains no plastics whatsoever. 
Eco-conscious consumers love this kind of packaging because excessive plastic pollution is one of the biggest environmental problems. It contaminates wildlife habitats on land and in the ocean. Moreover, plastic is overused, rarely recycled, and takes hundreds of years to break down fully.
By eliminating plastic from your products' inner and outer packaging, you are actually contributing to making the world a better place for future generations. With so many alternatives on the market, one thing is for sure – the future of packaging is plastic-free.
Eco-friendly inks
Let's not forget about eco-friendly inks. While traditional chemical and petroleum inks are toxic to the environment, eco inks are either water-based or plant-based. They are very absorbent and completely safe. You can easily store and clean them. 
And the best part is you are not sacrificing quality for sustainability. Eco-friendly inks look as good on print as classic inks.
Lightweight packaging
The next eco-friendly trend on the list is packaging made of lightweight materials. The best lightweight materials you can use for packaging purposes are all different types of paper and cardboard. But let's get into details about what makes this type of packaging sustainable and so popular. 
Well, first of all, lightweight packaging is easy to transport and drastically lowers overall logistics costs. So basically, you can send more packages at once for the same price. With that in mind, lightweight, eco-friendly packaging also lowers the carbon footprint caused by the transportation of the goods.
You may also like: Overview: Innovative Food Packaging Ideas
Image source: Shutterstock.com