Click here to get this post in PDF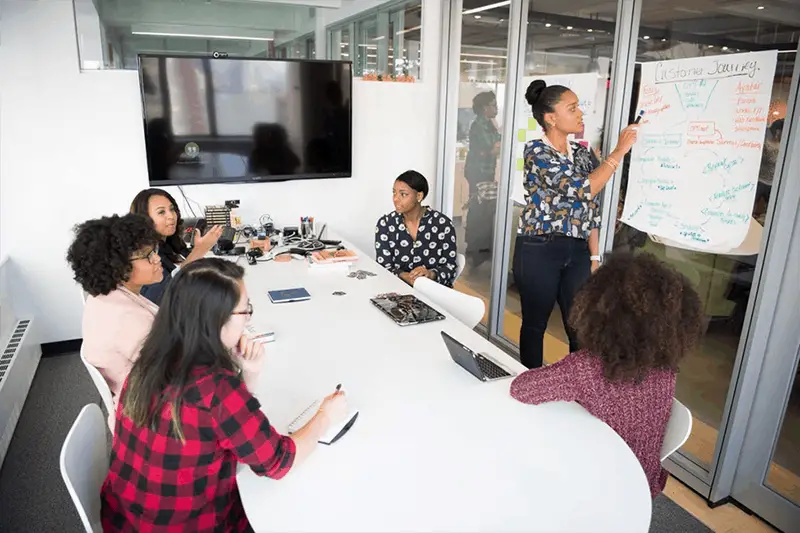 A person to work efficiently needs an eye-catching, comfortable, and environment-friendly office. Not only the office or cabin of the head needs attention, but hard-working employees also need this too. The office is a second home for people working in as they sometimes have more official hours than time to spend with family. Therefore, an office should not be a bizarre place where people come and only work. People should have some attraction in the office other than just work.
The basic needs of an office are conference rooms, cabins, kitchen, washrooms, lunch areas, IT rooms, and locker areas, etc. An office having these facilitates the working staff and avoids inconvenience for them. It should have a proper parking space too to avoid any hassle for the employees.
Sometimes due to the ignorance of administration staff, either renovation is ignored or people work in an unhealthy environment. Health assurances including medical facilities are very attractive for the employees. Comfortable furniture, lighting, refreshing environment encourages creativity and productivity of the working staff.
With regards to space, the office should neither be congested nor vast like a desert to wander around. Properly furnished floors, walls, desks, and cabins, etc reflect the culture of the company too. Reception and waiting rooms leave long-lasting impressions as well as later provide a dedicated space for the visitors. Waiting rooms also called common rooms where employees can entertain their relevant visitors without creating disturbances for the other people.
Other than visitors, this can be a space dedicated to taking a break from the workload. Babysitting, nurseries should also be offered for the staff having babies so they can also work in a relaxed environment.
Ways of covering extra space:
Other than the structure of the office, ways to cover it up are also very important. Sometimes decorating the offered cabin is also included among the official tasks of the person hired. In this case, other than just furnishing, covering extra space is also very important. Starting with the desks, that are comfortable, portable according to the person sitting in. The desk is a centerpiece therefore, it should be wide, luxurious, high quality and easy to work at. Most often, desks alone cover considerable space in the office.  According to the type of work, there are straight wide desks, corner L-shape desks, reception/manager desks available in the market. In modern times, desk charging slots are also available.  
The other most important thing is a dedicated storage space in an office/cabin. In modern times although most of the data is in softcopy form even then some records are kept in hardcopy form. And for that, a cabin, drawer desk, a dedicated shelf can be made so that two tasks within one purpose can be accomplished. In this way, extra space can be covered and records can be kept safe too.
There can be some space dedicated as a bookshelf. Books in each field within the office can be a great addition too. Therefore, a bookshelf can be taken advantage of as a covering space. This is the cheapest and easiest way to cover the space up with elegance. There can be a proper rack for this purpose too.   
To cover up the empty looking walls, relevant paintings, graphic statements, hanging spots for coats, keys, etc can be made. Painted wall sculptures, giant letters, etc can also be there that could depict the versatility of the office. Wall designs and other covering ups depend on the types of office as well. Fashion related offices are designed and covered up with relevant materials while others are decorated according to the industry. An office offering services of finances and debit cards etc cannot be filled with hats, dummies of trendy clothes, etc. The other best choice can be a wall hanging pot and plants to add a more refreshing look to the office.
Flower Pots inside the office can also be used to cover up the extra space. This can give a new and fresh and natural look to the office too. while in this regard, choosing the right pot color is also necessary to cope up with the weather conditions. To avoid negligence, an important fact is to keep plastic pots and plants so that the watering issue could be resolved. These add modern, trendy and environment-friendly, office interior matching looks to make the office look more fancy and upbeat.  On the other hand, if you want to show tenaciousness, terracotta pots and planters with aloe Vera especially are also a good choice. These types of plants, however, need regular care and watering.
Placing a mirror can also be used as a gadget to utilize free space in an office. People can use it before going into a conference room for a meeting. While this can also be used regularly for refreshing the look. Additionally, employees of an office can also personalize this space provided for the mirror. A mirror can also make a place or cabin look much bigger hence inviting to the people.
Dustbins/trash cans can also cover a considerable space while making it the easiest to fulfill the task. The bins can be of average looking plastic material and of stainless steel fashionable look too.
Separators or dividers among the cabins departmentally, staff wise or individually can also cover up and organize spare spaces. This is a more fresh way to encourage people working together to communicate timely. Building walls between the cabins can be more costly and can make one person fully aloof from the other.
Placing water cans/bottles/filters can also cover up the extra space. In modern times, purifiers and dispensers are the easiest choices depending on the budget.
Calendars both at walls or office working desk can regulate the working routine. It makes easy for a worker to meet the due dates. Hanging a clock on the wall or placing it onto the desk also works for this purpose.
Placing a whiteboard in the office especially in the meeting or conference rooms is also necessary. It covers up space and it helps people to understand the task being explained in front of them.
Dedicated lamps should also be there on a desk to work in a proper light. Moreover, good and bright lights are important for an office to lighten up. Illumination, therefore, is an integral part of a proper working environment.
Broad and wide Road-mapping can also be done to guide the newcomers to certain departments. This can also cover up the extra space in an office. Road-mapping to areas such as conferencing/meeting rooms, kitchen, `washrooms and lifts, etc is very important. Depending on the area an office has, Road-mapping can also be done to 2-3 corners of a floor.
 Rugs can also remarkably cover the extra space of an office. It is also the easiest way to separate different departments or areas without actually building walls between them. Large and multiple areas of an office can be specified with rugs. This can also work in small official places. This adds a nice and pleasant look to the office.
Conclusion       
Covering up the extra space is a tricky and challenging task for a person. It requires quick, easiest and sometimes cheapest ideas to work to cover up space. Covering up space also sometimes has to be within the financial ranges that are either defined by the financial department or the administration of an office. Space after covering up should not look congested but wide, organized and furnished to be captivating.
Also read: Everything You Need to Consider Before Renovating Your Office Space