Click here to get this post in PDF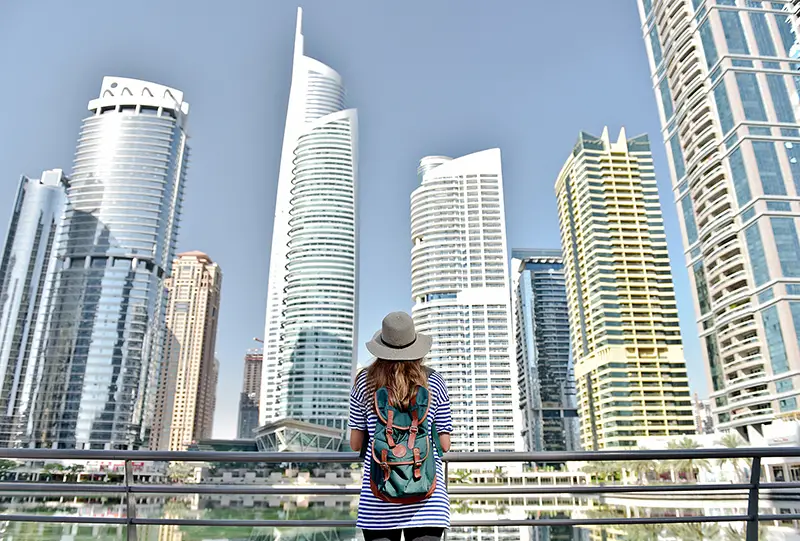 Real estate in Dubai
Dubai has launched an initiative to attract professionals who work remotely and at the same time wish to live in the United Arab Emirates – now they can obtain a UAE resident visa for 1 year without launching a company in the United Arab Emirates. You can purchase properties in Dubai the UAE, and stay in your own country, and earn money from renting out.
Visas and flats in Dubai
It is also possible to obtain a residence visa in the United Arab Emirates by purchasing real estate and by registering a company in the UAE. The cost of real estate in Dubai must be at least USD 272,000. The property must be paid in full. The validity of these visas is three years.
To obtain a visa by registering a company, a company registered in one of the free economic zones is suitable. Instead of a real office, it is allowed to rent a combined workplace. Visas are issued to owners and employees of the company. It is also possible to issue them to members of their families. No real business is required.
There are no taxes in the UAE concerning:
income of individuals and legal entities,
dividends,
royalty,
interest charges,
property.
Individuals and legal entities can obtain a UAE tax resident certificate.
Property for sale in Dubai
To obtain a visa for a remote worker you need:
A copy of the passport (the remaining validity of the passport must be at least 6 months).
Medical insurance valid in the United Arab Emirates or travel insurance with a minimum period of 2 weeks.
Employment confirmation from an existing employer with a contract term of at least 1 year. The salary must be at least USD 5,000. It is required to provide a "payslip" (confirmation of salary payment) for the last month and a bank statement for the last 3 months. The extract, contract, and payslips must be accompanied by a translation into English or Arabic.
If the applicant is the owner of the company, the proof is required that they have owned the company for more than one year and that the average profit of the company is at least $5,000 per month. Required to provide bank statements for the last 3 months. Company ownership documents and extracts must be accompanied by a translation into English or Arabic.
Passport photo – color, on a white background, size 45×35.
Steps and prices for obtaining a visa
After the submission of these documents within 7 – 10 working days, an entry permit is issued. It will need to be printed and presented at passport control in the UAE for the passport officer to mark the border crossing.
Upon arrival, you must undergo a medical test and be fingerprinted for Emirates ID. These procedures take 1-2 business days.
After that, the visa will be pasted into the passport, which will take from 3 to 5 working days.
Price list for all the procedures:
| | | |
| --- | --- | --- |
| Procedure | Cost, USD | Terms |
| Obtaining an entry permit | 345 | 7-10 working days from the date of submission of documents |
| Medical test | 205 | 1-2 working days |
| "Emirates ID" | 50 | |
| Visa sticker | 170 | 3-5 working days |
| Total | 770 | |
Real estate agency in Dubai
Contact Ax Capital professionals. They will answer all your questions about various types of visas and suggest properties that will suit your investment plan.
You may also like: 5 Essential Tips to Apply for a New Zealand Resident Visa
Image source: Shutterstock.com