Click here to get this post in PDF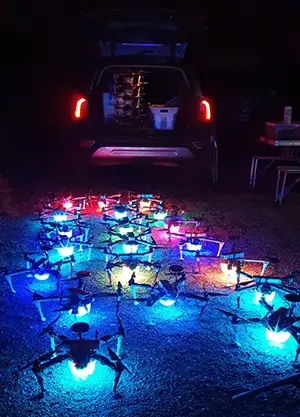 By Alexey DOBROVOLSKIY, CTO and Co-Founder at SPH Engineering
The drone show industry is one of the youngest but probably one of the most prospective types of entertainment in post-pandemic world. Drones bring completely new opportunities to event businesses and to the entertainment industry in general thanks to its most appreciated advantage: drone shows can be enjoyed from distance. What many don't seem to realize is how affordable drone shows can be. An event agency can enhance its portfolio with futuristic aerial performances with as few as 20 copters. 
2016 could be marked as the first milestone for the drone show industry when 500 of the drones designed by Intel were used in a light show to set the new Guinness World Record for the "Most Unmanned Aerial Vehicles (UAVs) airborne simultaneously". Since then drone shows have appeared at the Olympics, the Super Bowl, Coachella festival, Cirque du Soleil performances, and many other landmark events: state, corporate and private. Such shows are associated with large scope and, as a result, huge investment. 
However, there are a few event SMEs globally already proving this prejudice is not true. For instance, let us have a look at South Korean Pablo Air, UAV specialized company. Back in 2018, it performed its first 20-drone show getting from the idea to their first drone show in 90 days. Since then the company has been arranging drone shows in APEC and managed to turn COVID-19 challenge into an opportunity. In April it performed a tailored drone show devoted to healthcare and all essential workers.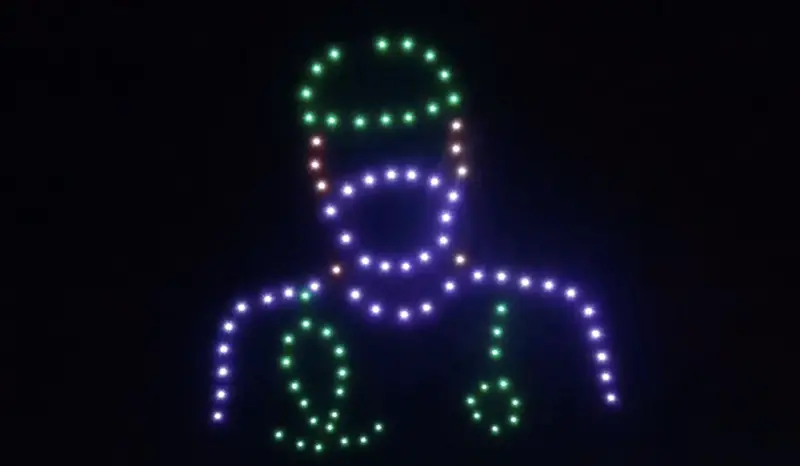 Pablo Air was not alone to initiate a CSR drone show to salute frontline heroes. Between April and June 2020, the pandemic is thought to push a global wave of drone art shows expressing gratitude to COVID-19 front liners. The key elements included symbols to emphasise the heart full gratitude to health workers, to give hope and positive emotions. Some well-promoted shows took place in April in West Philly based out of the University of Pennsylvania and in June in Dubai on Sheikh Hamdan's behalf. There were, in fact, dozens around the world performed by SMEs with no limitation to language and creative goals. 
SPH Engineering had a chance to work on gratitude shows with Pablo Air, Great Lakes Drone Company in the USA and Platinum Fireworks Inc. in the Philippines. It is a great honor to Drone Show Software developers seeing the technology applied globally to support COVID-19 front-liners in a creative way. Drone shows used to be a thing from the future, but in the past few months they have helped to open a new chapter in the entertainment industry. Very soon they could bring a bit of magic to post-pandemic social-distanced reality: lighting up sky at car parties or drive-in movie nights, small corporate or private events like birthday or engagement.  
Speaker's BIO 
Alexey DOBROVOLSKIY is Chief Technical Officer, Member of The Board and Co-Founder at SPH Engineering, the world's premier UgCS software developer and integration services provider for unmanned aerial systems. Since 2013, he has introduced a number of solutions recognized by the global market like a software to manage drone shows and a drone-based industrial product line. Currently, Alexey is responsible for strategic management and development and liaises with a few main customers. He also works extensively in the field to test SPH solutions in real-life scenarios. 
Before founding SPH Engineering, Alexey had gained 20+ years of experience in the software industry. He graduated from one of the leading tech universities in Eastern Europe and started his career as a software developer. Later, he worked as a senior project manager and led teams of up to 450 specialists (analysts, software developers, Q&A specialists, consultants). The main focus was on custom software development for multiple industries (financial, insurance, logistics, manufacturing etc.), while project scale varied from tens to tens of thousands of users. 
https://www.facebook.com/alexey.dobrovolskiy.12382
---
Drone Technology: The Gamechanger in the Business World
---
About SPH Engineering 
SPH Engineering (sph-engeneering.com) is the world's premier UgCS software developer and integration services provider for unmanned aerial systems. Founded in 2013 in Latvia, the company has created a rich global customer network, while over 45% of customers are located in North America. SPH has developed UgCS, UgCS CC, UgCS Mapper, ATLAS, Drone Show Software, and Industrial Integration Solutions for UAV with Echo Sounders, Ground Penetrating Radars (GPR), Methane detectors, and Magnetometers enriched with radar/laser altimeters. The company's solutions are applied across a wide range of industries worldwide.