Click here to get this post in PDF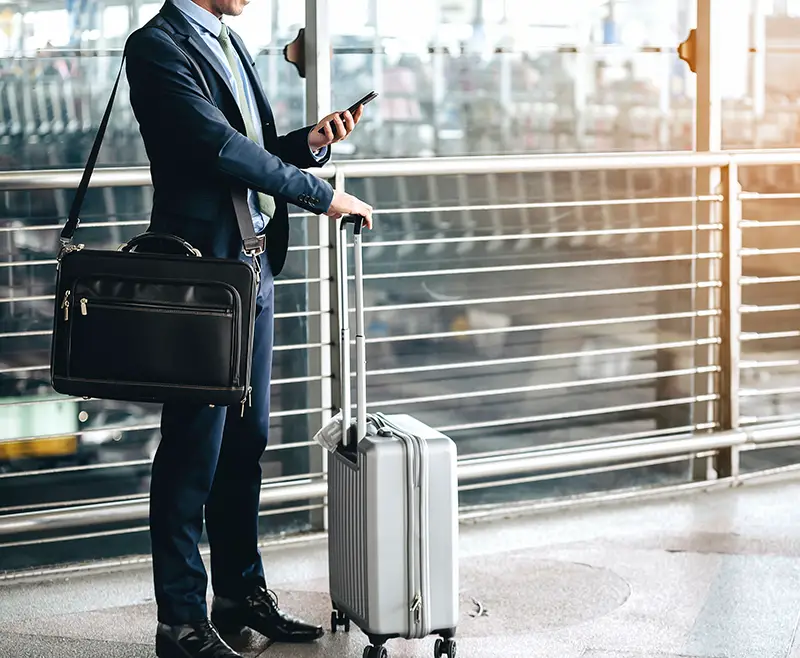 Statistics show that the business travel market is set to reach 829.5 billion by 2027. As a result, companies make efforts to manage their business travel expenses. Some companies use manual processes with papers and spreadsheets, while some advanced companies use automated systems, tools, and software for Business Travel Expense management.
In this article, I will tell you everything you need to know about "Business Travel Expenses" so read this article carefully from start to end.
What is business travel expense?
Expenses experienced by workers during travel for business reasons are known as business travel expenses. Sometimes workers go on business travels to interact with the customer, to promote business at different national or international events, and for many other business purposes. The money they spend on business travel on behalf of an organization is called a business travel expense. Such expenses are claimable for reimbursement, so workers claim for repayment after completing their business trip. The expense varies from location to location and depends on the days you need to stay there.
What are the types of business travel expenses that are claimable?
Business travel prizes may differ which depends on the organization. Some of the basic types of business travel expenses are mentioned here:
Any expense associated with travel falls in the category of travel expense. Expenses like bus, air, train, and cab charges are included in travel expenses. These travel expenses can be claimed for reimbursement.
Workers need food during traveling or also they set sitting with customers to improve interaction with them. Therefore, they spend on food during business travel on behalf of companies. Such expenses are also included in business travel expenses. The workers can also claim these expenses for reimbursement.
Business Promotion and Shipping Expenditures
Workers travel to promote their business in different locations in the world. The promotion needs posters and some other type of marketing or advertising material. The workers also incur expenses to buy promotional material for business. The workers also claim such expenses for reimbursement.
Workers, when traveling for business purposes, need to stay in hotels, and they spend for a hotel stay on behalf of companies. Therefore, hotel stay also comes in the category of business travel expenses. Therefore, workers can claim reimbursement.
Fuel usage or mileage tracing
Fuel usage also falls in the category of business travel expenses. Toll charges and parking fees are also included in business travel expenses. Companies use automated mileage tracking systems to track the miles and reimburse workers' fuel consumption expenses.
Communication and Interaction with Customers
Workers may buy gifts and cards to enhance their interaction with customers. In addition, they can also set events to boost customer interaction and spend on such expenses on behalf of customers. Such expenses may also fall into the business travel expenses.
Other Business and Traveling Expenses
Laundry and dry cleaning are also some business travel expenses. Workers can claim reimbursement for these expenses by displaying the receipts for such expenses.
What is the business travel expenses management process?
Tracing and Record Business Travel Expenses
First, companies must trace and record business travel expenses for reimbursement. Some companies use physical systems to track and record business travel expenses, but some use automated systems, tools, computer programs, and software to track and record costs. Manual systems are time tacking while automated systems are efficient.
Business Travel Expense Management
After tracking and recording the Business Travel expense data, companies try to manage them. Automated systems like travel management software are best for this purpose. You can use "Happay Travel Management Software" to manage your travel expenses efficiently.
Tell workers about policies
Some companies set policies for travel or expense management. Workers should know and obey the policies that a company set.
Make proper expense process
An efficient expense process matters the most in managing expenses efficiently.
Organize the expense report
Set a structure or system for an expense report to increase expense visibility and prevent any reimbursement process problem.
Calculation of business travel expense
For reimbursement, companies need to calculate the expenses. For this purpose, they record the expenses accurately using the expense report by workers and then process them further.
After doing everything, companies give reimbursement to workers.
You may also like: Tips For Business Travel
Image source: Shutterstock.com