Click here to get this post in PDF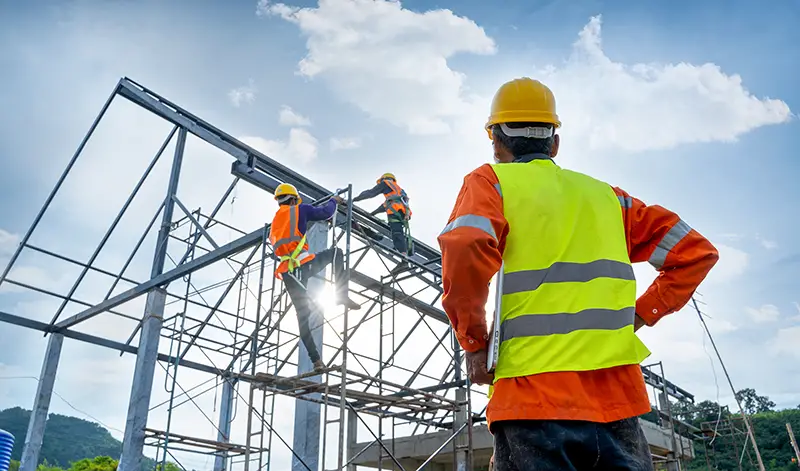 Construction is the process of building or assembling a structure, such as a house, building, or bridge. It also includes the creation of infrastructure and buildings that provide services to businesses and communities. There are many materials used in building construction, including cement, concrete, polycarbonate plastic (Lexan), roll-formed steel (Alucobond), terracotta clay products, and aluminum roller shutters.
Cement
To understand cement, we first need to understand concrete. Concrete is a fine powder mixed with water and then poured into forms to create solid structures such as walls, sidewalks, and floors. Concrete is created by mixing cement (a binder) with other materials, such as rocks or sand.
Cement is made by burning limestone and clay rocks at high temperatures in an electric kiln. The resulting product is a fine powder called clinker, which contains calcium carbonate. This substance hardens when combined with water and allows for binding other materials like sand or gravel into a cohesive material known as concrete. When properly bonded together, these substances can withstand very high loads without cracking or breaking apart under stress because they have been strengthened by this process called hydration, where chemical bonds form between the molecules of each material being used.
Concrete
Concrete is a composite material made from cement and aggregate materials, such as sand. Concrete is widely used for foundations and floors, but it has also been used to build walls and roofs. Concrete has a smooth finish that can be painted or stained to match other building materials, such as brick or wood. In addition to being used for walls, concrete can also be used for roof tiles since it's fireproof and waterproof. The disadvantage of this material is that it weighs more than other building materials like wood or steel beams, so you need more support from the structure itself when using it in construction projects like buildings or houses with high ceilings; you might not have much room on top of them.
Another disadvantage would be that if your house doesn't have enough insulation then this could cause some problems later on down the road because if there isn't any insulation or exterior wall cladding, moisture could get trapped inside, causing mold growth, which leads us right back to our first problem!
Polycarbonate Plastic 
Polycarbonate plastic, like this clear polycarbonate sheet is a strong and lightweight plastic that can be used in many different areas of construction. It can be used for windows and doors, as well as walls, roofs, and floors, as well as partitions and fences. In addition, polycarbonate has the ability to withstand weathering very well, so it is often used on outdoor applications such as pool enclosures or glazing for aquariums or terrariums.
Roll Formed Steels
Roll Formed Steels and steel fascia brackets are two materials used in building construction. If you're looking for a material that is easy to install and durable, then roll formed steels are the way to go. They are also available in different colors, so you can choose the perfect one for your home's exterior.
On the other hand, if you're looking for something strong, durable, and long-lasting then steel fascia brackets will be perfect for your home's exterior needs.
Terracotta
Terracotta (Italian for "baked earth") is a term used to describe a variety of baked clay building materials that have been used since ancient times. The material can be made into bricks, tiles, or blocks and is often painted on the exterior. It is commonly used as roofing tile and chimney pot brick. Terracotta is an inexpensive alternative to stone or concrete construction but has the disadvantage of being somewhat fragile and susceptible to cracking when exposed to freezing temperatures.
Aluminium Roller Shutters
You might not know it, but aluminium is actually a really important material in modern construction. It's used to make everything from cars and trains to doors, windows, and furniture. Of course, one of the most common uses for aluminium is in windows and doors – but did you know that it can also be used to make roller shutters?
When people think about roller shutters look at Roller Shutters in Brisbane, they often think of them being made from plastic or some other kind of synthetic material. But if you're going for something more durable or longer lasting than just your ordinary shutter then an aluminium shutter could be a good option! This is because they're strong enough to withstand strong winds while still being lightweight enough not to weigh down your building too much when installed on it (although there are always exceptions).
These types of products are used all over the world by businesses such as hospitals or hotels because they give out privacy while at the same time protecting against weather conditions like rainstorms and even hailstorms when necessary!
Structural Steel 
Structural steel is used for building construction and residential look at residential steel fabrication in Sydney. The metal is durable, strong, and easy to work with. Steel framing can be used for walls, roofs, and floors, depending on the load-bearing capacity needed. In addition to residential metal buildings, steel framing also has uses in industrial construction.
Structural steel is a common building material that you may already be familiar with from your home or office building's structure (if it's modern). It's also frequently used in commercial buildings such as shopping malls, schools, and hospitals. Structural steel is made of high-strength carbon or low-alloy steels that are suitable for structural purposes because they have high tensile strengths and yield points, which allow them to resist forces acting on their structures without buckling or breaking apart under pressure like other materials would do under similar circumstances, such as wood (which would collapse easily if put under enough stress).
Ceramic tile
Ceramic tile is a building material used for flooring, wall cladding, and countertops. Its durability makes it an ideal choice for high-traffic areas such as bathrooms and kitchens, but ceramic tile can also be used in any room of the house that needs to be dressed up.
Ceramic tile is made from clay, water, and cement. It's fired at high temperatures to harden it into a rigid surface that can be cut into shapes or patterns while still retaining its strength and durability. Ceramic tiles come in many different colors and textures to suit any decorating style; they're also available in different sizes so you can fit them easily into your space.
All materials used in construction have different pros and cons
When considering the different materials used in building construction, it's important to remember that each material has unique advantages and disadvantages. For example, steel is more expensive than wood and concrete but is easier to install. Timber is one of the most durable materials, and it's easier to work with than concrete, but it's also more expensive than steel. Concrete has an aesthetic appeal that doesn't match other materials like timber or steel, but it isn't as long-lasting because it can be susceptible to weathering over time. As you can see here, different aspects of each material must be considered when choosing what type of material will best suit your needs!
Conclusion
No material is better than another; it depends on what you want to build and why. For example, if you are looking for a strong and durable building material, then concrete would be the best option for you, but if you are looking for something lighter, then terracotta tiles could be perfect!
You may also like: Construction Technology Trends That Help Keep Construction Zones Safer
Image source: Shutterstock.com