Click here to get this post in PDF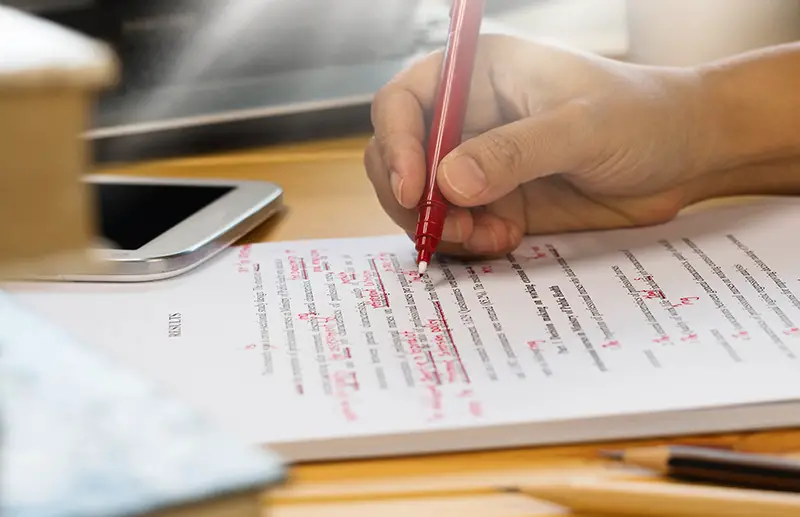 While many people are not aware of this, editing and proofreading are two separate concepts. They do rely on each other, but in their essence, editing and proofreading are not directly correlated. 
There is an on-going debate on this topic today. Many professional writing companies confuse the two. This does nothing but sets back the writing process while pushing the client's deadline away. This is why it's important to know the difference between the two. In the end, a writing company's goal is to help its clients out. If we don't know where to draw the line between these editing and proofreading, how can we help customers effectively? 
About Editing 
Editing means making changes to the text at hand. The ultimate goal of this process is to improve the quality of the writing received. Editing usually involves changes in language use, phrases, word choice, and expression. The readability of the text could undergo changes as a result of editing. To structure everything even deeply, a work that's been edited should have the following characteristics.
It should use proper words to express clear ideas. It should not leave the work at hand open for interpretation. It should use words that fit in the context and be well-organized. 
The tone used in the text should be appropriate for the target audience. The text should not be informal if written for a formal audience, for example. 
The word count should be within the limits of the request. If a student asks the company for cheap assignment writing and effective work, the firm should deliver the promised edited work. However, if the company doesn't know the rules of editing, they won't be able to help the student and they might even have to charge more. 
Passive voice should be avoided. Therefore, editing is used to scratch it out of the text and replace it with an active voice. While it's true that active voice is not always necessary, it should be used instead of passive voice, whenever it fits the context.
As you can tell, editing means:
Clearer writing and higher quality work 
Better-enhanced language use 
Fewer errors and no inconsistencies 
The maximum impact of your work upon the target audience 
About Proofreading
While proofreading is also essential, it is not as complex as editing. Proofreading means making sure that there are no errors within the text at hand, such as spelling, grammar, punctuation, or other writing errors. Proofreading is a cheaper service for this reason. However, it's crucial as it keeps your content clean. A work that's been proofread should have the following attributes.
There should be no spelling errors present in the text. 
All the punctuation signs such as colons, semicolons, full stops, etc. should be used correctly within the text. 
All words should sound natural in the context.
All words that sound the same but are spelled differently should be differentiated. For example, their and they're should be used properly. 
Any quotation marks or apostrophes should be used correctly in the text, respecting the guidelines at hand. 
There should be no double spaces after or before full stops. The text should look impeccable and ready to be submitted. 
In a nutshell, proofreading means:
Correcting all the grammar and spelling mistakes. Correcting the typing mistakes. 
Correcting inconsistent language and formatting.
Perfecting good writing by enhancing the quality of the work. 
Ensuring that the document at hand could be published without problems. 
Keeping your company's prices lower for this service than for editing. 
If you're thinking about which career to pick…
Both of these processes help customers improve their writing, so working as an editor or proofreader will both give you the chance to help clients. However, there are significant differences in the job descriptions of the two, as you can tell from looking above. Personally, I would recommend going for an editing job since this gives you the chance to do a bit more and get paid better. 
If you're wondering which service to pick…
As a client, you might be wondering which one of the two brings you more value. To be completely honest with you, both do. As you can tell from the previous explanation, each service has its specific characteristics and works on improving one part of your work. In the end, it really depends on what you need, and why you need it. For example, if you need editing services for children's books you should search for local children book editors. There are many professional services to choose from.
Ideally, you would go for an editing service first and have them correct your work. Soon after, you should hire a proofreader to check your writing for other types of mistakes, the ones presented above. This way, you'll know that your content is polished and ready to be submitted. 
Wrapping Up
Editing is essential while proofreading can be postponed. However, you should understand the clear differences between the two and consider both if you're a student or professional. If you're looking for a career change, an editing job might offer you broader access to larger-scale projects. 
You may also like: 5 Profitable Ways of Using Your Writing Skills
Image source: Shutterstock.com