Click here to get this post in PDF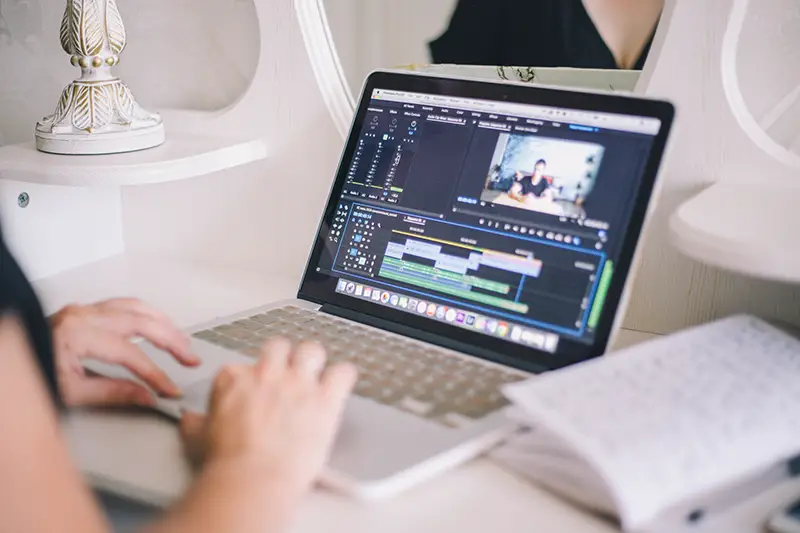 You've got a great video post in mind. You've got the topic, the info, the niche. You've got the content, the script, and the actors. 
But you've hit a wall because you know nothing about video software and online video tools, and you get them all confused. How can you post a good video without the right tools? What video software to use? What online video platforms? What region do you want to broadcast it in? 
This is a guide about video optimization and video marketing. I'll break the criteria for a well-optimized video, and in doing so, I'll show you which is better: offline video software or online video tools.
Let's Look at the Criteria: Is Video Software or Online Tool Better?
Time Spent
Before you can even think about posting your video game on platforms like YouTube you need to think about the time you're going to be spending on making your video. If the idea of video marketing is scaring you, you can find help in video editing software.
The video editing software will simplify the time and effort you will spend on your video. It can definitely simplify the process. 
Video editing software and online video tools are great to use, but what's the difference when it comes to time? Well, online video tools take too much time. This is because so many video files are huge files, and the bandwidth they take up is too much. If you're rendering it somewhere like Google Drive, it'll take forever, especially in rendering. You'll then take up all the bandwidth for your office, or worse, crash your Internet, and that's really great for your coworkers.
So, go with video-editing software, not online editing tools. It'll save time.
Cost
Video marketing by big-scale organizations is usually too costly for small-scale marketing teams. A multinational company can afford professional video editors and video editing software, but these take up a lot of resources since they'll need to pay for the programs and for the editors.
Many online editing tools are free, so you can avail of these free tools. But they might not be as expansive for your needs as many paid video editing software.
At the same time, there is software for video editing available for consumption as well that is free. In some cases, you have to pay a subscription fee to get the software. This has a minimal cost but displays good results. 
Supports closed captions services
Many brands target different locations all over the world for video marketing. Their closed captions reach a far wider audience with translated content. All video editing software supports closed captions and is easy to use. Meanwhile, you may need to use some separate tools or plugins if you are only using the online tools. 
But you might not be adept in the language of the consumer market you want to reach. This is when translation can help mitigate these dilemmas. In finding out about closed captions, bear in mind different markets, different cultural capitals, and, of course, different languages for translations. You'll be translating your content, so you might need to hire an in-house translator or work with translation service providers. Working with translation that know different consumer markets in video marketing can definitely expand your reach and your goals. 
Eye-Catching Videos
Videos need good content, but they should also be eye-catching. No one can go through tons of content without being bored, but a good video can catch the interest of someone reading through your content, increasing leads, traffic, and revenue. 
With decent editing software, you can create a striking video to increase consumer engagement on your site.
Online tools like Adobe Spark can take your content to impressive results with easy-to-use graphics and built-in themes. They're limited, though, and since they can only be 30 seconds long. 
Paid video editing software like Adobe Premiere Pro, in contrast, can last up much longer, like 5 minutes. There's an annual or monthly plan for this software, though, and it can be costly.
Memory
One important criterion comparing editing software and online video editing tools is memory.
One problem with digital editing is the memory required. Sometimes, the huge hard drive of your computer is suddenly only a thumb drive since the size of the video file is so big while it's being edited. You'll be needing as many gigabytes as possible. 
If you're editing a video, you need to get more memory. Make sure to check the online tool or software you're using to see how much RAM you'll take up. Most software and tools need at least 4 GB RAM or more. For example, Adobe After Effects takes up 4 GB RAM, while Sony Vegas Pro requires about 4 GB RAM but recommends 8 GB RAM.
Video Quality
A bad quality video will ruin your consumer's experience, no matter how good your content is. Of course, a video will degrade a bit after uploading to, say, social media platforms like Facebook or Instagram, but you should still have a good quality video on these sites. If your content originally is poorly created with bad quality, don't blame it on the upload process to these sites. 
While both online video tools and offline video software will definitely have tools like animations, filters, transitions, effects, and color correction, you still need to make sure there are high-level editing features on these tools like:
Basic:
file capture and file transfer
voice-over/audio and video compatibility
file rendering and output capabilities
clip-splitting and clip-combining
Advanced:
background replacement
motion design
advanced color grading
text and graphics compatibility
If you've got this all down pat, but are running into trouble in the last process of uploading your video to social media sites, like YouTube, you might want to use an online video editor with a cloud-based editor. That way, you'll have a good quality video without losing the quality. This is ideal for medium-small target audience sizes, like if you're just building your brand. If you're looking to produce a high-quality video for a large audience, or you're a big broadcasting agency, then go ahead and use professional video-editing software for uploading to your own website.
Customization
Although you can hire a professional video editor to get the job done for you, you will have to assume that the finished product might deviate from your original preference. And, since a video editor is, well, human, there might be some negotiations or mistakes you have to account for. 
That said, whether you're the one doing it or hiring someone else to do it for you, video editing needs to have your own special touch. So, it needs to be customized for your brand, your mission, and your audience. 
If you have a background replacement on your software or tool, which most of them have, you can add your own background with your logo or your contact information. If there's a music track, you can personalize it with your own soundtrack. The same goes for voice-over narration.
And of course, you want the content to modify your needs as a brand, a business, or a firm. You should be targeting your specific niche with your own target consumers in that niche. Your content should suit accordingly.
Although online video tools are beneficial in many cases, they might display their own watermark. Then, the consumer's experience of the video will be tailored to that software's business, rather than to yours. 
Most video editing software doesn't use watermarks. You can have visuals and transitions as well with your software, to further enhance the customization of your video.
So, for this criteria, I'd go with offline software.
SEO
If you think SEO is only for written content, you're wrong. A lot of video marketing and video optimization has to do with video SEO. Read more here. You can optimize your video through optimized metadata, keywords, title tags, and descriptions. 
In this case, you might want to add a transcript and will need SEO for that. 
Online video editing platforms might have built-in SEO tools to make your life easier. Meanwhile, offline video editing software rarely doesn't, though some do have some options for metadata and title tag optimization for specific platforms like YouTUBE. So, best to go with online video editing platforms like Animaker for this one. 
One-Click Away
Your video doesn't have to be done by a hired professional editor. With the rise of online editing tools and plugins and the popularity of professional video editing suites like Adobe or Sony Vegas Pro, you can have DIY video editing like a pro.
Choosing between one editing platform and another is just a matter of knowing what you want for your video. Do you want an animated infomercial with built-in SEO or an education talk that doesn't talk up too much room on your hard drive? It depends on you. With these criteria in mind, your new video can access your intended audiences in no time and with little effort, making you a video-editing pro.
You may also like: 7 Useful Tips for Editing Videos Like a Pro
Image source: Dreamstime.com