Click here to get this post in PDF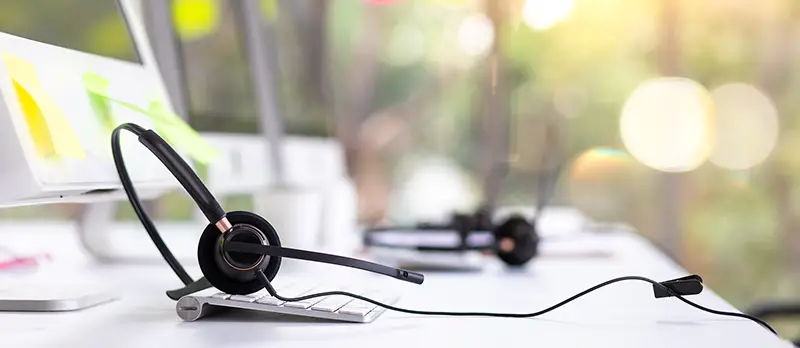 The business market is saturated, and competition is fierce. To make your company stand out from the pack, you need to provide a unique service that makes your clients' lives easier. One way to do this would be to choose a virtual phone system for your organization.
A virtual phone system is a comparatively newer phone system that uses voice over the internet protocol (VoIP) technology. It can be installed on any device including desktop computers, laptops, and smartphones. This allows it to be more flexible and convenient than traditional landline systems.
A virtual phone system has a lot of features that can help businesses, especially small businesses, save time and money as it eliminates the need for hardware and expensive installation fees. It's much more affordable than traditional systems, and it offers features that are more suited to today's fast-moving business world.
Convenient Features of a Virtual Phone System
1. Make & Receive Business Calls
Today, small businesses need to be more efficient and cost-effective than ever. And a virtual phone system should be your solution for working away from the office and making and receiving business calls in a professional manner. A virtual phone system is essentially a telephone network that's hosted off-site by a third party. It enables you to make and receive business calls through an internet connection rather than traditional landlines. If your business fields a large volume of inbound or outbound calls, working within a robust virtual call center software may be your best option. This will allow you and your agents to customize and set up self-service menus, streamline call flows, caller data, and customer record matching.
With a virtual phone system, you can keep your existing business number or choose a new one. You can also stay connected while on the go with mobile apps that let you use your business number from any Wi-Fi-enabled device such as your laptop, smartphone or tablet. 
It's important to emphasize that we're not talking about call forwarding. When you use call forwarding, your business number is forwarded to your personal number, which means that customers and clients contact your personal line directly. There's no distinction between your business and personal lines in this scenario. A virtual phone system is different because your business number lives in "the cloud" rather than any particular device. Your customers call your business number, not you directly. And that means that you can answer their calls from any device — mobile or otherwise.
2. Text with Your Customers
Text messaging is one of the most popular ways for businesses to communicate with customers. It's fast and easy for both parties, and it can be more convenient than other methods.
Additionally, as an email alternative, text messaging has a higher read rate, which means your messages will be seen by more people.
You can use text messaging to send appointment reminders and confirmations, special offers and promotional codes, short surveys or polls, or any other information relevant to your business. You can also use it to provide status updates when working with clients on a project or campaign.
In fact, the only limit to what you can do with text messaging is your imagination.
3. Video Meetings with Team
A video conference is also known as a video teleconference (VTC) in the business world. Like a traditional conference call, a video conference allows multiple people to meet and discuss matters in real-time. The difference is that VTCs enable participants to see each other through webcams.
This is a great way to improve communication between remote teams when you think about it. Another good point is that many modern phone systems incorporate video conferencing features into their software stacks. The best ones offer HD-quality video and well-designed interfaces that make it easy for your team to host and attend virtual meetings.
4. Easy to Manage Voicemail
Voicemail is one of the most convenient features of a virtual phone system. It allows callers to leave messages when they call you during your absence and also enables you to check your voicemail on the go. In addition, a virtual system offers enhanced voicemail features that make it easy for you to manage your messages.
You can set up custom greetings and notifications for different callers depending on the time of the day or day of the week. You can also get an email notification whenever someone leaves a voicemail message for you.
All your voicemails are stored in the cloud and accessible to you from any device, making it easy for you to manage them remotely. You can record custom greetings using any device from anywhere and also access voicemails from any device.
5. Customize Your Entire System
Virtual phone systems are highly customizable and can be programmed to fit the needs of a business. You can start by choosing a toll-free or local number that suits your business and then has calls forwarded to any phone number you'd like. The system can also be programmed to provide different greetings and routes for different types of callers. For instance, if your business offers services in multiple locations, it can be programmed to route calls from specific area codes to the appropriate office. The system can also transfer callers to the next available agent or put them on hold with music.
A virtual phone system is also scalable, so if your business grows and you need more phone lines or new features, you don't have to change equipment; you have to adjust your virtual system.
Add Convenience to Your Business Operations
As you can see from the features listed in this column, there are many advantages to using a cloud phone system.
The convenience of sending and receiving calls from anywhere in the world is especially important for small businesses that tend to be more mobile than larger companies.
Virtual phone systems use VoIP technology, which relies on an internet connection rather than a physical phone line. Businesses can also choose whether or not they want a toll-free number from the start or prefer to upgrade later on.
All in all, the cost savings of setting up a virtual phone system is appealing to both new and established businesses.
You may also like: Business VoIP systems: Allowing companies to enhance productivity
Image source: Shutterstock.com