Click here to get this post in PDF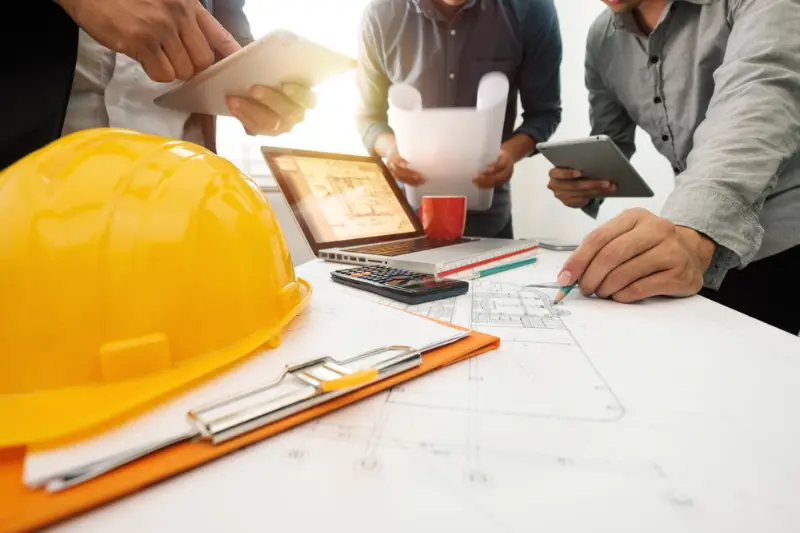 For the construction industry, success is built through much more than constructing a building – it's about creating customer relationships that foster development and growth. Digital construction marketing is increasingly important in how your construction business interacts with customers and prospective leads. 
In today's competitive market, staying ahead of the curve requires innovative digital marketing strategies to ensure you reach all potential customers with timely, relevant messages that engage them visually and verbally. That's why we're here to help – this blog post aims to equip you with everything you need to know about crafting successful digital marketing campaigns tailored for your construction company to reach maximum visibility and customer engagement.
Digital Marketing Strategies for the Construction Industry
In the construction industry, where relationships, reputation, and expertise play crucial roles, implementing innovative digital marketing strategies can significantly enhance visibility and attract clients. 
Taking advantage of digital marketing is an obvious choice, and there is no substitution for experience when it comes to doing it right. Therefore, taking the time to find the perfect agency with considerable experience in this area is strongly advised.
Here are strategies tailored for the construction industry to ensure success in the digital landscape:
Professional Website Development:
Feature a portfolio showcasing completed and ongoing projects, highlighting expertise and capabilities. You need to ensure that the website is mobile-friendly for users accessing it on various devices.
Search Engine Optimization (SEO):
Optimize for local search terms to attract clients in the geographical area of operation. Also, incorporate relevant keywords related to construction services for better search engine visibility. Your SEO strategy is key to consistent success in the construction industry.
Create blog posts, articles, or videos that educate clients about construction processes, industry trends, and project planning. Develop case studies highlighting successful projects and demonstrating problem-solving capabilities. These case studies will provide testimony to the company's success in its niche.
Use visually appealing images and videos of completed projects to showcase craftsmanship. Leverage virtual tours of construction sites provide a firsthand look at ongoing work.
Utilize social media platforms suitable for the construction industry, such as LinkedIn, Instagram, and YouTube. Share behind-the-scenes glimpses of construction projects, emphasizing the human aspect of the work.
Send regular newsletters to clients and subscribers with updates on completed projects, industry news, and upcoming initiatives. Personalize email communications to strengthen client relationships and ensure that your emails are tailored to the audience interests.
Capture video testimonials from satisfied clients to build trust and credibility. Encourage them to leave positive reviews online to enhance the company's online reputation.
Augmented Reality (AR) and Virtual Reality (VR):
Use AR and VR technologies to provide clients with immersive visualizations of proposed projects. Also, implement AR and VR for employee training and skill development making the best possible use of the technologies. They can also be used for showcasing properties in a virtual manner.
Utilize drones for aerial views of construction sites, offering clients and stakeholders real-time project updates. Incorporate drone footage into marketing materials for a unique perspective.
Chatbots for Customer Interaction:
Implement chatbots on the website for instant client support and inquiries. Leverage these chatbots to gather information from potential clients and generate leads. They also help you cut down costs in customer service drastically.
Interactive Webinars and Workshops:
Host webinars and online workshops to educate clients, architects, and industry professionals on construction-related topics. Include interactive Q&A sessions to engage participants and address specific queries. These workshops can prove important to establish lasting relationships.
Data Analytics for Decision-Making:
Utilize data analytics tools to track website performance, social media engagement, and the success of digital marketing campaigns. Analyze data insights to refine and optimize digital marketing strategies.
Conclusion:
The construction industry certainly has its challenges when it comes to marketing; however, the possibilities for success are far from non-existent. With the right strategies, an eye for innovation, and, most importantly—the willingness to explore new avenues of marketing—businesses in this highly competitive sector can soar. 
By embracing these innovative digital marketing strategies, construction companies can elevate their online presence, foster client relationships, and position themselves as leaders in the industry. The digital landscape offers a wealth of opportunities for construction businesses to showcase their expertise and connect with clients meaningfully.
To succeed in this ever-evolving market, hiring a digital marketing agency is the best choice available today. With their help, construction businesses have more than enough opportunity to create projects on par with those at the cutting edge of design and innovation.
You may also like: What Kind of Digital Marketing Strategies Should You Be Utilising?
Image source: Depositphotos.com