Click here to get this post in PDF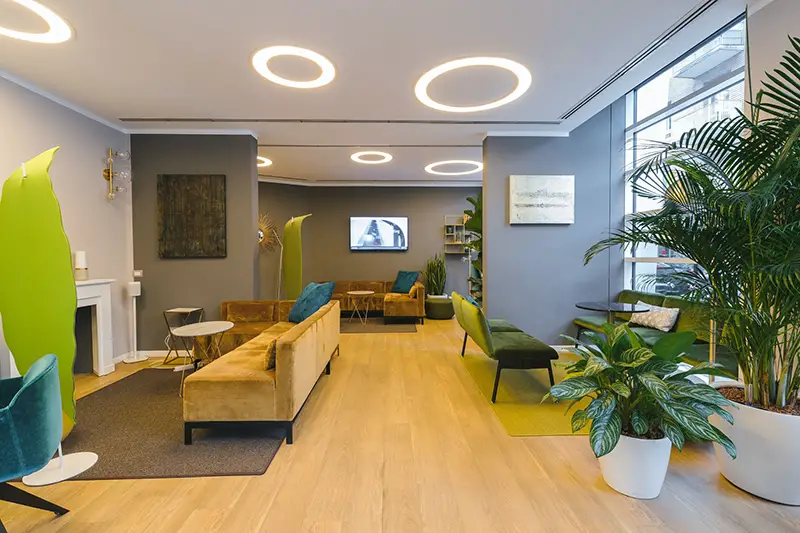 Today's office spaces look a lot different from the work environments we used to see ten or twenty years ago. One element that has become a staple of modern offices is the lounge area – a space that was either missing or somewhat overlooked in the past. Now that companies focus on creating spaces for every need and occasion, the lounge area has turned into a must-have. This means that simply finding a room or a nook and labeling it as an employee lounge won't cut it. You have to put in a bit more effort to create a space that will tick everyone's boxes and positively impact your workforce. 
And if you're worried that your employees might flee their desks en masse to chat and relax in the break room while work keeps piling up, you should rest assured that's an unlikely scenario. Studies have proven that an empowered office environment where employees can choose their workspaces can significantly increase their productivity. Therefore, having a lounge area is more about giving your employees more freedom and flexibility to keep them happy and engaged, rather than encouraging them to avoid their tasks. 
But then there's also the financial aspect to take into account. Office lounges cost companies quite a hefty amount, so if you're a small business on a shoestring budget, you may find it challenging to create this type of space your employees need. However, difficult doesn't mean impossible, as you're about to see. With the right approach and some clever ideas, you can create an office lounge area that all your employees will enjoy. 
Different strokes for different folks 
Given that employees spend the biggest part of their day at work, it's obvious that all the elements that make up the office space directly and profoundly influence their wellbeing and, thus, their performance. However, what's not as obvious is what employers can do to make these spaces respond to their employees' needs. 
It was once believed that creating a peaceful environment free of distractions and giving each employee the privacy they need to focus on their tasks was the ideal model for all workplaces. And while this may be partly true, it's not entirely accurate. For example, quiet separate workspaces can help some employees perform better, but others thrive when they're in a more collaborative environment where they can interact with their peers. 
There's no one-size-fits-all approach when it comes to work settings. However, it's important to acknowledge that different people have different needs and requirements based on the nature of their job, working styles, and personal preferences. Therefore, when designing an office space, employers must consider these differences and provide a customized experience for their employees. That's why creating a balanced environment that doesn't fall into any of the extremes (boxed vs open space, privacy vs collaboration, etc.) is probably the most sensible option. There's no doubt that lounge spaces play a vital role in establishing this balance, so one should not minimize their importance. 
Think outside the box
Lounge areas are often imagined as completely separate spaces that create a clear demarcation between work and relaxation. However, that's a rather limitative approach, and that's exactly what you should try to avoid. You can certainly opt for a dedicated room if you want to, but if you don't have that possibility due to space or budget restrictions, there are other options to consider that are just as if not more effective.  
Any place that serves for ad-hoc meetings and quick chats has the potential to be turned into a lounge area. Think of the coffee bar, the office entrance, or the area at the top of the stairs. Virtually any corner that provides a bit of space for employees to gather can be transformed into an office lounge if you bring in the right elements: seating, tables, gadgets, etc. 
Make it fun 
A change of scenery is sometimes all that's needed to find motivation and inspiration. So, employees can take their work to the lounge room if they wish. But all work and no play is a productivity killer in the long run. Therefore, an office lounge must allow employees to have some fun and take a break from their tasks. 
That's where entertainment devices and gadgets come into play. We're not saying you should transform the lounge into a playroom or a private cinema, but it sure wouldn't hurt if you would bring in some fun equipment, like a TV, video games, a ping-pong table, dart boards, and so on. And if investing in devices like tablets or TVs that are a bit expensive goes beyond your budget, a TV rental service can provide the ideal solution. 
Connection is key 
Lounge areas are all about connection. Their main purpose is to support team-building efforts by allowing employees to interact with each other. However, this space shouldn't be limited to trivial interactions. After all, it's a place located within a work environment, so employees should be able to connect with each other and their work. 
That's why a truly effective lounge room should also be equipped with an internet connection, power sources, video conferencing devices, and other elements that can facilitate collaboration in an informal space. 
Comfort all around 
Last but not least, office lounges should be comfortable. No matter how your lounge room looks or how small or big it is, comfort is one thing you cannot skip. A lounge should give employees a break from the stiffness of their offices. Fortunately, that can be easily achieved with a few key elements like comfortable chairs and sofas, adequate lighting, room dividers, or noise-canceling headphones. 
It doesn't take much to design a spectacular office lounge, even if you don't have a big budget, to begin with. You just have to know what boxes you need to tick and focus on the features that can provide the biggest impact.
You may also like: Office Design Trends That Suit the Millennial Lifestyle
Image source: Unsplash.com