Click here to get this post in PDF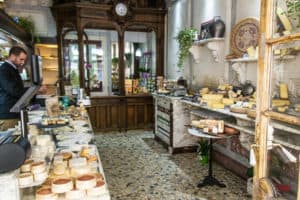 About 56% of onlinetraffic to food brand websites arrives via search engines. This means that if you're looking into starting a food business, you can't forego your SEO work.
However, that's not the only thing you'll need to consider when you're creating your business from scratch.
Creating any business requires that you adhere to a pretty detailed checklist in order to get things going, but food businesses naturally require a few more checks and certifications.
Here are our top six serious things to consider before starting a food business of your own.
1. Do You Have a Business Plan?
Want to know how to start a food company? Begin by creating a business plan.
Having a business plan can double your chances of success.
While a solid business plan won't do anything for you in terms of getting permits or renting a food truck, it forces you to ensure that you know what you're getting yourself into.
In this plan, you need to write out, at a minimum:
Executive Summary
Company Description
Market Analysis
Organization & Management
Marketing & Sales
Financial Projections
If you're going to look for funding when starting a food company, then the last point is going to be crucial. Investors will want to see that you've done your research before handing over cash or capital.
Lucky for you, the US Small Business Administration lays out some pretty good tips for creating a business plan. Follow the guide and try to be as detailed as possible.
2. Does Your Food Business Cater to a Niche?
When you start a food business, you're entering a highly-competitive market. This makes it really important to think of a business idea that serves a niche market.
Some popular niche food business ideas include:
Gourmet Popcorn
Fusion Food Trucks
Breakfast Food Trucks
Cupcakes
Shaved Ice
These are just a few ideas, but the point is to find something that nobody has done and do it yourself.
This will help you stand out amongst the competition and ensure that you're giving yourself a competitive edge.
3. What Equipment Do You Need?
Now that you have a plan with a solid, profitable idea, you'll need to think about one of the most important parts: how are you going to make the food?
This is probably going to be one of the largest expenses learning how to start a food business, so prepare yourself for the costs.
Depending on what kind of food you'll be making, you'll need to purchase different kinds of food equipment. In general, consider buying:
Kitchen Appliances (oven, stove, microwave, etc.)
Cold Storage Appliances
Work Surfaces (countertops, cutting boards, tables, etc.)
Kitchenware (pans, pots, lids)
Utensils
Then, if you're planning on having a front-of-house (i.e. you're not going to serve your food out of your home or out of a food truck), you'll need to factor in the costs of silverware, dining tables, chairs, and more.
When looking for what kind of equipment to purchase, you should check out these food metrics.
Ensure that your equipment allows you to monitor your overall equipment effectiveness without causing your business to have much downtime.
4. What Licenses and Permits Do You Need When Starting a Food Business?
If you don't have the right licenses and permits, you're not going to go anywhere in the food industry.
Start by checking your local zoning laws to make sure that you're allowed to start a food business from home or that you're allowed to sell food in the area that you want to.
You'll need to make sure that the professional kitchen that you're going to rent is in the right zone for commercial purposes.
Then, you'll need to make sure that your facilities pass all of your state's food cleanliness requirements.
It's wise to sign up for a food handling course & certificate, and it actually might be necessary depending on what kind of food you're selling and where.
Finally, you need to register your business with the local authorities. As a food business owner, you're going to need a resale license so you can purchase goods from wholesale providers without paying tax.
5. How Are You Going to Market Your Business?
When you're just starting out, it's likely that your first customers will be your friends and family. Get the word out as much as you can amongst your inner circle before turning to actual marketing.
Because the food industry is highly visual, it's going to help to start an Instagram page. Publish photos of your dishes online and make them look as delicious as possible.
Make sure you have a Facebook page where people can follow along for updates. Post special deals, offers, and discounts here to entice people to keep up-to-date with what you're doing.
And, finally, you can't forget about the importance of having a website, especially if you're going to set up online orders.
Optimize this website for local searches as it's going to really help people find you and visit your store.
6. How Are You Going to Accept Payments?
This is something that most people overlook when thinking about how to start a food business from home. You get so lost in the details and planning that you forget to think about the nuts and bolts of accepting payments.
It's a good idea, for tax purposes, to set yourself up with a high-quality invoicing software that will keep track of your sales for you.
If you're selling online, you'll need to compare the best online payment processor for your business. Some accept different cards and payment types while others charge high fees. 
Do your research well as this definitely affects your food business's bottom line.
Starting a Food Business That's Successful
If you're interested in starting a food business, then follow these six steps above to ensure that you're paving your own way to success.
Keep track of the costs that you incur and try to plan out a budget as far in advance as you can. 
Stick to this budget and always look for ways to cut costs without sacrificing quality. And, practice patience! Starting a business of any kind takes time and a lot of dedication.
If you're still in need of some help, head over to our business success section to access more tips, tricks and suggestions.
You may also like: These Four Things Are What Every Business Needs