Click here to get this post in PDF
To keep beer fresh and tasty, brewers must regularly clean their equipment with a beer line cleaner solution. Using this product, you can remove wild yeast, beer stone, bacteria, and mold from the system.
Read in our article how to use this solution and where it is best to buy.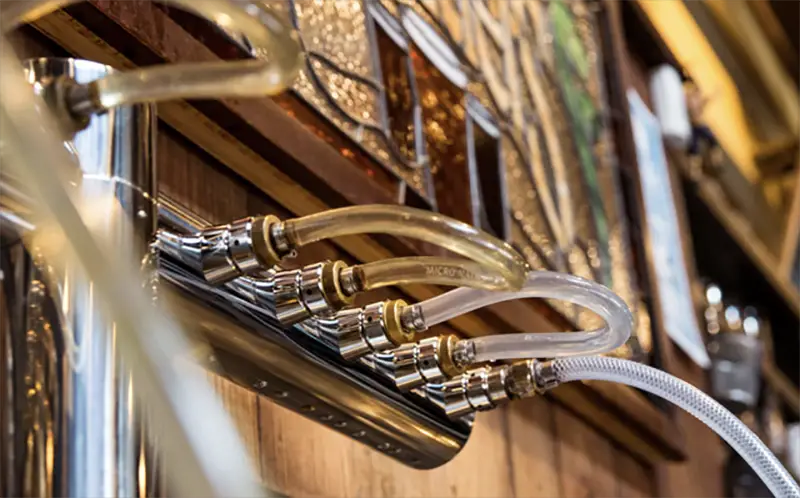 How Do You Sanitize Beer Lines?
We have compiled for you 7 main steps on how to clean the beer line properly.
1. Prepare the cleaning kit: plastic bottle and tap, submerged pipe, cleaning solution, bucket, hand pump, a wrench, and faucet brush.
2. Take a plastic bottle and make the solution in it, mixing it with water according to the instructions. Usually, it is about 15 ml of the product (1 tablespoon) per 1 liter of pure cold water.
3. Remove the beer tap and connect the cleaning line to its place. Turn off the CO2 regulator and then disconnect the beer lines from the keg. Put their ends in a bucket.
4. Pump the beer line cleaner solution into the beer line with a hand pump. Repeat this process several times. The product should recirculate through the system for 15 minutes. If recycling is not possible, leave the mixture to act for 20 minutes.
5. Remove the faucet and pour the liquid out of the bucket. Fill the plastic bottle with clean water and rinse all the equipment several times to remove the residual cleaning solution.
6. Clean the inside of the faucet using a brush. Then wash it with clean water.
7. Reconnect all the components. The equipment is ready for operation! 
Best Chemicals to Clean Beer Lines
The selection of a suitable product for cleaning the beer lines depends on:
How exactly do you want to clean the equipment? Different ingredients have different features of use.
Price policy: manufacturers produce many types of cleaning products at different prices.
In order not to be confused and to find something suitable for you, consult the representatives of the Beverage Craft company.
The company offers a wide range of high-quality brewing equipment and effective care products. Here you will be helped to choose the optimal beer line cleaner solution and taught how to use it correctly.
With Beverage Craft products, you will be 100% sure that the contaminants have been removed from your beer dispensing system.
You may also like: Best Tips of Designing Beer Tap Handles for Your Bar