Click here to get this post in PDF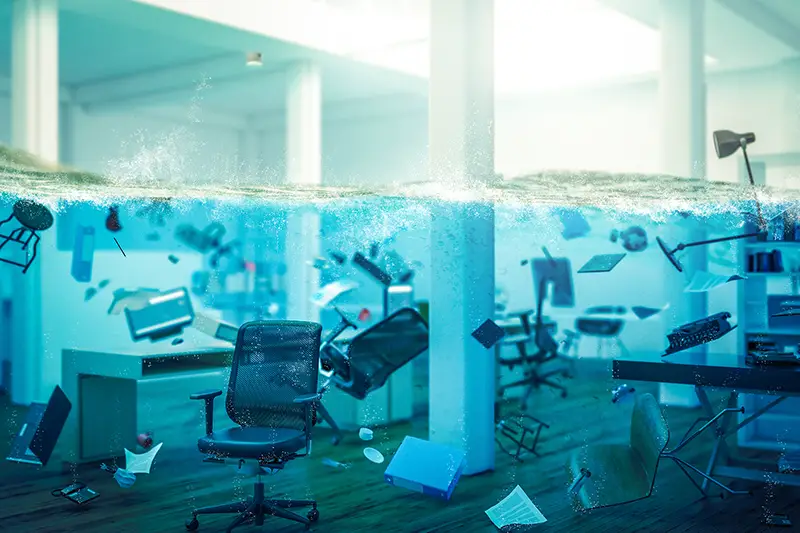 Water plays an important role in most premises. In your office, your workers require water to replenish their bodies. They'll also need water to flush toilets, clean their hands, and wash dishes at the end of each working day. Although water plays a vital role, it can be catastrophic if not handled properly. 
Water in unwanted places can cause damage, destroying some of your investments. This is something you don't want. Imagine investing in expensive furniture for your lobby, only for water to damage the furniture two months into the purchase. This makes it vital to understand all aspects of water damage to prevent a lack of return on your office investments. This article will help you understand water damage by discussing its causes. Read on to find out more about this.
Water damage in your office building is caused by:
1. Natural Calamities
Harsh weather conditions can sometimes cause water damage in your office, especially if you live in an area prone to harsh weather. Some weather conditions which can cause water damage are floods and hurricanes. During hurricanes and floods, water levels tend to rise above normal height. This water then finds its way into your office. 
It won't only affect your finishes and other structural elements. Your furniture is also likely to get damaged. If you have sockets near the floor, they can short circuit. In most cases, the water damage caused by natural calamities tends to be extensive, and you'll require restoration services like Summit Cleaning & Restoration.
Earthquakes are also likely to be a source of water damage in your building. How? Your building is likely to undergo differential movement. The force of the movement can cause some of your plumbing pipes to come apart or loosen at the jointing area. The disjointing will lead to water leakage, causing water damage.
2. Damaged Plumbing Systems
Plumbing works by carrying water to and from several places in your office building. They'll supply water to your taps and drain away unwanted water. Unfortunately, though these pipes are meant to last, they're prone to damage for several reasons.
Most of your plumbing pipes have many joints, especially lengthy ones. These joints are the main cause of water leaks that lead to water damage in your commercial building. In addition, the leaks can be due to improper sealing during installation, such that excess water pressure leads to disjointing of the pipes. The extent of water damage depends on the amount of water passing the pipes and the extent of pipe damage. 
Besides joint issues, your pipes could be damaged by rust and harsh weather conditions. Some pipes are made of steel rather than PVC and are prone to rust. Prolonged rusting weakens the pipe and won't withstand excessive water pressure. It could lead to pipe bursts or your pipes having holes. 
When cold, water passing along your pipes is likely to freeze, and your pipes will contract. When hot, the reverse happens, and the pipes expand. The continual pipe expansion and contraction exert pressure, and your pipe might burst open. Consider contacting hazardous waste transportation companies to get the water out of the building and repair the plumbing system.
Changes in water pressure are also another cause of pipe damage. The damaged pipes will allow water leaks in your building. The water will likely splash on your walls and pool around your floors. The internal finishes of your office will get damaged. You'll see paint peeling off or mold growing in these areas. Suppose you have concrete floors. You'll notice a white substance forming on its surface, which signifies water damage.
3. Damaged Roof
A roof encompasses your entire office complex. Any damage to it will allow water to enter your building. A damaged roof is one of the causes of water damage. What causes roof damage?
One is rusting roofing joints, especially the area around the roofing nails. A rusted roof becomes thin with time, and its strength reduces. The rusted area becomes delicate even to moderate rainfall. This'll create holes, which allow rainwater entry into your building. Holes on your roof can also result from excessive force from falling objects.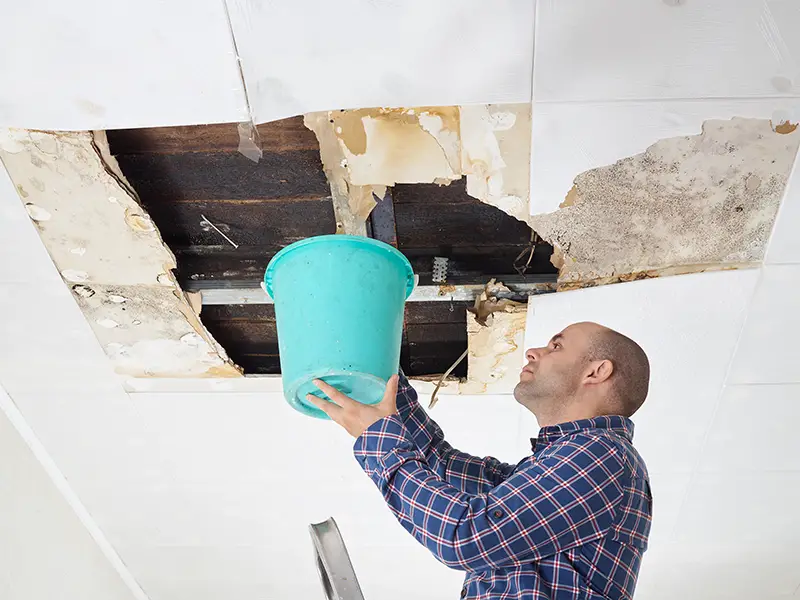 With time, some of your roofing material can come off, exposing your inner office premises. The material often comes off due to poor installation or harsh weather conditions, such as strong winds. 
Trees near your roof can also be the source of your roof damage. During strong winds, the leaves and branches hit against your roofing material, exerting extra and unnecessary force on your roof. This can break off some parts of your roof.
How does roof damage cause water damage? 
Once water gets into your office from the damaged areas on your roof, it'll create moisture conditions in your attic. The presence of moisture and warmth creates room for the growth of mold and mildew. The water will then get its way to your ceiling, causing stains. With extreme water leakage, your ceiling can cave in due to the extra water's weight. 
4. Poorly Installed Gutters
Gutters serve to drain water from your roof and down a downspout. Wrongful installation of these gutters becomes an issue and can lead to water damage on your premises. What's the right installation procedure?
Rightful gutter installation involves right gutter-placing around the perimeter of your office. It should be well-jointed to prevent water from leaking at these joints. You should then fix a downspout from the edge of your gutter, which drain the water from your roof. The downspout should end in a drainage system, or you can harvest it using tanks. The downspout should drive water away from your home and shouldn't be near your plinth.
Most improper gutter installations occur when you let water from the downspout drain into your compound without any collection. In most cases, this water will pool around the perimeter of your walls. Depending on the soil type in your location, this water might seep into your basement or damage your external walls. In extreme cases, it can happen where you don't notice this damage in advance. The water damage can affect the structural integrity of your building. You might find your building leaning onto one side or collapsing due to a failing foundation.
5. Wrong Piping Systems
The effectiveness of your plumbing systems largely depends on design and installation techniques. If you seek a non-professional plumber's services, water damage is one of the issues you're likely to encounter. They might use the wrong pipe size for your system. A diameter too small will lead to excessive water pressure, causing your pipes to burst. The water will lead to water damage.
On the other hand, some plumbing designs are complex, probably due to the shape of your office building. Sometimes, the plumber from a Cincinnati plumbing company has to install sharp bends and elbows to cater to the design. These sharp bends often become an issue for your water flow.. How?
Water will always hit that corner at extremely high pressure since it's a form of discontinuation of your pipe. Over time, this section will likely undergo wear and tear, leading to cracks. These cracks become the source of unwanted water in your office leading to leakages. Water damage is likely to follow next.
6. Waterproofing Issues
Areas with high water levels and where there's a water source nearby, such as a lake, need waterproofing to prevent water entry indoors. As an office located in such an area, you might have waterproofed your office, which is commendable.
However, even with waterproofing, there's a chance of you experiencing water damage. Water damage becomes an issue if waterproofing isn't done correctly. 
The installation of waterproofing materials requires you to follow a guide. Should your hired personnel skip a step, you'll likely experience issues later on. The waterproofing will fail, allowing water into your basement and other indoor areas in your office. The same will happen if you install the wrong waterproofing solution. A waterproof solution will be wrong if it isn't efficient enough to handle your water issues.
Waterproofing issues are likely to cause water damage to your floors and walls. You might see wet patches on your floor, whereas other parts of the floor are dry. Your wall paint might also be peeling off.
7. Malfunctioning Appliances
As a business owner, you might have adopted all measures to prevent water damage in your office, including waterproofing, only for water damage to arise from your everyday appliances. Most offices have a break room, where workers prepare tea or snacks during their breaks. You're likely to find various appliances, such as a dishwasher, refrigerator, etc. Besides the breakroom, you'll find other appliances like a boiler and an HVAC system.
Most of these appliances handle water or moisture at one part of their operations. They have hoses and pipes, which can come loose, undergo rusting, or break. A broken refrigerator hose will cause water to pool around your refrigerator. When your AC's overflow pan gets damaged, you'll also experience water pooling with your air conditioning system. If these leaks go unnoticed, you're likely to experience water damage.
Conclusion
Preventing water damage isn't a daunting task with the right guidance. This article gives such guidance. Therefore, be sure to factor in the aspects discussed herein. These aspects will help you assess the state of your building and identify the tell-tale signs of water damage. If you see any of the signs herein, seek professional services and have them addressed before the water damage becomes advanced. It'd also help to perform routine maintenance to reduce, if not eliminate, all possible water damage.
You may also like: A Clean Office Can Make a Difference in Productivity
Image source: AdobeStock