Click here to get this post in PDF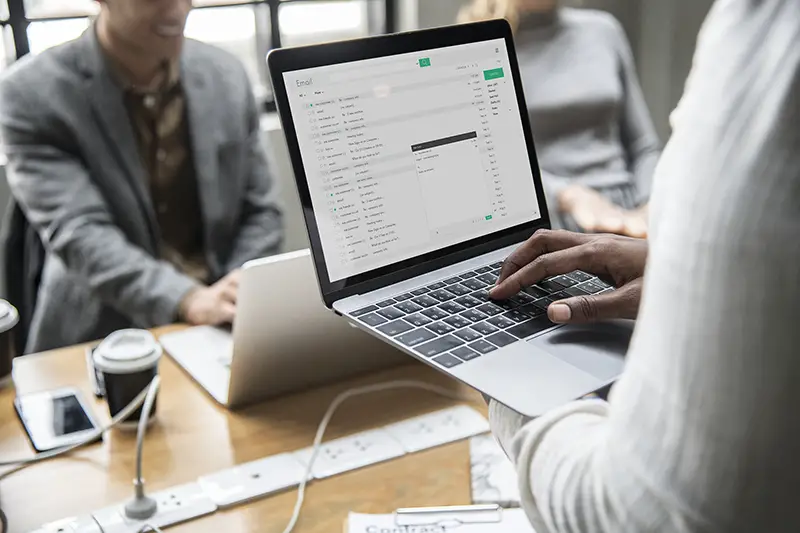 Long before the pandemic, a few companies had already started embracing remote work, albeit slowly. However, things took a different turn in 2020 when almost all companies were forced to go remote.
Surprisingly, things turned out pretty well. For instance, a Stanford study of 16,000 employees found that productivity increases by 13% when working from home. 
Even so, the remote work model isn't without challenges, with communication and collaboration topping the list. With teams distributed all over the world, issues like time zone and language barriers can prove to be problematic. 
These days, asynchronous communication has replaced the synchronous way we talk to each other. Now, just like remote work, asynchronous communication is being hailed as the future of remote work. But, is it really? Can asynchronous communication boost productivity?
Keep reading to find out what asynchronous communication is. We'll share how it works and how it benefits a remote work environment. We'll also discuss ideas on how to make it work for your organization.
What Is Asynchronous Communication?
Put simply, asynchronous communication is communication that doesn't happen in real-time. A good example is when you send someone an email and don't expect them to reply instantly.
Likewise, using project management tools enables asynchronous collaboration. Team members can log in at their own time to view work, comment, add documents, and so on.
In other words, you are not compelled to respond to the sender right away. Instead, you have the luxury to reply at your own time, depending on the urgency of the situation.
Come to think of it—this might sound counterintuitive. What better way to stay on top of things than to address issues immediately? 
However, synchronous communication isn't always the best way to communicate. A study published on Forbes shows that over 71 percent of workers complain of frequent interruptions when working, a factor that affects their productivity. 
Ironically, asynchronous communication is shown to improve productivity despite being a more staggered style of communicating.
Synchronous communication, on the other hand, is live communication where people talk to each other here and now, like in a meeting. Phone calls and video conference calls also fall under synchronous communication.
What Are the Advantages of Asynchronous Communication?
Asynchronous communication has its upsides and downsides. It's not always applicable and may fit certain areas more than others. Nonetheless, when employed appropriately, it can have several benefits to an organization:
Improved Productivity
Asynchronous communication reduces time wastage on a workday by minimizing interruptions. University of California, Irvine associate professor Gloria Mark shares that it takes an average of 23 minutes and 15 seconds to regain deep focus after a distraction.
With fewer distractions, one can maintain deep focus, thus becoming more productive.
Better Collaboration
The different time zones of your employees can present communication challenges. However, with asynchronous communication, your workers don't have to respond out of their working hours. Your message can wait until the next day to be replied to.
What's more, a stable internet connection won't hinder effective communication.
More Flexibility
Your staff enjoys more flexibility when it comes to responding. This allows them to prioritize tasks first. This is not possible with synchronous communication when, for example, you're in a video call and must be actively present in the conversation.
Asynchronous communication allows you to set aside a time slot to check on chats and reply to emails.
Less Meeting Fatigue
If you've heard of Zoom fatigue, you know it's a result of spending extended periods of time on video conference calls, which can become taxing. Eventually, it leads to frustrations and burnout.
With asynchronous communication, teams don't have to be tied to synchronous calls all day. In turn, they have more time to think and focus on productive work.
Better Planning
Last-minute, ASAP requests are no longer an option with asynchronous communication. Managers learn to plan their workloads and collaborations more efficiently to allow coworkers enough time to see and respond to requests.
Hence, both managers and workers suffer from less stress that may sometimes be common with synchronous communication.
Automatic Records
Often, synchronous communication requires you to take notes, whether during face-to-face or virtual meetings. Asynchronous communication mainly occurs in writing. As a result, it provides better conversation records that can be helpful for future reference.
Even in the case of recorded voice messages, you can still access the information anytime you want.
Encourages Equality
Asynchronous communication encourages an environment where shy people, introverts, and non-native English speakers are on equal grounds. It prevents members who are more gifted at public speaking from overshadowing their introverted colleagues.
How Can Asynchronous Communication Be Improved?
According to HBR research published a few years back, meetings were found to take away about 80 percent of employees' time in an office setting. This deprived them of the chance to do actual work.
Luckily, as a manager, you can switch between synchronous and asynchronous communication to suit company needs. You can utilize collaboration and productivity apps to facilitate both synchronous and asynchronous communication.
Here are best practices to make asynchronous communication work for you:
Create Clear Guidelines for Asynchronous Communication
Even with the various tools that facilitate asynchronous communication in place, it's pointless without proper guidelines for effective internal communication. So, be sure to create clear guidelines with the company culture in mind.
Once you have the guidelines, the next important step is to communicate and make everyone aware of those guidelines.
Define What's Urgent and What's Not
Remember, there's a thin line between synchronous and asynchronous communication, especially when using certain communication platforms. So, make sure you define what messages should be deemed urgent and how they should be labeled in your communication channel.
Better yet, consider creating a separate channel for emergencies. This way, workers will always know how to react when a message comes through the channel.
Build Trust
According to a Harvard Business Review study, 34 percent of workers agreed that their managers "expressed a lack of confidence in their work skills." An even higher number of employees reported feeling that they needed to be constantly available. They felt like their supervisors expected them to respond to messages instantly even after work hours.
Keep in mind that there can't be effective communication without trust. That's why it's a critical prerequisite for asynchronous communication to work.
Understand Your Workforce
Apart from being thoughtful about your workers' time zones, it's crucial to understand your individual workers' characteristics and cultural backgrounds. Written words can create room for misinterpretations and misunderstandings, and this can increase the number of back-and-forth conversations.
That's why you should pay attention to your words when responding to chats or emails. How you express yourself matters. So, you should always strive to communicate as clearly as possible.
Additionally, it's important to communicate everything upfront given the delay in responding. You don't want to just say "Hello! How are you doing today?" and let it hang out there.
Lead By Example
When leading a remote team, nothing is as crucial as getting team buy-in. Simply introducing a shift to asynchronous communication without involving your team is bad practice.
The best approach is to ensure your employees are in on these changes. Introduce them to what asynchronous communication is, how it works, and how they stand to benefit. When they believe in you, you'll have fewer problems to deal with later.
Plus, if you advocate for asynchronous communication, be sure to live by it. Otherwise, the shift won't be as seamless as you'd expect.
Furthermore, by getting your employees involved, you'll create room to discuss the problems that may arise and come up with solutions. Remember, listening actively, striving to improve team productivity, and learning change management techniques, are among the top professional development goals for managers.
It goes without saying that the overall performance of your organization depends on your actions and leading strategies. The simple truth is, the success of your employees is your success, and their growth is your growth.
Wrap Up
With the remote work world getting more popular, now more than ever, leaders must establish the best asynchronous collaboration and communication practices. Once implemented, employees will no longer waste time due to interruptions. Plus, they get to choose when and where to receive information, as well as when and where they want to respond.
Additionally, employees will be happier, less stressed, and more focused, knowing they can manage work on their own time. As a result, communication becomes more effective, and productivity improves.
You may also like: Ten Tips To Enhance Business Communication
Image source: Rawpixel.com