Click here to get this post in PDF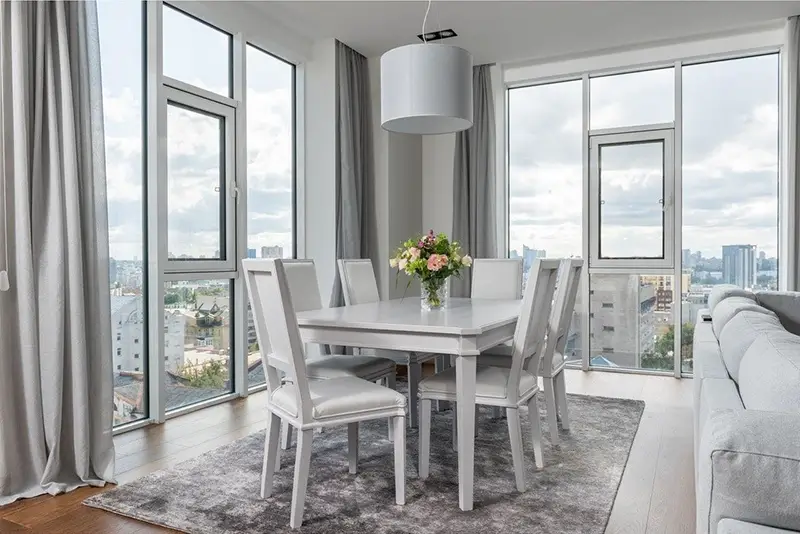 Acrylic chairs are decent furniture pieces that may be used in living rooms, dining rooms, or offices. This furniture, specially manufactured from acrylic plastics, contributes greatly to home and office decors.
Acrylic chairs can appear in various forms. They could be clear, painted, or hybrid. A hybrid acrylic chair has both clear and painted portions. In this composition, we are concerned about clear acrylic chairs.
Clear acrylic chairs are transparent acrylic chairs. This furniture type resembles glass chairs in terms of their translucency. These chairs could serve several purposes. They may be used in living rooms, dining rooms, offices, colleges, and bedrooms.
Lucite is a high-quality trademarked version of acrylic resin. This acrylic brand was developed by DuPont in 1937. Lucite could be used to produce elegant, strong, crystal translucent, flexible, and durable chairs.
Acrylic chairs, such as Lucite, can be employed for dining room design ideas. An ideal dining chair idea involves striking an important balance. This balance is between creating a luxurious place that will impress your guests and being functional for your family daily.
If you don't have an adjacent kitchen diner, your dining room can only be used for notable events. The reason for this development is that it's just an unnecessary space when it's not in use. This occurrence is particularly true if you've got a separate dining area from the rest of the house.
In this composition, we'd be giving you important tips regarding the best acrylic dining chair ideas. So, hang on as we present the guide to you. Would you like your dining room to be furnished with premium acrylic chairs? If yes, then consider acquiring any of these lucite chairs. 
4 Tips for the Perfect Acrylic Dining Chair Ideas
There are several ways you could arrange clear acrylic chairs in your dining room to achieve excellent decor. Here, we'd be presenting you with some beneficial tips gathered from various professional decorators.
To achieve a perfect acrylic dining chair decoration, consider the following tips:
1. Consider the Function and Choose the Mood
When choosing modern acrylic dining chairs, it's easy to get caught up in the aesthetics and wonder if they will complement your current furnishings. For example, will the chairs work well with an epoxy dining table? However, you must also consider the practical implications of your decisions.
It's a good idea to think about who will be using the space before you start shopping for furniture, patterns, and décor. For a household with children of various ages, several adjustments will have to be made. This effort is aimed at accommodating your specific requirements.
Your dining chairs need to be comfortable enough to allow you to remain over a PC for a few hours. This tip is handy if your dining room is also your workspace. Additionally, you should avoid using too much color or pattern in the décor because you don't want it to become a diversion.
In contrast, if your dining room's only purpose is for dining, go ahead and be daring. Your visitors need to be impressed by the scenery. You have to build a place that's meant for refreshment. Thus, you could gather seating ideas from your preferred pubs and restaurants before you begin organizing.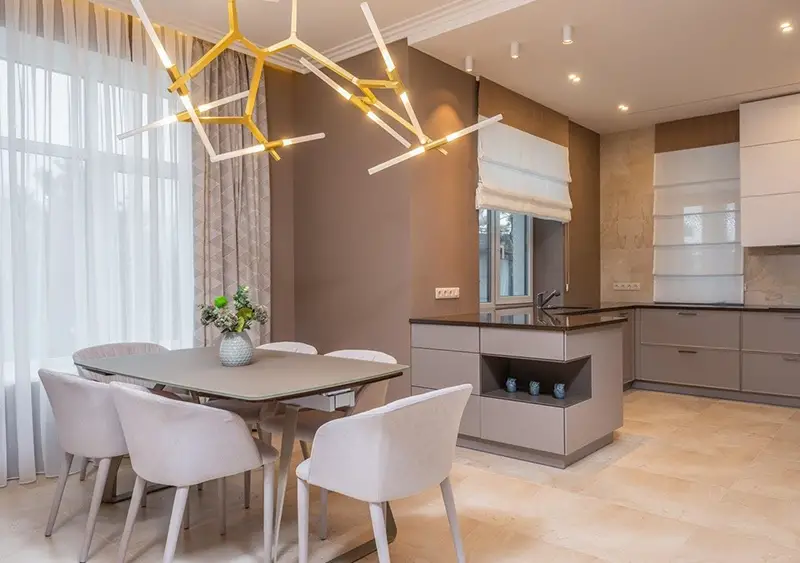 2. Ensure the Dining Lighting System Matches the Chairs
The lighting in your dining area plays an important role in establishing the mood. So, think about it early in the planning process. All three lighting forms— task, accent, and ambient – must be included, with a strong emphasis on the latter.
Just above the dining table, consider installing a pendant light or chandelier for additional ambience. With a dimmable switch, these lights can serve as both a task light and a mood lighting source.
Pendants should be 60 to 70cm away from the table for optimal results. Since you don't want to see the light bulb inside, keeping the spacing between the two is critical.
Small bulbs can be placed on surfaces throughout the room to provide more uniform illumination. Use sidelights and accent lighting to draw attention to the standout dining chairs in the room. The lights could also reflect the artworks and well-curated bookcase in the room.
For the fun element, color schemes, prints, wallpaper, and other finishing touches are necessary. Starting with a color palette for the dining area is a no-brainer.
Your dining area may serve multiple purposes. It could also be the primary dining location for the entire family. In these cases, cool colors are a good choice for your dining chairs decor. 
To make the dining room look quiet and tranquil, use creams, whites, greys, and light colors. At night, dim the ceiling lights and then use taper candles to create an intimate feel.
3. Blend the Chairs With Patterns and Wallpapers Covering the Dining Room
If you're looking for ideal acrylic dining chair ideas that immediately grabs attention, consider using bold colors.
Dining room wallpaper is strongly recommended because it adds glamour to the seating pattern. Acrylic chairs are perfect for social gatherings. Hence, it'd be best to make them feel warm, inviting, and intriguing with wallpaper.
Similarly, wallpaper adds depth and dimension to a room by adding pattern or texture. A wide variety of custom wallpaper patterns and designs are available online and in stores. They extend from geometrics to flowers to modern abstract patterns.
A focus wall or a whole room makeover is a powerful way to transform a space. Papers with dark grey like stone, clay, or fabric tend to pique interests. Simple, elegant, yet all the while captivating and enticing to look at.
4. Add a Banquette for Extra Seating If the Space Permits It
Putting more seating to a tiny dining room is as simple as swapping out the chairs for benches. This effort is also similar to installing a built-in banquette.
If the space is sufficient, pick a good design that follows the contours of the wall. You can incorporate drawers under the bench as well.
When you want to host a larger gathering, acrylic benches are a great option. Benches provide comfortable sitting for a large number of people.
Yet, if you don't have numerous events, you could buy normal clear acrylic chairs. There are several clear acrylic chairs for sale by furniture sales firms.
Conclusion
Now that you've learned that clear acrylic chairs can be used as dining seats, you may go ahead and acquire decent acrylic or lucite furniture for your dining room decor.
Furthermore, you've been enlightened on some tips concerning acrylic dining chair ideas. So, endeavor to implement what you've learned into practice.
You may also like: How to Buy High-Quality Furniture in Low-Price