Click here to get this post in PDF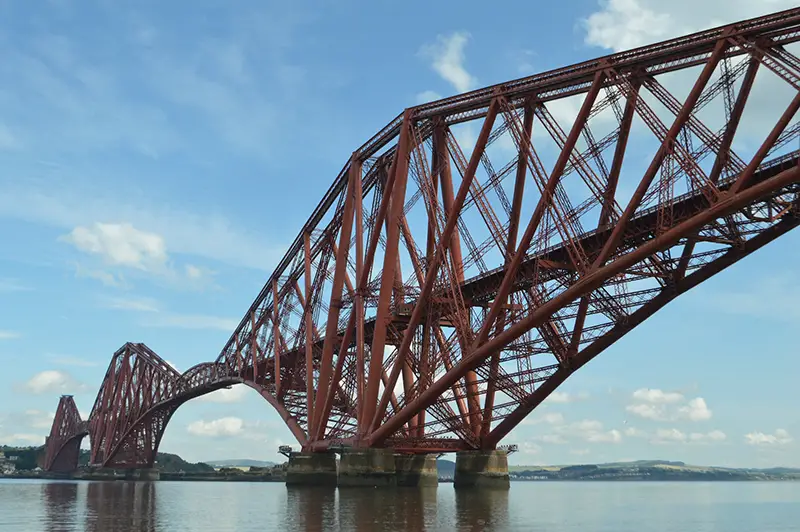 Edinburgh is the compact and hilly capital of Scotland. This city is home to a wide array of businesses in different industries, including big brand names such as J Sainsbury, Royal Bank of Scotland, Tesco, Skyscanner, Sky, and British Gas. Edinburgh is a vibrant and bustling city steeped in history and an exotic place to spend leisure time between business meetings. This article provides all the information that a corporate traveler needs to spend time traveling for business and seeing some of the favorite places in Edinburgh. It includes weather forecasts, what to see, transportation, where to eat, and much more.
From the Airport
Edinburgh Airport is just 12km from the city center and would take less than 25 minutes depending on your mode of transportation. Lothian Buses is the main bus company in the city and provides public transportation to/from the airport with Airlink 100 Express bus service. The express bus service offers bus services every 10 minutes from the airport to Waverley Bridge, which is quite close to the main rail & bus stations. The bus will reach the city center in 25 minutes with a ticket costing £4.50 (one way) and £7.00 for a return. A tram service runs frequently between the city center and the airport, taking around 30 minutes to complete the journey. The ticket costs around £5.50 (one way) and £8.50 for a return. 
Getting Around Town
Once you are in Edinburgh, getting around the city and surrounding areas is easy. Most attractions in Edinburgh are located between the Old and New Town areas, which are only a short walk from each other. The city is "cycle friendly", and cyclists can use the Green Bus Lanes in peak times. An extensive network of free cycle routes is also located across the city. Buses are a great way to get around the city. In fact, Lothian Buses offer a day Ticket for just £4 that allows unlimited travel in and around the city daily.
Taxi services are prevalent in Edinburgh. They are a great way to efficiently get around Edinburgh. There are two types of services available at the moment – Black Cabs & private taxis. You can find a Black Cab on the street or at a taxi rank, but a private taxi should be pre-booked in advance.
Where to Stay?
Most corporate travelers prefer to stay at hotels in the city center. In fact, Edinburgh has a wide range of accommodation options to suit every business traveler's needs and budget including serviced apartments and luxury/budget hotels. Find great places to stay at My Hotel Breaks.
Top Things to See and Do in Edinburgh:
Whether you plan to spend some free time between business meetings or add some leisure time to the end of your stay, your trip to Edinburgh isn't completed without visiting the following:
#1 Scotch Whiskey Experience
Travelers to Edinburgh, Scotland, cannot complete their visit without tasting a dram of Whiskey at the Scotch Whiskey Experience. This museum helps celebrate the national drink of Scotland with an interactive guided tour that shows you how Scotch Whiskey is made.
#2 Edinburgh Castle
Millions of visitors from across the globe visit Edinburgh to explore the castle. In fact, Edinburgh Castle is one of Scotland's most visited tourist attractions. Parts of the castle date back to 1130 A.D. while the Castle Rock site signs of ancient human settlements dating back to 900 B.C.
#3 Walk Around the Old Town
The medieval old town of Edinburgh is characterized by the way it's convoluted with narrow cobbled streets, which are commonly known as s Closes. You can enjoy a beautiful walk in between your business meetings and observe small courtyards and medieval houses.
#4 Visit the Edinburgh Royal Botanical Garden
The Edinburgh Royal Botanical Garden is set amidst cascading waterfalls, rolling streams, and superb natural rock formations that cut and wind through the lush green acres. Don't forget to explore Glass Houses that have been used for research purposes since 1976 for cultivating rare indigenous and tropical plants.
#5 Discover History
The city has some of the best museums in the world, where you can discover a wealth of artifacts and exhibitions. The National Museum of Scotland offers a full or half-day excursion with popular exhibits, including the Lewis Chessman exhibit, a thirty-piece walrus chess set (ivory) that dates back to the 12th century. It is considered to be a significant archaeological find of its kind.
#6 Enjoy a festival
The city is well known for its festivals. You will find various fun festivals that take place throughout the year. Most of these festivals are held during the summer season. For example, the Edinburgh International Film Festival kicks off in June, and the Fringe Festival in August. On the other hand, the Edinburgh Hogmanay Festival starts during the Scottish New Year with a party that spans 4 days from December 30 to January 2.
#7 Shopping
The city has a wide variety of shops to suit your shopping mood. Whether you prefer to have fun in a funky boutique in West End or check out haute couture fashion on Princes Street in New Town, Edinburgh has a place for you.
Harvey Nichols is a store with designer labels, including Gucci and Prada, in the city center of Edinburgh. Multrees Walk is another shop adjoining Harvey Nichols and sells Armani, Louis Vuitton, and Mulberry. A block away is George Street, with fun bars and more sophisticated shops. In fact, clothing is not the only thing in the area. Check out the White Company for home accessories. LK Bennett is great for shoes. You can also enjoy views of the beautiful Edinburgh Castle while you shop.
You may also like: 7 Hotel Tips for the Business Traveler
Image source: Pexels.com