Click here to get this post in PDF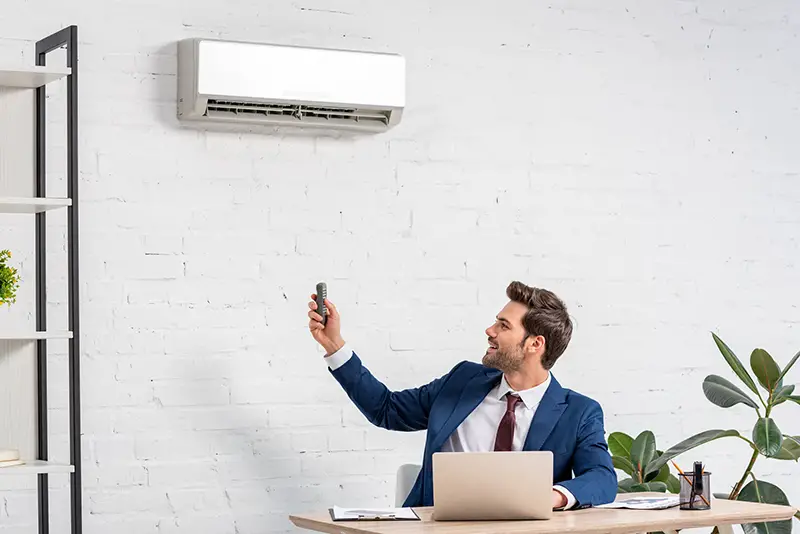 Maintaining good indoor air quality (IAQ) is essential for creating a healthy and productive work environment. Poor air quality can lead to various health issues, reduced employee performance, and higher rates of absenteeism. This article will outline effective strategies for improving air quality in the workplace, ensuring the well-being of employees and boosting overall business performance.
Regular Maintenance of HVAC Systems
One of the most crucial steps in maintaining clean air within a business environment is ensuring that the heating, ventilation, and air conditioning (HVAC) systems function optimally. Regular maintenance, including cleaning and replacing air filters, can significantly improve IAQ by removing pollutants, allergens, and other contaminants from the air. Additionally, checking for and addressing any mold or mildew growth in the ductwork can help prevent the spread of harmful spores throughout the workspace.
Proper Ventilation
A well-ventilated workspace can help reduce the concentration of pollutants and promote fresh air circulation. Make sure that air vents are unobstructed and functioning efficiently. Consider installing energy-efficient ventilation systems, such as energy recovery ventilators (ERVs), which can exchange stale indoor air with fresh outdoor air while minimizing energy loss. Opening windows and doors when weather permits can also improve ventilation and bring in fresh air.
Invest in Air Purifiers
Using air purifiers equipped with HEPA filters can effectively remove particles and pollutants from the air, including dust, pollen, pet dander, and smoke. In addition, strategically placing air purifiers throughout the workspace, particularly in high-traffic areas, can help maintain cleaner air and reduce the risk of respiratory issues for employees.
Control Indoor Humidity
Maintaining an appropriate level of humidity is essential for good IAQ. High humidity levels can promote the growth of mold and mildew, while low humidity can cause dryness and irritation. Aim for a humidity level between 30% and 60%. Use dehumidifiers or humidifiers as needed to regulate humidity and ensure a comfortable work environment.
Establish a Vape Free Policy
Implementing a smoke-free and a Vape-free policy can significantly improve IAQ and protect employees from the harmful effects of secondhand smoke. Encourage employees who smoke to do so outside, away from windows and doors, to prevent smoke from entering the building. Consider offering resources and support for employees who wish to quit smoking. You can police this by installing a vape detector at different locations at your business. Some of them even ping an alert to your phone when they detect people vaping. A vape detector works as a deterrent but also allows you to clamp down hard on anyone who is breaking your rules.
Minimize the Use of Chemicals
Cleaning products, office supplies, and building materials can emit volatile organic compounds (VOCs), which can negatively impact IAQ. Opt for low-VOC or VOC-free products whenever possible, and ensure that proper ventilation is in place when using chemicals. Additionally, store chemicals in well-ventilated areas and follow the manufacturer's safe use and disposal guidelines.
Incorporate Greenery
Integrating plants into the workplace can help improve IAQ by absorbing pollutants and producing oxygen. Choose low-maintenance, air-purifying plants, such as spider, snake, or peace lilies, to enhance air quality and contribute to a pleasant work environment. Be mindful of employees with allergies and choose plants that are less likely to cause allergic reactions.
Regular Cleaning and Maintenance
Establishing a regular cleaning schedule can help maintain clean air by reducing dust, allergens, and pollutants in the workspace. Use microfiber cloths, HEPA-filtered vacuums, and environmentally friendly cleaning products to minimize the release of additional pollutants. Encourage employees to maintain a clean and organized workspace to improve air quality further.
The business of clean air is essential for creating a healthy and productive work environment. By implementing effective strategies such as regular HVAC maintenance, proper ventilation, air purification, humidity control, smoke-free policies, minimizing chemical use, incorporating greenery, and maintaining a clean workspace, businesses can significantly improve indoor air quality. These measures protect employees' health and well-being and contribute to increased productivity, reduced absenteeism, and a positive workplace atmosphere. Prioritizing clean air is an investment in the long-term success and sustainability of any business.
You may also like: Comparing the Three Different Types of Ventilation for Business Establishments
Image source: Depositphotos.com